| | |
| --- | --- |
| Photo Credit: Courtesy of Val Carroll | The original members of the American Antarctic Mountaineering Expedition pose for a photo on their return to McMurdo Station on Jan. 17, 1967. Pictured are (standing from left) John Evans, Dick Wahlstrom, Nick Clinch, Barry Corbet, Pete Schoening, (kneeling from left) Charley Hollister, Sam Silverstein, Brian Marts, Bill Long and Eiichi Fukushima. |
Repeat bid
Mountaineer was first to bag Antarctica's tallest mountain 40 years ago
Posted January 28, 2007
Looking back 40 years, John Evans tells the story that conquering Antarctica's tallest peak was made possible through a decision based on a nation's pride.
Looking back less than four weeks, he tells the story of an attempted re-conquest that came down to swallowing one's individual pride.
Evans was the chief scientist on a 10-man expedition in December 1966 that became the first to summit Mount Vinson, the 16,066-foot-tall crown of the Sentinel Range in the Ellsworth Mountains, located between the Antarctic Peninsula and the South Pole.
He and three other members of the original team — Eiichi Fukushima, Brian Marts and Sam Silverstein — had an opportunity last month to repeat the climb of Antarctica's tallest mountain. Silverstein was never able to acclimatize and withdrew from the base camp before the ascent began. In addition, two other original climbers were represented: Bill Long's son Brooke and Pete Schoening's daughter Lisa.
The team moved on to high camp and made their assault on Christmas Day. Evans, 68, summed up the result without sugar-coating.
"Well, we didn't make the summit and the reason why, I guess, is because we just didn't have enough juice," he said.
Things had progressed incredibly well before the altitude and the climb took their toll, he said by phone from the Centennial, Colo. office of Raytheon Polar Services Co.

, where he coordinates special science projects.
"I remember feeling more than good, feeling just super," he said. "This was Christmas Day as we were starting out and I was thinking, 'This is so cool; we're finally doing this after all this time, and on the way down, I'm going to sing Christmas carols because I can get my breath.'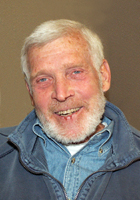 John Evans after returning from his climbing adventure on Mount Vinson.
"But then, it just wasn't working out, and I wasn't going very fast. ... It just took us forever. I don't think any of us — certainly not myself — realized just how slow we were going. It was hugely disappointing."
He was quick to compliment guides Timothy Hewette and Patricia Soto Borquez from Antarctic Logistics & Expeditions, a commercial venture that escorts adventure tourists to Antarctica and which sponsored the anniversary trip.
"The facts of the matter are that we weren't really going very well," he said, adding that Hewette gave the team members adequate opportunity to achieve the summit before coaxing them into retreating to camp.
Things turned out differently 40 years ago, as was well documented in a feature article in the June 1967 edition of National Geographic magazine.
Making history
The existence of the Sentinel Range was not even known until the mountains were seen and photographed on reconnaissance flights of U.S. Navy aircraft from Byrd Station in January 1958, according to the United States Board on Geographic Names

.
Evans said photographs were printed in an international mountain climbing publication in the early 1960s.
"All of a sudden," he said, "mountaineers worldwide ... saw the pictures and read the write-up about the mountains in the Sentinel Range and little mental light bulbs started going on all over the world: 'Now, wouldn't that be cool to get in there and do it.'"
Numerous individuals and groups tried to put together expeditions to climb Vinson. Evans was a charter member of one of those groups, whose proposal to the National Science Foundation (NSF)

was denied in early 1966. But as other countries started talking about sponsoring such a climb, it kindled official interests in the United States.
He said it was apparently decided that, in view of all the work the U.S. Antarctic Program

had invested in the continent, "Wouldn't it be a shame if, after all this, some other country came in and planted their flag on the top of the highest peak?"
Meanwhile, Evans had returned from a summer job at McMurdo Station

to continue working on his graduate degree in geology at the University of Minnesota.
Late in October 1966, the expedition was given a tentative green light, thanks in part to a partnership between the NSF and the National Geographic Society

, which ultimately agreed to provide funding.
"I was totally surprised that funding came through," he said. "But once it did I wasn't surprised that I made the cut. I was doing a lot of climbing at the time, and besides, I was the only one who had actually worked in that range."
However, he was caught off-guard, he said, when, "to my surprise and horror, I was drafted to be the chief scientist." With the help of his advisor at school, he put together a research proposal in one day and air-mailed it to the NSF to meet a last-minute deadline.
"Fortuitously, the very oldest rock exposure in the entire Sentinel Range is right at the base of Vinson," Evans said. Sampling this outcrop became a part of the research proposal, which also included collecting other rock samples and taking other measurements. The proposal was accepted.
What they found when they arrived was a relatively easy ascent to the summit of Vinson, the highest peak, but they also climbed several others that were "way more interesting from a mountaineering standpoint."
The 15,919-foot Mount Tyree was and remains a significant challenge.
"The second-highest peak on the continent is the real deal," Evans said. "Two of us luckily got to the summit of that ... and there have been only seven people in the history of the world that have stepped on that one, as opposed to thousands on Vinson."
Some of those thousands of people, who spend large sums of money to attempt Antarctica's tallest peak, helped make clear to Evans the historic nature of his initial climb.
During the anniversary trip, he said his team met many travelers from other groups who asked to have their photos taken with Evans and the others.
"I never felt like such a hero in my life," he said.