| | |
| --- | --- |
| Photo Credit: Rob Sherlock | An iceberg in the Weddell Sea not only sheds ice but apparently micronutrients that increase phytoplankton blooms, which mostly consist of algae that absorb carbon dioxide. Children's author Nancy Etchemendy will get a close look at some bergs in June aboard a research vessel, as she writes about the expedition for a series of books for kids and young adults. |
World of imagination
Children's author adds 'gothic sensibilities' to Antarctic science expedition
Posted May 9, 2008
Author's Web site:
The Weird Worlds of Nancy Etchemendy

Imagine you're a 12-year-old kid who has been chosen to accompany a team of scientists aboard a research vessel to the frigid seas around Antarctica. Wouldn't that be cool?
That's certainly what children's book author Nancy Etchemendy thinks. Etchemendy has secured a berth on the Nathaniel B. Palmer, a U.S. Antarctic Program icebreaker and science vessel, headed to the Weddell Sea along the Antarctic Peninsula during the middle of the Southern Hemisphere winter.
The scientists aboard the Palmer will study the biodiversity that icebergs apparently spawn as they melt, releasing trapped nutrients as they drift out to sea like a floating, wandering estuary. The researchers, led by oceanographer Ken Smith of the Monterey Bay Aquarium Research Institute, believe the bergs' associated biota may play a significant role in climate change by drawing and sequestering carbon dioxide out of the atmosphere.
Etchemendy, known for spinning science fiction and horror tales for young adults, hopes to tell the story of the expedition through her own self-described "gothic sensibilities," as well as through the words of a curious boy named Gib Finney. Each perspective will take on its own life via separate online blogs that the California-based author will write during her own adventure, which she will eventually turn into several books.
"I'm looking at these blogs, partly, as a method for gathering material," Etchemendy explains, her excitement thinly veiled over the phone. "I will have, I hope, input from kids with the parts that they found confusing or wanted to know more about through the comments function of the blog."
One blog, Rime of the Modern Mariner, will be her own first-person account of the experience, written in the vein of Charles Darwin's diary aboard the HMS Beagle, but targeted for a teen audience. The second, Unantarctica, views the science expedition through the wide-open eyes of young Gib Finney, the main character of her science fiction novel "The Power of Un."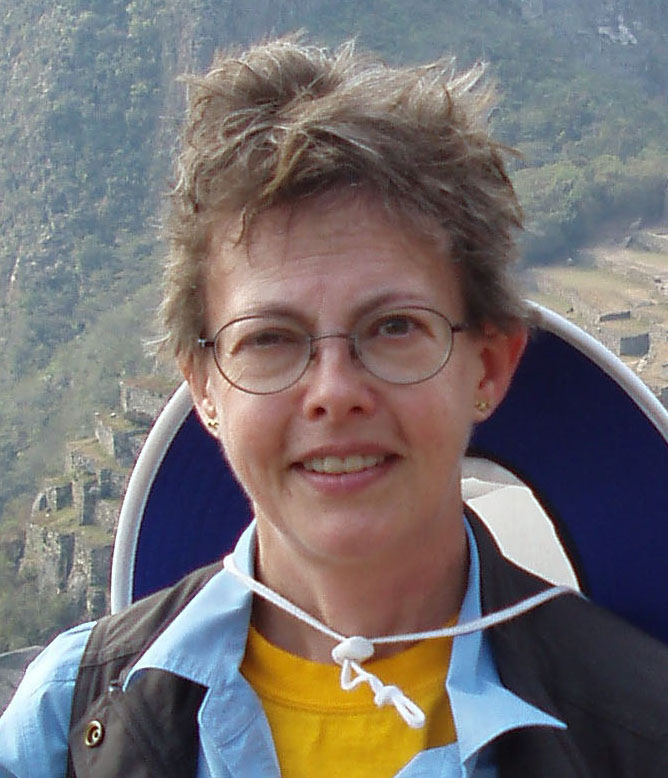 Photo Courtesy: Nancy Etchemendy
Etchemendy admits most of her science background comes from reading the classic pulp fiction of magazines like "Astounding Stories" rather than journals like "Nature." Science has always been an interest, she explains, but the technical texts of her youth didn't excite her.
"Usually the material was dry and not very engaging," she recalls. "I'm hoping to overcome that by using these different approaches."
To write for kids, Etchemendy explains, you have to think like a kid.
"The main thing is you need to remember what it was like to be the age of your audience," she says. "The second thing is you have to start out with a basic respect for the intelligence of children and their capabilities.
"A kid's mind is not all that different from [an] adult's in the way it works," she adds. "The big difference is in their data set; kids don't have as much information about the world as adults yet. You have to develop a good instinct for what those differences are and what sort of questions that a kid would ask about the world and what his or her reactions would be to particular situations."
That means she'll be bugging the scientists aboard the Palmer whenever she can. "I will be at their elbows all the time asking them questions that a fifth- or sixth-grader will ask them."
That's the sort of fresh approach to outreach the science team is after, according to Bruce Robison, a co-principal investigator on the project from Monterey Bay Aquarium Research Institute in Moss Landing, Calif.
"We wanted to try something different," explains Robison, a pelagic biologist who studies critters that live in the deep sea. "We thought it would be interesting to take someone along who is creatively different than everyone else that we had ever worked with in outreach.
"Nancy fit the bill because she is a very creative author of children's books, but she weaves a lot of science into her writing, and she thinks outside the box," he adds. "We like that."
Etchemendy credits her father for pointing her imagination toward alien planets and time travel. He read science fiction, but also liked to invent things and speculate about the future. A fascination with macabre writers like Edgar Allan Poe and Hector Hugh Munro, a British short story writer better known by his pen name Saki, helped nurture her own inclinations for dark tales.
"I am, among other things, a person who tends to imagine worse-case scenarios in great, vivid detail, which is probably how I got into writing horror in the first place," she says. "I enjoy being afraid in some odd way. I find it fun and satisfying to write about those fears."
Don't expect too much of the scary stuff from her while bobbing along near icebergs. Like many good science fiction novels, this is a story of discovery.
"I'm already learning a bunch of stuff I wouldn't have learned otherwise," says Etchemendy, who has always wanted to visit the Antarctic. "If I get a chance to do something good for kids and teachers that's sort of double good."
NSF-funded research in this story: Ken Smith and Bruce Robison, Monterey Bay Aquarium Research Institute.