| | |
| --- | --- |
| Photo Credit: Peter Rejcek | Mechanic Andy Young works on a snowmobile at the Mechanical Equipment Center at McMurdo Station. Young is also an avid pilot who works professionally in Alaska flying bush planes. His passion for aviation inspired him to start a flying club at McMurdo. |
Join the club
Enthusiasts find common ground (air, water) at McMurdo Station
Posted September 6, 2013
Clubbing has become a big part of the McMurdo Station

culture.
No, not the kind of clubs with big bass beats and itty bitty mini-dresses. These are clubs whose members take an unusually strong interest in various modes of transportation — whether by land, sea or air.
For instance: Vito Cicola remembers watching The World's Fastest Indian, a movie about a man who builds a motorcycle to set the land-speed record. The film featured a New Zealand biker gang known as the Antarctic Angels. The Minnesotan, who spends half his life away from his 2009 Harley Davidson Street Glide working as a generator mechanic at McMurdo, suddenly had an idea.
"I know a lot of bikers down in Antarctica. We park our bikes. We come down here and we work and we can't wait to get back riding again," Cicola explained at the station Coffee House, bringing along about a dozen members of the Frozen Few Motorcycle Club.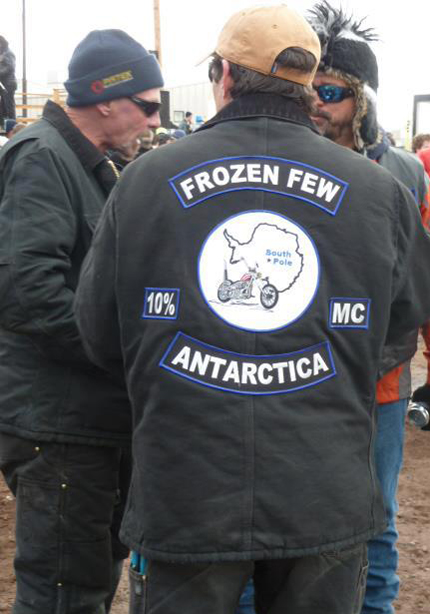 Photo Credit: Frozen Few MC Facebook page
A member of the Frozen Few Motorcycle Club visits with fellow members during the 2012-13 Icestock music festival.
That's right: Cicola is the president of Antarctica's first and only motorcycle club. Never mind the closest two-wheeled ride is about 2,500 miles away.
"Once word got out, it exploded," said Matt Cross, vice president of the Frozen Few MC and a plumber in his first year at McMurdo during the 2012-13 summer season. The new club is about 40 members strong, making it the biggest organization of its kind on the Ice. In fact, it's more populous than many research stations around the continent.
There are plans for a group ride stateside and the club is developing by-laws to manage the fast-growing group.
"We should have a club down here, and now we do," Cicola said.
Andy Young is taking the McMurdo Flying Club in a slightly different direction.
"It's a very informal, collaborative sort of thing," Young said. "Flying has become very central to my life. When I'm down here, I really miss flying. That's part of the reason for the club."
A veteran of 15 seasons in Antarctica over the last 17 years, Young is a mechanic in McMurdo's Mechanical Equipment Center, where he helps keep the fleet of snowmobiles up and running. He has also held a number of management jobs in the U.S. Antarctic Program

, including Science Support manager in the mid-2000s.
It was also about 17 years ago that Young began flying. He decided he needed a "kick in the butt" at the time.
"It was truly life changing. It didn't have to be flying," Young explained. He eventually parlayed the hobby into a job, flying a six-seat Cesna around Alaska's Denali National Park when not on the Ice.
Unlike the Frozen Few MC, which requires members to be active motorcyclists, the Flying Club welcomes anyone with an interest in aviation.
"It's an opportunity for me to soak up any sort of knowledge, whether it be about different sorts of aircraft or places where guys have flown," said McMurdo Station electrician Orin Bakalmonar, who is looking to switch careers, possibly to fly bush planes like those Young pilots in Alaska.
"I felt really lucky meeting [Young]," said Bakalmonar, in the midst of his third season on the Ice, including a stint at the South Pole Station

during his first year down in 2009-10. "He's a great source of information."
Eric Kendall said he talked to Young about establishing a club the previous year. "The idea of the club is to bring people of like interests together to talk about aviation."
Kendall's own interests go back to his U.S. Air Force days as a navigator on B52s. He has piloted all manner of aircraft, and he owns a little yellow Piper Cub in North Carolina where he lives.
"I absolutely fell in love with [flying] on my first flight. … There's something special about flying, getting up to see the world from above," Kendall said.
However, he also spends his North American summers in Montana, where he stays firmly on the ground driving buses in Glacier National Park, alongside his father Joe Kendall, who used to work at McMurdo Station as a shuttle driver. That was also Eric Kendall's first job on the Ice. [See previous article — Perseverance pays off: Kendall doesn't see a reason to slow down because of age.]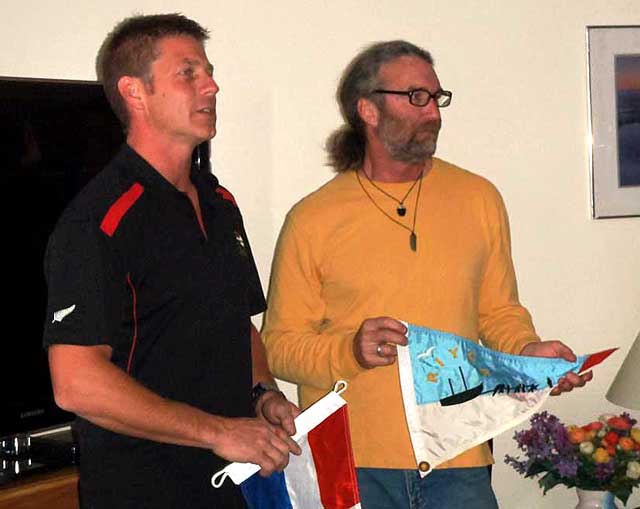 Photo Credit: Royal Akarana Yacht Club
New Zealander Justin Roys, left, exchanges a Royal Akarana Yacht Club burgee for Michael Deany's Ross Island Yacht Club Antarctica burgee.
"I had to come see the cold continent," said Kendall, who worked last season as a flight line operator for the Aircraft Ground Equipment crew.
Michael Deany's trip to the cold continent was also his first overseas. That was in 2005-06 when he celebrated his 50th birthday. He quickly became one of McMurdo's larger than life personalities.
"Socially, I just jumped into the heart of this community in some ways," said Deany, a materialsperson in the Supply department.
It was a year of firsts after he got off the Ice and started a three-month tour of New Zealand, where he was introduced to the idea of WOOFing, which places willing workers on organic farms. One such stint landed him in small seaside town where his host gave him sailing lessons. Deany eventually hitched a ride on a yacht from Whangerei to Tonga.
The following season at McMurdo, he was appointed commodore of the Ross Island Yacht Club Antarctica (RIYCA), though he doesn't consider himself a yachtie. Nor has he done much sailing since.
The yacht club is the most venerable of the organizations at McMurdo. It was founded in 2000. Marty Hynes joined the RIYCA the following year and was the only member from the earliest days still at McMurdo last season.
"It essentially was a group of people very interested in sailing who just wanted to get together, swap stories and learn about places to go, and find out more about each other," recalled Hynes, who was a grantee on a project in 2012-13 studying the food web in McMurdo Sound. [See previous story — Predator and prey: Researchers hunt for answers to dynamics of Ross Sea ecosystem.]
"All you need is an interest in sailing," he added.
Actually, the one-page by-laws do make one exception: "Membership shall be open to anyone on Ross Island who wishes to associate with such a crew. Convicted pirates not accepted."
The club's burgee, a unique flag that yacht clubs around the world trade like coveted baseball cards, hangs proudly above Deany's door in his dorm room. The colorful triangle-shaped flag pays homage to the continent's greatest hero, Ernest Shackleton, and its most maligned seabird, the skua.
Each year the yacht club attracts about 25 or so people, according to Deany. "The membership fluctuates, but the numbers tend to remain the same," he said.
Added Hynes, perhaps speaking for all the organizations at the station: "I think people do get fired up from the club."