| | |
| --- | --- |
| Photo Credit: Peter Rejcek | Jamie Ward, a carpenter from Scotland, works to restore the exterior of the Terra Nova expedition hut at Cape Evans. The last of more than 11,500 artifacts were returned to the hut this past field season. |
Page 2/2 - Posted February 27, 2015
New phase of restoration work including Sir Ed's hut set to begin in 2016
Vuissoz, Meek and fellow conservator Nicola Dunn spent part of the 2014-15 summer at Cape Evans to return the final objects to the collection at Scott's Hut before completing the restoration work at Discovery Hut.
Discovery Hut's collection is modest in comparison to those at Cape Evans and Cape Royds. Its proximity to the National Science Foundation's McMurdo Station and Scott Base meant it received the most visitors over the years – and more disturbance than the others. However, that didn't mean the labor was any less challenging.
"They did some really great work," Meek said of the conservation team. For example, she indicated a crate filled with a pile of cloth bags containing various foodstuffs that had been prepared for a sledging journey. The items had been frozen together in a block of ice as hard as concrete before being moved to the lab the previous year.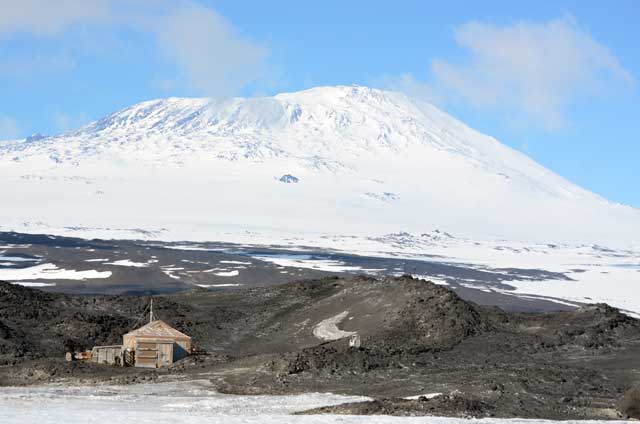 Photo Credit: Peter Rejcek
Ernest Shackleton's expedition base at Cape Royds, with Erebus volcano looming in the distance.
"We were terrified of lifting anything out for fear of causing further damage," she explained. "[The conservators] have done a fantastic job of thawing it out and separating the bags, and then mending individual bags to make sure the contents can't fall out."
During the 2013-14 Antarctic summer, conservation carpenters worked extensively to clear ice that had built up under the wood floor of the hut, a pre-fabricated building kit from Australia better suited to the Outback than the polar hinterlands. They also dug a waist-deep ditch into the hard permafrost around the outside of the building to install a polycarbonate dam to prevent moisture from seeping back under the floor.
"When people come to visit this hut, instead of feeling it's cold and drafty and horrible and there's nothing in it but a bunch of old boxes, they'll see more detail and it will feel less cold and drafty," Meek said.
"They'll have a more involved experience … and hopefully Discovery Hut will become everyone's favorite. "We're excited to be able to open it back up to visitors," she added.
Several surprises emerged during the decade of conservation. Discoveries included crates of Scotch whisky and brandy at Shackleton's base at Cape Royds, as well as never-before-seen photographs and a notebook from Scott's historic hut at Cape Evans.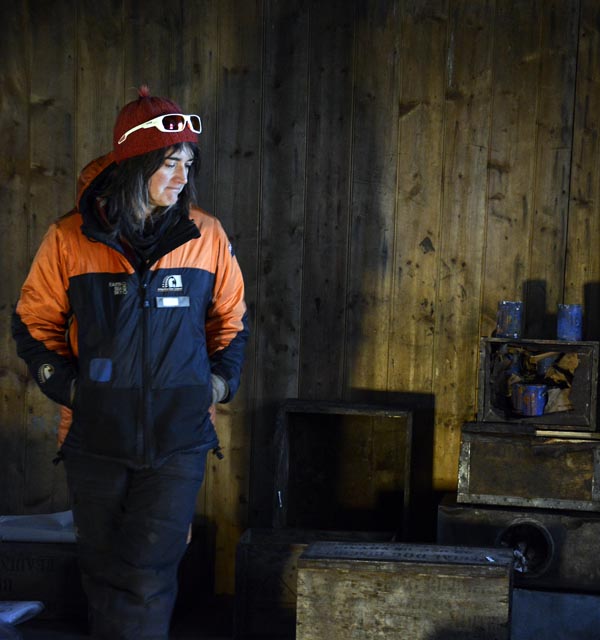 Photo Credit: Peter Rejcek
Lizzie Meek looks over one of the wood crates conserved at Discovery Hut.
"We're keeping the historic stories alive for future generations, which is very important," said Al Fastier, program manager for the Trust, during last year's restoration work on Discovery Hut.
A capital fund has been established to provide money for upkeep of all three buildings. In addition, the Trust will also begin perhaps its most logistically ambitious conservation project – the restoration of Norwegian Carsten Borchgrevink's expedition base at Cape Adare, about 400 miles from Ross Island, beginning later this year, pending funding.
Borchgrevink made the first documented landing on the continent in 1895. Four years later, he returned to Cape Adare and built the first human structures in Antarctica, a couple of small buildings that contain about a thousand artifacts amid a huge Adélie penguin colony.
Restoration of Sir Edmund Hillary's 1957 Trans-Antarctic Expedition Hut at Scott Base is slated to begin in 2016 – nearly 60 years after its construction.
When asked about how it felt to save and protect a major chapter in the history of Antarctica, Meek offered a faint but satisfied smile.
"As Al [Fastier] would say, 'It was on time and under budget.'"
That doesn't even tell half the story.
Visit the New Zealand Antarctic Heritage Trust website

to learn about the conservation of Antarctica's historic huts.