| | |
| --- | --- |
| Photo Credit: Adam Jenkins/Antarctic Photo Library | A helicopter prepares to land on the deck of the research vessel Nathaniel B. Palmer during an expedition earlier this year around the Antarctic Peninsula for an IPY-funded project called LARISSA. |
Last hurrah
World's biggest polar science conference to celebrate IPY achievements
Posted June 4, 2010
It's the biggest celebration for the year that still hasn't ended — more than three years after it began.
This month more than 2,000 scientists and others will gather in Oslo, Norway, to bring an official end to the International Polar Year (IPY)

, a high-profile science campaign in the Arctic and Antarctic that kicked off in March 2007. [Also see the international site for IPY

.]
The international effort included about 60 countries and more than 10,000 scientists, spanning research into every conceivable corner of the polar regions — from explorations under ice shelves to new genetic discoveries to unprecedented measurements of ice sheets.
The IPY Oslo Science Conference

will take place from June 8 to 12. It's being billed as the biggest polar sciences meeting in history. The conference has received about 2,600 abstracts, with 1,200 oral presentations and almost 40 sessions planned.
More than 100 researchers and officials associated with the U.S. Antarctic Program (USAP)

, managed by the National Science Foundation (NSF)

, are scheduled to attend the Oslo conference, according to David Carlson, director of the IPY's International Programme Office.
Carlson was recently in Boulder, Colo., at a meeting of the American Polar Society

, where he presented some of the diverse findings from IPY — discoveries that pointed to the interconnectedness of the Arctic and Antarctic with the rest of the planet.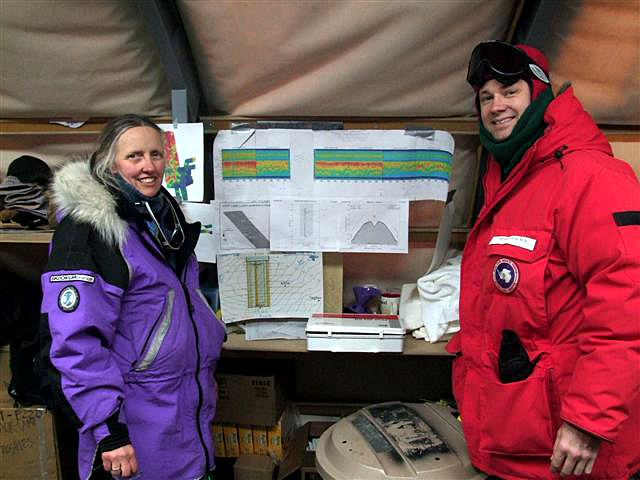 Robin Bell, left, and former NSF program manager Tom Wagner stand in front of data collected by the AGAP program, an IPY project studying a subglacial mountain range.
For example, he described findings from the Census of Antarctic Marine Life

that revealed deep-water octopi originated in the Southern Ocean about 33 million years ago and then spread north about 15 million years ago, based on biological and geological evidence.
The former date roughly represents the time in geologic history when Antarctica and South America fully split apart, opening up an ocean "gateway" that allowed a major circumpolar current to form around Antarctica. The new current isolated the continent, allowing ice sheets to form and causing the water temperature to drop. Genetic analysis determined that's also about the time when deep-water octopi diverged from octopi that lived near the water surface.
(Alternative theories suggest a steep drop in atmospheric carbon dioxide was to blame for the transition of Antarctica from an icehouse to a greenhouse.)
About 15 million years ago, the ice sheets expanded, along with sea ice, which helped form cold, deep currents that spread far into the northern hemisphere — carrying the Southern Ocean-spawned octopi with them into discrete locations around the world.
"It's one of the first times that I've seen where we're actually able to pull genetic, biogeography and plate tectonic geography all together into a [story]. These are the sorts of pictures that are starting to emerge from IPY," Carlson said.
NSF-funded scientists played a part in putting together many of the stories that emerged from IPY. [See previous article: IPY Legacies.]
According to a recent report from the NSF, there were 445 projects that fell within the broad themes of IPY. Awards went to 341 different investigators or project leaders at 169 institutions in 44 of the 50 states. The awards were made over four fiscal years, 2006-2009, with more than half the money going out during the official 2007-2009 IPY, a two-year period that encompassed seasonal research in both polar regions. Several of the larger projects are still under way.
The NSF IPY awards represent about $347 million, which includes $60 million that Congress appropriated specifically for IPY. The balance of funding came from the NSF's annual appropriation, according to the report.
The report also noted that the IPY boosted already high international collaboration between polar scientists, based on statistics from the 2010 edition of the National Science Board's Science and Engineering Indicators

.
It documents a rise in international co-authorship of research articles from 8 percent in 1988 to 22 percent in 2007, the most recent year available. Polar research during that period was significantly more collaborative internationally, with 14 percent of the Arctic and Antarctic research literature sharing international co-authorship in 1988, rising to 41 percent in 2007. NSF-funded IPY scientists collaborated with investigators in 28 countries.
In human terms, Carlson said, polar research is still very much about people working together in extreme environments to answer important questions about the Antarctic and Arctic and the rest of the globe.
"It's still people devoting their time to work with their hands in the polar regions. In that, I find reason for optimism, because people are still creative and curious and concerned about polar regions, and they're devoting their life to what still isn't an easy form of science," he said.
"That kind of enthusiasm and cooperation … is still the basis for polar science."