| | |
| --- | --- |
| Photo Credit: Peter Rejcek/Antarctic Photo Library | Smoke rises from Erebus volcano near McMurdo Station. Scientists have used Antarctic ice cores to reconstruct the history of volcanic emissions in the Southern Hemisphere for the last 2,000 years. |
Out of the ashes
Scientists use Antarctic ice cores to create new record of volcanic emissions
Posted July 11, 2011
A team of scientists has completed the most accurate and precise reconstruction to date of historic volcanic sulfate emissions in the Southern Hemisphere using multiple ice cores from Antarctica.
The new record, described in a paper published this month in the online edition of Nature Climate Change, is derived from a large number of individual ice cores collected at various locations across Antarctica. It is the first annually resolved record extending through the last 2,000 years of human history.
"This record provides the basis for a dramatic improvement in existing reconstructions of volcanic emissions during recent centuries and millennia," said lead author Michael Sigl

, a postdoctoral fellow and specialist in Desert Research Institute's

unique ultra-trace ice core analytical laboratory, in a press release

from DRI.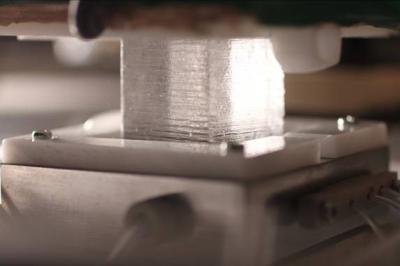 Photo Credit: Joe McConnell
An ice core section is simultaneously analyzed for a variety of elements and chemical species in DRI's ultra-trace ice core laboratory while slowly melting the ice on a heated melter plate.
These reconstructions are critical to accurate model simulations used to assess past natural and anthropogenic climate forcing. Such model simulations underpin environmental policy decisions including those aimed at regulating greenhouse gas and aerosol emissions to mitigate projected global warming, according to a press release from DRI.
Powerful volcanic eruptions are one of the most significant causes of climate variability in the past because of the large amounts of sulfur dioxide they emit, leading to formation of microscopic particles known as volcanic sulfate aerosols. These aerosols reflect more of the sun's radiation back to space, cooling the Earth. Past volcanic events are measured through sulfate deposition records found in ice cores and have been linked to short-term global and regional cooling.
This effort brought together the most extensive array of ice core sulfate data in the world, including the West Antarctic Ice Sheet (WAIS) Divide

ice core – arguably the most detailed record of volcanic sulfate in the Southern Hemisphere. In total, the study incorporated 26 precisely synchronized ice core records collected in an array of 19 sites from across Antarctica.
"This work is the culmination of more than a decade of collaborative ice core collection and analysis in our lab here at DRI," said Joe McConnell

, a DRI research professor who developed the continuous-flow analysis system used to analyze the ice cores.
This study involved collaborating researchers from the United States, Japan, Germany, Norway, Australia, and Italy. International collaborators contributed ice core samples for analysis at DRI as well as ice core measurements and climate modeling.
NSF-funded research in this article: Joe McConnell, Desert Research Institute, Award Nos. 0538416, 0538427

; Joseph McConnel; and Peter Edwards, DRI, Award No. 0839093

; Sarah Das, Woods Hole Oceanographic Institution, Award No. 0632031

; and Kendrick Taylor and Peter Edwards, DRI, Award No. 0739780

. Other co-authors included Matthew Toohey, Mark Curran, Sarah B. Das, Ross Edwards, Elisabeth Isaksson, Kenji Kawamura, Sepp Kipfstuhl, Kirstin Krüger, Lawrence Layman, Olivia J. Maselli, Yuko Motizuki, Hideaki Motoyama, Daniel R. Pasteris and Mirko Severi.