| | |
| --- | --- |
| Photo Credit: NASA/JPL/University of Arizona | This aerial view of the Martian surface is about 200 meter across. It shows dark streaks that scientists believe are very similar to the water tracks observed in the McMurdo Dry Valleys. |
Page 2/2 - Posted April 13, 2015
Time-lapse photography proves valuable tool for studying Antarctica, Mars
The camera also saves time, providing thousands of measurement points every minute. Getting some of the same data requires Levy and his team to trek across the valley floor with a probe to test the thermal properties of the soils directly. That technique takes one measurement every couple of minutes.
Levy credits colleague Jay Dickson, a planetary scientist at Brown University, for the idea to use a time-lapse thermal-imaging camera. Dickson has spent six seasons now working with Levy and other scientists in the Dry Valleys by setting up time-lapse cameras to capture different morphological processes.
"My goal, by working with all of these [scientists], is too have as many different cameras in as many different places as possible," Dickson said. "All of these valleys are extremely different. They have their own climates.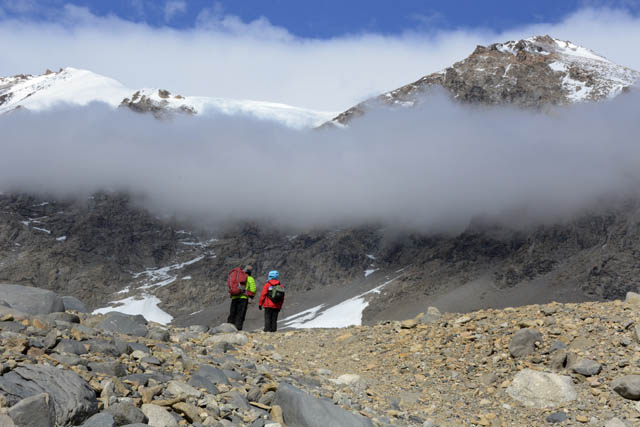 Photo Credit: Peter Rejcek
Joe Levy, left, and field team member Lily Simonson, hike up a hill in the Dry Valleys.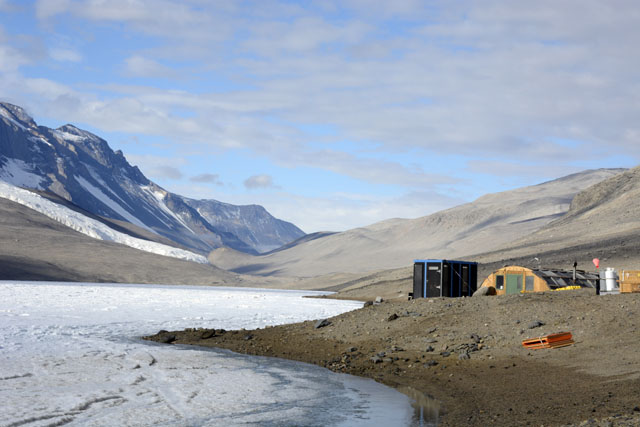 Photo Credit: Peter Rejcek
The field camp at Lake Bonney where the team was based during part of their expedition.
"The great thing about time-lapse is that you see things that you were never planning to see at all," he added.
That was certainly the case at Don Juan Pond in Wright Valley. Crowned as the Earth's saltiest body of water, Don Juan Pond never truly freezes thanks to a salinity level of more than 40 percent. (The more famous Dead Sea boasts a salt content of 34 percent, while the Earth's oceans average about 3.5 percent.)
In 2013, Dickson and his co-authors, including Levy, published a paper in Scientific Reports that used time-lapse imagery, in conjunction with meteorological data, to prove that the salt-rich soils were sucking the available moisture from the air and then moving down the slopes as water tracks toward Don Juan Pond.
The prevailing hypothesis had been that the pond was fed by an underground reservoir that bubbled to the surface. Now it appears Don Juan Pond is the result almost exclusively of water tracks, according to Dickson.
"There are probably other ponds as salty, but not as famous or more ephemeral," he said.
The phenomenon of Don Juan Pond and the water tracks indirectly leads back to Mars.
Time-lapse imagery from satellites observing Mars have detected what scientists call recurring slope lineae, which look and act similarly to water tracks in the Dry Valleys, according to Dickson.
The features appear in the Mars spring and recede later in the lsummer. Temperatures on the surface of Mars are consistent with what would be required to allow subsurface water flow, he said.
"There are features in the Dry Valleys that we don't see anywhere else on Earth, but we do see them on Mars. It's a lot like here. It's very dry. Very little melting, but punctuated melting for very short period of times," Dickson explained. "We think that there's probably liquid water flowing in the very shallow subsurface of Mars today.
"Coming down here helps us develop hypotheses to test on Mars," he added.
One planet isn't enough for Levy either: His passion is also for the Red Planet, which stripped of any obvious biology, offers the geologist's version of the Platonic ideal.
"I like the real simplicity of this laboratory on Mars," he said.
For now, the next best thing is the Dry Valleys, where there are still plenty of puzzles to work out, including the different connections between water, ice, rock and sediment. The mystery of the water tracks is only one example of the many unanswered questions before Levy and his colleagues.
"Until we crack them, we won't be able to make any sense of them on Mars," he said.
NSF-funded research in this article: Joseph Levy, University of Texas at Austin, Award No. 1343649

.