| | |
| --- | --- |
| Photo Credit: Mike Lucibella | As the balloon floats into the sky, it carries the GRIPS scientific payload away from its support crane. |
The Solar Cycle
Page 4/4 - Posted October 5, 2016
Timing was critical for the mission. The sun goes through an 11-year cycle of solar activity which peaked in early 2014. With the sun about to enter a lull, the researchers hoped to see as many large flares as possible; otherwise they would have to wait years for the cycle to repeat.
"We saw a number of flares, in fact it was one of the more active stretches during the Antarctic summer that season," Shih said. "But unfortunately the sun did not cooperate to the extent that we really wanted it to and so we didn't capture some of the really big flares we were really hoping to see."
Despite the lack of large flares, the team was still able to collect vast amounts of data on the sun, as well as a high-energy phenomenon a little closer to home. The telescope was equipped with a secondary experiment designed to catch electrons falling out of the Van Allen radiation belts that encircle the Earth. These belts trap electrons within them but as the particles lose energy, they occasionally precipitate down along Earth's magnetic field in substantial microbursts near the poles, contributing to the Aurorae.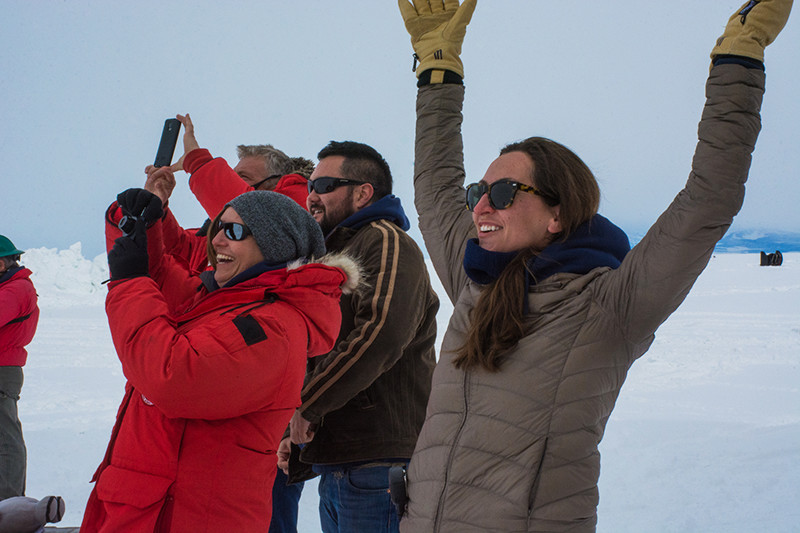 Photo Credit: Mike Lucibella
Scientists Nicole Duncan, Hazel Bain, Brent Mochizuki and Pascal Saint-Hilaire excitedly watch their project carried aloft by helium balloon.
Knowing that GRIPS would be flying within range of these microbursts, the researchers built in a secondary science function as well. Surrounding GRIPS' gamma ray detector was another detector called its shield. Its primary purpose was to track incoming gamma rays and X-rays from directions other than the sun to get as clear a solar signal as possible.
"That shield was specifically instrumented as a special detector to also study this electron precipitation," Shih said. "We saw some really great events over the flight."
After just over a million seconds of observation time, researchers transmitted the command releasing the scientific payload from the balloon. Explosive bolts severed the thick cable connecting the two, and the telescope parachuted down to the frozen ground near the Pensacola Mountains on the far side of the continent.
"Our recovery team was able to go through the South Pole to the instrument and recover our data drives," Shih said. "The rest of the instrument actually is still sitting out there on the other side of Antarctica for recovery this coming season."
The researchers are still pouring through the recovered data sets.
"It's going to take a lot of elbow grease and a lot of effort to really extract what we have from the flares that we did observe," Shih said. "We're certainly hoping that we'll be able to say something scientifically interesting from those observations as well."