Palmer Station Archives - 2019
June Flew By
July 15, 2019
One thing that's great about Palmer Station is that there isn't really a daily routine. Sure, there are some days spent working on servers all day and troubleshooting computer problems, but there are other days where that may only take up one or two hours. On days when storms roll through and dump a lot of snow on us, folks might spend most of the day outside clearing boardwalks and plowing snow down the drive. Some days the galley is backed up and people pitch in to help with dishes or help prep food for the next meal. A task may be as boring as spotting someone climbing a tower to fix equipment.
For those on the fire brigade, we may spend part of the day inspecting my gear or fire extinguishers around the station or assisting the fire captain with other team needs. For those on the Glacier Search- and-Rescue (GSAR) team, it's common to spend the day learning new climbing skills or patient-evacuation techniques, while those on the Ocean-Search-and-Rescue (OSAR) team might be out training on the water all day, doing man-overboard drills or island landings. When working as a winter resident at Palmer Station, often one tends to be part of every team possible because there are so few people here. It makes for a great learning experience and a lot of fun.
The month of June wasn't any different; it seemed to fly by. June is also the month with one of the biggest holidays on the continent, "Midwinter" on the Winter Solstice. For this particular holiday most of the stations across the continent exchange greetings and some even make videos. We even received a greeting from Christina Hammock Koch, an astronaut on the International Space Station who used to work at Palmer Station. Midwinter this year fell on Friday June 21st. We celebrated by having an outstanding dinner. We rearranged the galley, decorated the walls with flags from other stations on the continent, dressed up and had a proper sit down meal with everyone on station. It's rare that everyone is able to sit together at the same time, as some people skip meals and others eat meals at odd hours throughout the day.
The meal was incredible. The station's chef, Lisa, is an amazing cook. There wasn't a single person on station who didn't help out in some way, whether it was prepping food for the meal or decorating the galley. One of our resident musicians even played their saxophone during the meal. We toasted our colleagues across the continent and enjoyed each other's company. I felt like I was going to burst when I went to bed that night, but I don't regret a single bite. I don't know if I can survive anymore meals like that for the rest of the season. It was a lovely evening.
We are past the halfway point for our winter over. Before I know it the ship will return and it will be time to head back. I hope the second half is as good as the first.
---
Hikes Between Port Calls
June 15, 2019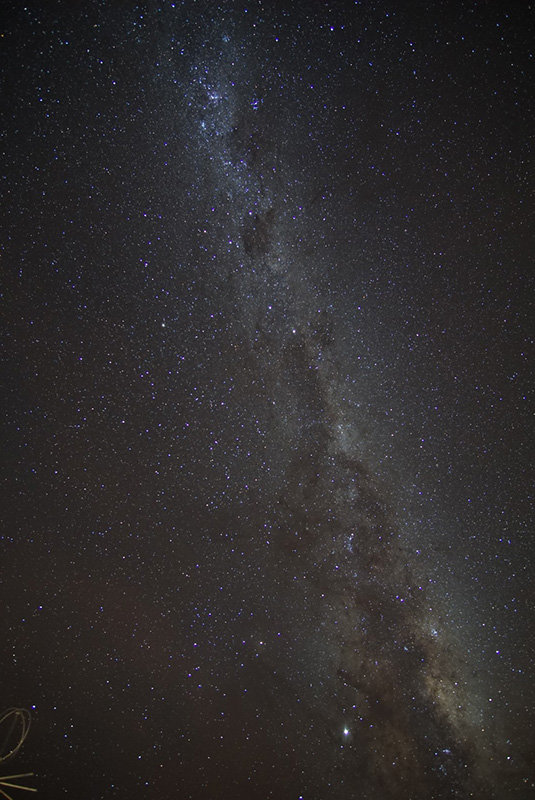 Photo Credit: Kirsten Steinke
With virtually no light pollution, the Milky Way shines brilliantly above Palmer Station.
Palmer Station received its first batch of heavy snowfall (about a foot) just in time for the day off and the port call this week.
The week started with an outing for ice climbing. Since this was the last opportunity before the ship arrived, a large group turned out. Boating conditions were not ideal so the group found a spot in the "backyard", about a 45-minute hike away from station. The hike was reminiscence of what many imagine Antarctica would be like all the time - lots of wind and whiteout conditions.
Once the group arrived at the spot for the climb, things had started to clear up a bit. The group geared up and prepped the climbing anchors and rope. Everyone who wanted a turn ice climbing was able to get an ascent in. I was able to get a round in as well. I did not do as well as I would have liked but I am getting better. I have never been an acrophobic person but being on an ice wall kicks in some of that primal anxiety. Each time I try, I get more comfortable. Another trip or two and I should feel right at home.
The Laurence M. Gould arrived for the last port call of the season on April 21, full of supplies and visitors and with its crane newly repaired. For the next three days, the whole station was in a flurry as everyone pitched in to unload cargo and folks heading home tied up loose ends.
After the LMG left, the station population now stands at 20 and will stay that way until the next ship arrives in October. Now begins the winter-over season.
Weather permitted one more nice hike up the glacier in this past weekend. On the far side, a few whales could be seen just off shore. They were about a mile away, too far to snap any photos that did them justice.
Residents on station celebrated two birthdays this month. Julia Fontana from the Bernard science group and Eric Carrier who is in charge of keeping the lights on. Julia celebrated hers with much fanfare. For her birthday celebration, she donned a "queen for the day outfit" she found in the station's donation bin known as "skua." Eric preferred to keep it a little more low-key. He is most comfortable in the lounge playing pool.
---
The Journey South
May 16, 2019
I wasn't sure what to expect when I boarded the plane in Denver, but I lucked out with a spot at Palmer Station.
This is my first season on the Ice and incidentally my first article for this newspaper. I've had many firsts on this trip: my first time in South America, my first ocean crossing, my first trip away from home for longer than two weeks, and of course my first time in Antarctica. Initially, I felt a lot of anxiety, mixed with excitement, about coming to the "frozen continent." I spent the past five years working on the 18th floor of a building in downtown Chicago. Here at Palmer Station, surrounded by glaciers and wildlife, I'm not sure I could've wound up somewhere more different without leaving the Earth's surface.
Traveling here was intense. After arriving in Punta Arenas, Chile, we dove right into preparations with safety briefings and orientation at the warehouse. The day before departure we moved onto the ship. We were told it would be a rough crossing; the Drake Passage, which separates South America from the Antarctic Peninsula, can be home to some treacherous seas. But, by Poseidon's trident, we made it across safely in relatively calm waters.
Once on station I spent part of my first week here recovering from "dock rock," a kind of reverse sea legs where it seems that everything is still heaving back and forth. When the station wasn't moving, I was absorbing as much information about station operations as humanly possible: orientation, safety briefing, training session and repeat. I loved every minute of it. I felt a bit of imposter's syndrome at first, but that rapidly subsided as I didn't have the spare time to think about it too much. I settled in quickly and made myself at home.
Wildlife
Working as an IT systems administrator has kept me busy, but my off hours can be just as full. On my first day off, several of us boated over to nearby Amsler Island for a hike and I saw my first elephant seals. Really, it was more of a pile of elephant seals. They were as graceful and elegant as you would imagine. That description of course is quite tongue-in-cheek. It sounded like a middle-school locker room mixed with the smell of early morning manure with a bit of seafood while driving through farm country.
On another day off, while training with the search-and-rescue team, I got the chance to see more wildlife. After hiking with the team for 45 minutes over the glacier behind the station, I saw my first Gentoo Penguin colony in the wild. I was grinning ear to ear for most of that hike. I love penguins. I could have spent the entire day there just sitting and watching as they glided out of the water onto, the beach and pecked at each other over the best puddle sized pool to hangout in.
However, my favorite nature outing so far was the chance to see giant petrels up close. I joined a science trip to weigh the chicks on Humble Island. I helped write down the weights as the researchers weighed the chicks. A very important job of course since it's not science if you don't write it down. Seeing how those turkey-sized birds peck at each other, I'm not sure I would be interested in weighing them myself.
Port Call
Towards the end of the month, the research vessel Laurence M. Gould returned to station for the first time since my arrival. They brought with them some of our supplies, a science group with krill samples and some "fuelies" for a month-long project to clean out one of our fuel tanks. It turned out not to be your run-of-the-mill port-call. One of the main cranes on the ship malfunctioned, throwing the offload into tumult. Plans changed on an hourly basis all the way up to arrival. The krill experiment on board the ship had to be shuttled over on the station's small landing craft and the rest of the supplies was unloaded using the station's loader. It was an all-hands-on-deck day and the amount of cooperation, collaboration and teamwork that went into this port-call was incredible. I am proud that I could be a part of that.