More Articles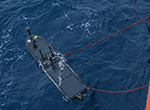 A Bot in the Ocean
Science / Oceans and Atmosphere
Monday December 14, 2020
During the past austral summer, scientists released an autonomous seafaring robot into the Southern Ocean. For four months, the small "Wave Glider" navigated the frigid Antarctic waters, collecting data on the surrounding ocean and atmosphere.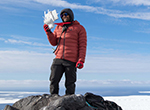 An Aerial Assessment of Adelie Penguins
Science / The Biological World
Monday November 30, 2020
Flying robots are helping scientists track the population of Adelie Penguins. This past austral summer, researchers flew a small fleet of coordinated unmanned aerial vehicles, or "UAVs," over Cape Crozier, one of the largest Adelie penguin colonies in the world, photographing it in greater detail than ever before.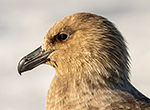 The Infamy of the Skua
Features / Life on the Ice
Monday November 16, 2020
Like clockwork in late November, the residents of McMurdo Station look to the sky and spot something that many haven't seen in months - birds. The arrival of these feathered creatures is greeted by many with curiosity and anticipation, but also with some suspicion.
Quick Find
Archives
2021
2020
2019
2018
2017
2016
2015
2014
2013
2012
2011
2010
2009
2008
2007
Print Issues: 1996-2006
Around the Continent