More Articles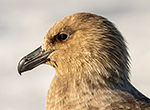 The Infamy of the Skua
Features / Life on the Ice
Monday November 16, 2020
Like clockwork in late November, the residents of McMurdo Station look to the sky and spot something that many haven't seen in months - birds. The arrival of these feathered creatures is greeted by many with curiosity and anticipation, but also with some suspicion.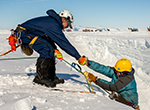 Podcast: The Search and Rescue Team
Features / Operations
Monday November 02, 2020
In Antarctica, scientists conduct cutting edge research on a harsh and barren continent. It's no easy task, but to help make it happen the U.S. Antarctic Program employs small army of support staff to get these researchers the supplies they need, transport them to where they need to go and keep them safe throughout.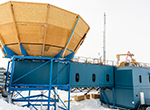 Southernmost Telescope Gets an Array of Upgrades
Science / Space and Atmospheric Physics
Monday October 12, 2020
One of the telescopes at the bottom of the world is getting a major upgrade. The South Pole's venerable Keck Array is being reconstituted into the more powerful BICEP Array, making it more sensitive and better able to observe the most ancient light in the universe.
Quick Find
Archives
2021
2020
2019
2018
2017
2016
2015
2014
2013
2012
2011
2010
2009
2008
2007
Print Issues: 1996-2006
Around the Continent