More Articles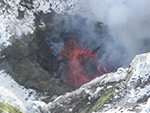 Tapping Erebus's Power
Science / Earth
Monday July 26, 2021
The heat given off by Antarctica's Mount Erebus could help power instruments monitoring the volcano, giving scientists a way to study Erebus's lava lake during the long polar night for the first time. Researchers have found a way to harness the heat from the magma underneath Erebus and turn it into electricity that can power scientific instruments.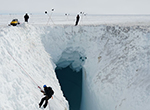 Radar Satellites Spot Dangerous Crevasses Humans Can't See
Science / Ice and Snow
Monday July 12, 2021
Antarctic researchers and support staff can now more easily find and avoid dangerous crevasses on long traverses carrying supplies to remote camps and stations, thanks to the help of a German radar satellite.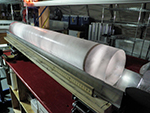 Ice core tells 11,000-year history of explosive volcanic eruptions
Science / Ice and Snow
Wednesday June 30, 2021
An ice core from West Antarctica is giving scientists insight into some intriguing climate anomalies of ages past and deepening the mystery of a volcanic eruption that destroyed a Greek island some 3,600 years ago.
Quick Find
Archives
2021
2020
2019
2018
2017
2016
2015
2014
2013
2012
2011
2010
2009
2008
2007
Print Issues: 1996-2006
Around the Continent