More Articles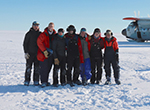 Where the Ice Layers Grow
Science / Ice and Snow
Monday July 13, 2020
Hunting for the perfect patch of ice can be a herculean task. Knut Christianson, of the University of Washington, spent three weeks with his research team in a barren and remote part of Antarctica, scouring the landscape for the perfect spot.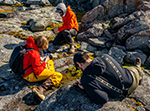 Insects in the Extreme
Science / The Biological World
Monday June 29, 2020
Scientists are taking a close look at Antarctica's largest land animal. It's a small insect called the Antarctic midge, and they don't grow much bigger than a fingernail.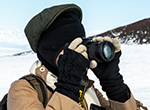 The Worst Journey - and the Best Journey to Create a Polar Expedition Graphic Novel
Features / Artists and Writers Program
Monday June 15, 2020
Artist Sarah Airriess is sharing one of the most celebrated accounts of the golden age of Antarctic exploration with a new generation. The Worst Journey in the World is the acclaimed memoir by Apsley Cherry-Garrard, a member of Robert Falcon Scott's final, ill-fated Antarctic expedition.
Quick Find
Archives
2020
2019
2018
2017
2016
2015
2014
2013
2012
2011
2010
2009
2008
2007
Print Issues: 1996-2006
Around the Continent