More Articles

Podcast: Field Support and Training
Features / Operations
Monday August 10, 2020
In Antarctica, scientists conduct cutting edge research on a harsh and barren continent. It's no easy task, but to help make it happen the U.S. Antarctic Program employs small army of support staff to get these researchers the supplies they need, transport them to where they need to go and keep them safe throughout.
Chasing Aerosol Ghosts
Science / Oceans and Atmosphere
Tuesday July 28, 2020
For a big mass of air, the Earth's upper atmosphere is a complicated place. The changing seasons cause temperatures and pressures to rise and fall, altering the characteristics of the planet's atmospheric layers, sometimes dramatically.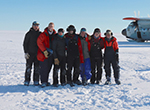 Where the Ice Layers Grow
Science / Ice and Snow
Monday July 13, 2020
Hunting for the perfect patch of ice can be a herculean task. Knut Christianson, of the University of Washington, spent three weeks with his research team in a barren and remote part of Antarctica, scouring the landscape for the perfect spot.
Quick Find
Archives
2020
2019
2018
2017
2016
2015
2014
2013
2012
2011
2010
2009
2008
2007
Print Issues: 1996-2006
Around the Continent