More Articles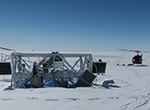 Heavy Cosmic Rays - Part II: The Death and Life of SuperTIGER-II
Science / Space and Atmospheric Physics
Monday September 28, 2020
The season before SuperTIGER-II's successful 2019 flight, the payload had an unexpectedly short flight over Antarctica. Brought down after less than a day because of a problem with the balloon carrying it, it landed in a crevasse field 150 miles from McMurdo Station. This could easily have ended in calamity. Instead, it led to one of the most daring and complicated recoveries of a long-duration balloon payload in recent memory.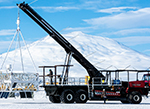 Heavy Cosmic Rays - Part I: The Flight of SuperTIGER-II
Science / Space and Atmospheric Physics
Monday September 14, 2020
In December 2019, SuperTIGER clawed its way back into the upper atmosphere. The second flight of the SuperTIGER cosmic ray experiment, officially dubbed SuperTIGER-II, flew high above the icy continent for more than a month, collecting data on the high-energy particles that zip through the cosmos.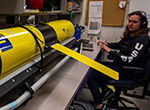 Detecting Anomalous Life Swarms
Science / The Biological World
Tuesday September 01, 2020
The seas around Antarctica are alive, but that life is not evenly distributed everywhere. Vast regions of barren ocean are punctuated by oases of concentrated nutrients that create hotspots of biological activity.
Quick Find
Archives
2021
2020
2019
2018
2017
2016
2015
2014
2013
2012
2011
2010
2009
2008
2007
Print Issues: 1996-2006
Around the Continent