More Articles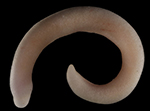 Cruising for Mollusks
Science / The Biological World
Monday March 29, 2021
Scientists are going to the ends of the Earth to discover all they can about an obscure group of sparkly, worm-like mollusks. There's lots of these critters living on the seafloor surrounding Antarctica, but they're not easy to get at and only a few scientists are studying them.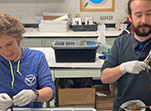 Charting a Genetic Sea Change
Science / The Biological World
Monday March 15, 2021
Scientists are mapping the coastline of ancient Antarctica using DNA from underwater invertebrates alive today. In October, despite the ongoing COVID pandemic, a team of researchers sailed from California to Antarctica to bring back the sea creatures with evidence of a long-lost transantarctic sea coded into their genes.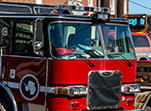 Podcast: The Fire Department
Features / Operations
Monday March 01, 2021
The Antarctic Sun is taking a behind-the-scenes look at the workers and what they do to make science at the bottom of the world possible. This Episode: The Fire Department. Even on a continent without any trees, fire is a big concern. The dry, windy conditions mean that if left alone, a spark could get out of control quickly.
Quick Find
Archives
2021
2020
2019
2018
2017
2016
2015
2014
2013
2012
2011
2010
2009
2008
2007
Print Issues: 1996-2006
Around the Continent