More Articles

Coldest, Driest, Saltiest Antarctic Soils Might Be Inhospitable To Life
Science / The Biological World
Monday August 23, 2021
Some Antarctic soils might be the only environments on Earth microbes can't colonize, a finding that goes against scientists' expectations of our planet's habitability. Most scientists assume microbes can inhabit every environment on Earth, given enough time, but new research finds that some of the coldest, saltiest, and driest soils in the Transantarctic Mountains show no signs of viable microbial life.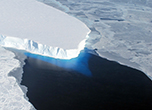 Warm Ocean Water is Eroding Thwaites Ice Shelf From Below
Science / Ice and Snow
Monday August 09, 2021
Scientists got their first glimpse at the ocean conditions surrounding the Thwaites Ice Shelf in 2019, and recently published results are worrisome for the rapidly melting ice shelf and the glacier behind it.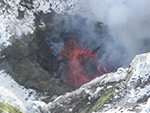 Tapping Erebus's Power
Science / Earth
Monday July 26, 2021
The heat given off by Antarctica's Mount Erebus could help power instruments monitoring the volcano, giving scientists a way to study Erebus's lava lake during the long polar night for the first time. Researchers have found a way to harness the heat from the magma underneath Erebus and turn it into electricity that can power scientific instruments.
Quick Find
Archives
2021
2020
2019
2018
2017
2016
2015
2014
2013
2012
2011
2010
2009
2008
2007
Print Issues: 1996-2006
Around the Continent