More Articles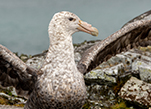 On the Wings of Petrels
Science / The Biological World
Monday February 15, 2021
Ecologist Donna Fraser carefully makes her way across a low rocky ridge towards a mass of gray feathers with a beak. It's the baby chick of a southern giant petrel.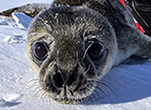 Counting on Seals
Science / The Biological World
Monday February 01, 2021
Seal science in Antarctica continues, even as the COVID-19 pandemic spread across the world. Fewer researchers and support staff traveled to Antarctica in 2020 to reduce the risk of introducing the virus to the continent. One of the few science teams that did go is working on the long-term study of Weddell seals in McMurdo Sound.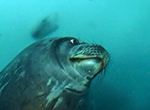 Weddell Seals Sing Songs Humans Can't Hear
Science / The Biological World
Monday January 18, 2021
The seals of McMurdo Sound are more vocal than previously thought. A new research paper published in the December edition of The Journal of the Acoustical Society of America shows that Weddell seals vocalize underwater at frequencies too high for humans to hear.
Quick Find
Archives
2021
2020
2019
2018
2017
2016
2015
2014
2013
2012
2011
2010
2009
2008
2007
Print Issues: 1996-2006
Around the Continent