Most Recent

Tag! You're it!
Science / Earth
Wednesday May 17, 2017
A number of Adelie penguins around the Ross Sea are sporting sophisticated new leg bands this year. Ornithologist David Ainley and his team attached new electronic tags to about 150 penguins to record where each penguin goes and how deeply it dives under water. The tagging project ties in with a broader effort that he's been spearheading for 20 years, monitoring Adelie penguin populations and demographics around Ross Island.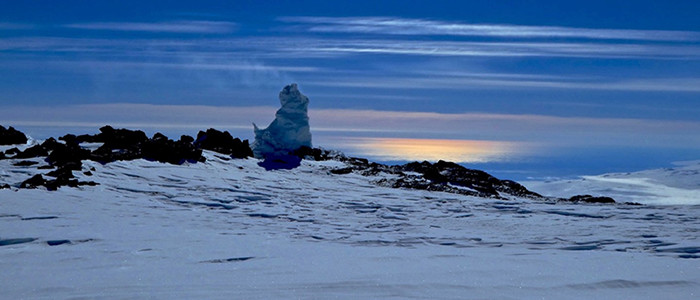 Caves Of Gas
Science / Earth
Wednesday April 26, 2017
Planet Earth is gassy. All over the world, plumes of gasses that formed deep under the planet's surface, pour out of active volcanoes and mix with the atmosphere. Tobias Fischer, a volcanologist at the University of New Mexico, spent two seasons exploring the frozen face of Antarctica's Mount Erebus, the world's southernmost active volcano, to better understand these fumes escaping from the depths of the Earth.
Quick Find
Archives
2017
2016
2015
2014
2013
2012
2011
2010
2009
2008
2007
Print Issues: 1996-2006
More Results
Mar


14


2017
Tracking Earth's Past Magnetic Moments
The key to understanding Earth's prehistoric magnetic field lies hidden in the rocks. Specifically, igneous rocks, basalts that cooled from liquid magma spewed out of volcanos. Geologist Lisa Tauxe of the University of California, San Diego, and her team, traveled to Antarctica to collect rock samples that can tell them more about the planet's magnetic field over the past few million years. The research was funded by the National Science Foundation, which manages the U.S. Antarctic Program.
Nov


30


2016
The Polar Geospatial Center
The icy surface of Antarctica is a dynamic environment; and conditions can change drastically from year to year or even week to week. Because of these endless changes, making a map of the ever-changing ice cover can be like putting together a map of the clouds. The Polar Geospatial Center has been using satellite data to provide invaluable, up-to-date information about surface conditions across the continent for nearly a decade.
May


25


2016
Scientists Recover an Abundance of Fossils and Geologic Data from Antarctica
Using everything from pickaxes to helicopters, paleontologists scoured multiple islands off the Antarctic Peninsula in February and March for the remains of prehistoric beasts and returned with a trove of fossils from the end of the time of the dinosaurs.
Mar


10


2016
Giving Mount Erebus a CAT Scan
An international collaboration of scientists is using electromagnetic emissions from lightning strikes and solar wind to map the inner workings of Antarctica's Mount Erebus, the world's southernmost active volcano. The research, led by scientists from New Zealand and the United States, will yield the clearest picture yet of the volcano's interior.
Oct


21


2015
The Lost Dry Valleys of the Polar Plateau
Today the McMurdo Dry Valleys are a unique geographic feature in Antarctica, lowland regions away from the coast with no ice cover. However, unusual mineral mounds discovered along the Transantarctic Mountains indicates that there may have once been more places like them elsewhere on the continent.
Oct


08


2015
The Dry Valleys Helped Scientists Understand a Wet Mars
The recent announcement of evidence of flowing, liquid water just below the Martian surface made headlines across the globe. When asked what this water might be like, NASA scientist Chris McKay pointed to Antarctica's briny Don Juan Pond in the McMurdo Dry Valleys.
May


11


2015
Anatomy of a Deglaciation
One way to understand how Antarctica's ice will melt - which glaciers will recede when - is to look at how it happened in the past. Trevor Williams and his team traveled to a remote mountain range to collect rocks to help map out previous deglaciations.
Apr


13


2015
Underground Movement
There is an underground movement underway in Antarctica. This particular movement doesn't involve radical political parties or fringe music festivals, though the idea of super salty water moving through the shallow subsurface of the Dry Valleys may eventually shake up established orthodoxy.
Mar


04


2015
Lifeblood of a Glacier
The name alone evokes a certain mystery on a continent riddled with enigmas. Blood Falls, however, is slowly giving up its secrets. A team of scientists and engineers sent a probe into the cold ice of Taylor Glacier in the first feat of its kind and extracted super salty samples of water from the main vein that feeds the red-stained feature.
Feb


12


2015
Seeing the Forest For the Trees
Paleontologists head to the hills in Antarctica to recover plant fossils. Among their amazing finds are the second largest fossil forests ever found in Antarctica and new plant species from more than 200 million years ago.
Jan


30


2015
Scanning the Horizon
Are the McMurdo Dry Valleys melting? It may seem like a strange question to ask about one of Antarctica's few relatively ice-free places. However, ice buried just below the dark sediment surface is rapidly disintegrating.
Jan


02


2015
Window to the Past
Tyler Mackey slips through a hole in an ice-covered lake in Antarctica, dropping a dozen meters into the near-freezing water and diving back about 2.5 billion years into the past to study the evolution of life in its earliest form.
Nov


13


2014
Chipping Away
Kenneth Sims is a geologist who specializes in using naturally occurring radiogenic isotopes to study Earth processes. Not the sort of high-tech job that one would think requires lugging a sledgehammer to a rock outcrop in Antarctica.
| | | |
| --- | --- | --- |
| Results 1 through 15 of 107 | Page 1 of 8 | |