Science - Recent Headlines
Most Recent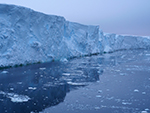 Thwaites Glacier - Future
Science / Ice and Snow
Monday May 17, 2021
The massive Thwaites Glacier on the coast of West Antarctica is falling to pieces because of climate change. Shifting ocean currents are bringing warm sea water up under its vulnerable underside, melting out the ice at its base and accelerating its movement into the ocean.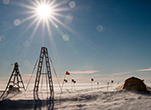 Thwaites Glacier - Present
Science / Ice and Snow
Monday May 03, 2021
Thwaites Glacier is melting fast because of climate change, causing sea levels to rise the world over. Of all the world's glaciers, it's the one that scientists are most worried that a catastrophic collapse could happen quickly and affect coastal regions everywhere.
Quick Find
Archives
2021
2020
2019
2018
2017
2016
2015
2014
2013
2012
2011
2010
2009
2008
2007
Print Issues: 1996-2006
More Results
Apr


21


2021
Thwaites Glacier - Past
Antarctica's massive Thwaites Glacier is melting because of climate change, and if it collapses completely, could add about two feet to global sea level. Glaciologists are tracking it with alarm, as Thwaites has lost a tremendous amount of mass over recent decades, but its remote location in West Antarctica makes getting an up-close look at it extremely difficult.
Mar


29


2021
Cruising for Mollusks
Scientists are going to the ends of the Earth to discover all they can about an obscure group of sparkly, worm-like mollusks. There's lots of these critters living on the seafloor surrounding Antarctica, but they're not easy to get at and only a few scientists are studying them.
Mar


15


2021
Charting a Genetic Sea Change
Scientists are mapping the coastline of ancient Antarctica using DNA from underwater invertebrates alive today. In October, despite the ongoing COVID pandemic, a team of researchers sailed from California to Antarctica to bring back the sea creatures with evidence of a long-lost transantarctic sea coded into their genes.
Feb


15


2021
On the Wings of Petrels
Ecologist Donna Fraser carefully makes her way across a low rocky ridge towards a mass of gray feathers with a beak. It's the baby chick of a southern giant petrel.
Feb


01


2021
Counting on Seals
Seal science in Antarctica continues, even as the COVID-19 pandemic spread across the world. Fewer researchers and support staff traveled to Antarctica in 2020 to reduce the risk of introducing the virus to the continent. One of the few science teams that did go is working on the long-term study of Weddell seals in McMurdo Sound.
Jan


18


2021
Weddell Seals Sing Songs Humans Can't Hear
The seals of McMurdo Sound are more vocal than previously thought. A new research paper published in the December edition of The Journal of the Acoustical Society of America shows that Weddell seals vocalize underwater at frequencies too high for humans to hear.
Dec


14


2020
A Bot in the Ocean
During the past austral summer, scientists released an autonomous seafaring robot into the Southern Ocean. For four months, the small "Wave Glider" navigated the frigid Antarctic waters, collecting data on the surrounding ocean and atmosphere.
Nov


30


2020
An Aerial Assessment of Adelie Penguins
Flying robots are helping scientists track the population of Adelie Penguins. This past austral summer, researchers flew a small fleet of coordinated unmanned aerial vehicles, or "UAVs," over Cape Crozier, one of the largest Adelie penguin colonies in the world, photographing it in greater detail than ever before.
Oct


12


2020
Southernmost Telescope Gets an Array of Upgrades
One of the telescopes at the bottom of the world is getting a major upgrade. The South Pole's venerable Keck Array is being reconstituted into the more powerful BICEP Array, making it more sensitive and better able to observe the most ancient light in the universe.
Sep


28


2020
Heavy Cosmic Rays - Part II: The Death and Life of SuperTIGER-II
The season before SuperTIGER-II's successful 2019 flight, the payload had an unexpectedly short flight over Antarctica. Brought down after less than a day because of a problem with the balloon carrying it, it landed in a crevasse field 150 miles from McMurdo Station. This could easily have ended in calamity. Instead, it led to one of the most daring and complicated recoveries of a long-duration balloon payload in recent memory.
Sep


14


2020
Heavy Cosmic Rays - Part I: The Flight of SuperTIGER-II
In December 2019, SuperTIGER clawed its way back into the upper atmosphere. The second flight of the SuperTIGER cosmic ray experiment, officially dubbed SuperTIGER-II, flew high above the icy continent for more than a month, collecting data on the high-energy particles that zip through the cosmos.
Sep


01


2020
Detecting Anomalous Life Swarms
The seas around Antarctica are alive, but that life is not evenly distributed everywhere. Vast regions of barren ocean are punctuated by oases of concentrated nutrients that create hotspots of biological activity.
Jul


28


2020
Chasing Aerosol Ghosts
For a big mass of air, the Earth's upper atmosphere is a complicated place. The changing seasons cause temperatures and pressures to rise and fall, altering the characteristics of the planet's atmospheric layers, sometimes dramatically.
| | | |
| --- | --- | --- |
| Results 1 through 15 of 535 | Page 1 of 36 | |