Science - Recent Headlines
Most Recent
Antarctic ice shivers from distant earthquakes
Science / Earth
Thursday October 07, 2021
Antarctica is the most remote continent on Earth, but new research shows it is still connected to what happens in the rest of the world. A new study finds large earthquakes can cause ice on the slopes of Antarctica's Mt. Erebus to quiver and vibrate, even when the quake happens thousands of miles away.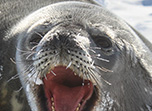 Scoping out the seal mating scene
Science / The Biological World
Monday September 20, 2021
Biologists have been observing how male Weddell seals secure prime locations when courting females to learn more about the southernmost mammal's mysterious breeding behavior.
Quick Find
Archives
2021
2020
2019
2018
2017
2016
2015
2014
2013
2012
2011
2010
2009
2008
2007
Print Issues: 1996-2006
More Results
Sep


07


2021
Meet the Penguin Misfits
Looks are important for Adelie penguins, but they may not be as critical for breeding as biologists previously thought. New research shows Adelie penguins with unusual coloring still manage to breed successfully, contrary to what biologists had predicted.
Aug


23


2021
Coldest, Driest, Saltiest Antarctic Soils Might Be Inhospitable To Life
Some Antarctic soils might be the only environments on Earth microbes can't colonize, a finding that goes against scientists' expectations of our planet's habitability. Most scientists assume microbes can inhabit every environment on Earth, given enough time, but new research finds that some of the coldest, saltiest, and driest soils in the Transantarctic Mountains show no signs of viable microbial life.
Aug


09


2021
Warm Ocean Water is Eroding Thwaites Ice Shelf From Below
Scientists got their first glimpse at the ocean conditions surrounding the Thwaites Ice Shelf in 2019, and recently published results are worrisome for the rapidly melting ice shelf and the glacier behind it.
Jul


26


2021
Tapping Erebus's Power
The heat given off by Antarctica's Mount Erebus could help power instruments monitoring the volcano, giving scientists a way to study Erebus's lava lake during the long polar night for the first time. Researchers have found a way to harness the heat from the magma underneath Erebus and turn it into electricity that can power scientific instruments.
Jul


12


2021
Radar Satellites Spot Dangerous Crevasses Humans Can't See
Antarctic researchers and support staff can now more easily find and avoid dangerous crevasses on long traverses carrying supplies to remote camps and stations, thanks to the help of a German radar satellite.
Jun


30


2021
Ice core tells 11,000-year history of explosive volcanic eruptions
An ice core from West Antarctica is giving scientists insight into some intriguing climate anomalies of ages past and deepening the mystery of a volcanic eruption that destroyed a Greek island some 3,600 years ago.
Jun


14


2021
Southern Ocean Sea Ice Cover Has Gradually Grown Over Past 10,000 Years
Salt levels in an ice core drilled at the South Pole are telling scientists what Antarctic sea ice conditions were like in ages past, information crucial to understanding how the southernmost continent will fare in a changing climate.
May


17


2021
Thwaites Glacier - Future
The massive Thwaites Glacier on the coast of West Antarctica is falling to pieces because of climate change. Shifting ocean currents are bringing warm sea water up under its vulnerable underside, melting out the ice at its base and accelerating its movement into the ocean.
May


03


2021
Thwaites Glacier - Present
Thwaites Glacier is melting fast because of climate change, causing sea levels to rise the world over. Of all the world's glaciers, it's the one that scientists are most worried that a catastrophic collapse could happen quickly and affect coastal regions everywhere.
Apr


21


2021
Thwaites Glacier - Past
Antarctica's massive Thwaites Glacier is melting because of climate change, and if it collapses completely, could add about two feet to global sea level. Glaciologists are tracking it with alarm, as Thwaites has lost a tremendous amount of mass over recent decades, but its remote location in West Antarctica makes getting an up-close look at it extremely difficult.
Mar


29


2021
Cruising for Mollusks
Scientists are going to the ends of the Earth to discover all they can about an obscure group of sparkly, worm-like mollusks. There's lots of these critters living on the seafloor surrounding Antarctica, but they're not easy to get at and only a few scientists are studying them.
Mar


15


2021
Charting a Genetic Sea Change
Scientists are mapping the coastline of ancient Antarctica using DNA from underwater invertebrates alive today. In October, despite the ongoing COVID pandemic, a team of researchers sailed from California to Antarctica to bring back the sea creatures with evidence of a long-lost transantarctic sea coded into their genes.
Feb


15


2021
On the Wings of Petrels
Ecologist Donna Fraser carefully makes her way across a low rocky ridge towards a mass of gray feathers with a beak. It's the baby chick of a southern giant petrel.
| | | |
| --- | --- | --- |
| Results 1 through 15 of 544 | Page 1 of 37 | |