Science - Recent Headlines
Most Recent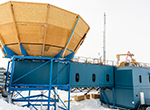 Southernmost Telescope Gets an Array of Upgrades
Science / Space and Atmospheric Physics
Monday October 12, 2020
One of the telescopes at the bottom of the world is getting a major upgrade. The South Pole's venerable Keck Array is being reconstituted into the more powerful BICEP Array, making it more sensitive and better able to observe the most ancient light in the universe.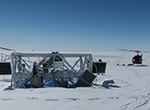 Heavy Cosmic Rays - Part II: The Death and Life of SuperTIGER-II
Science / Space and Atmospheric Physics
Monday September 28, 2020
The season before SuperTIGER-II's successful 2019 flight, the payload had an unexpectedly short flight over Antarctica. Brought down after less than a day because of a problem with the balloon carrying it, it landed in a crevasse field 150 miles from McMurdo Station. This could easily have ended in calamity. Instead, it led to one of the most daring and complicated recoveries of a long-duration balloon payload in recent memory.
Quick Find
Archives
2020
2019
2018
2017
2016
2015
2014
2013
2012
2011
2010
2009
2008
2007
Print Issues: 1996-2006
More Results
Sep


14


2020
Heavy Cosmic Rays - Part I: The Flight of SuperTIGER-II
In December 2019, SuperTIGER clawed its way back into the upper atmosphere. The second flight of the SuperTIGER cosmic ray experiment, officially dubbed SuperTIGER-II, flew high above the icy continent for more than a month, collecting data on the high-energy particles that zip through the cosmos.
Sep


01


2020
Detecting Anomalous Life Swarms
The seas around Antarctica are alive, but that life is not evenly distributed everywhere. Vast regions of barren ocean are punctuated by oases of concentrated nutrients that create hotspots of biological activity.
Jul


28


2020
Chasing Aerosol Ghosts
For a big mass of air, the Earth's upper atmosphere is a complicated place. The changing seasons cause temperatures and pressures to rise and fall, altering the characteristics of the planet's atmospheric layers, sometimes dramatically.
Jul


13


2020
Where the Ice Layers Grow
Hunting for the perfect patch of ice can be a herculean task. Knut Christianson, of the University of Washington, spent three weeks with his research team in a barren and remote part of Antarctica, scouring the landscape for the perfect spot.
Jun


29


2020
Insects in the Extreme
Scientists are taking a close look at Antarctica's largest land animal. It's a small insect called the Antarctic midge, and they don't grow much bigger than a fingernail.
May


26


2020
Pumping Iron
Cold, hard iron is on the move. Particles of the ferrous metal are trickling into Antarctica's oceans, and marine algae are gobbling it up.
May


11


2020
Facing the Ultimate Acid Test
Some of the Southern Ocean's smallest animals are facing big challenges. The once-exceedingly stable Southern Ocean around Antarctica is warming, and as it absorbs carbon dioxide from the atmosphere, it is also growing more acidic.
Apr


27


2020
Stringing Together More Neutrino Detectors
The biggest experiment at the South Pole is getting a significant upgrade. Over the next three years, IceCube, the neutrino detector located at the South Pole, will be getting numerous new detectors added to its core. It's the biggest upgrade to the IceCube detector since its completion in 2010.
Apr


14


2020
Masses of Mosses
As the continent warms, Antarctica is getting greener. Plants are taking hold where glaciers once covered the landscape. Moss in particular is sprouting up in new spots where it had been previously inhospitable. While moss isn't a new arrival to the continent, its spread could mean big changes for the ecosystems of Antarctica.
Apr


01


2020
A Seal Grows In Antarctica
Weddell seals thrive in some of the coldest conditions on the planet, but scientists aren't quite sure why they don't freeze when they're first starting out. Weddell seals thrive in some of the coldest conditions on the planet, but scientists aren't quite sure why they don't freeze when they're first starting out.
Jan


26


2020
Hunting For the Oldest Ice
For scientists, ice cores are an indispensable window into the past. A research team using ancient ice recovered from Antarctica, announced recently that they'd identified some of the oldest air samples ever discovered, as far back as 2 million years ago, and that they're going back for more.
Jan


06


2020
Larvae La Vida Loca
As oceans warm around the world, the creatures that live in them are feeling the effects. In regions like the Southern Ocean surrounding Antarctica, which has been unchanged for millennia, researchers worry that even small fluctuations in water temperatures can have major effects on the marine ecosystem.
Nov


05


2019
SALSA Part I: Scratching the Surface
A team of researchers and drilling engineers recently spent six weeks in West Antarctica carefully drilling through nearly a mile of ice to study Mercer Subglacial Lake. This body of water is buried under an ice stream, and likely hasn't seen the light of day for at least thousands and possibly hundreds of thousands, of years.
| | | |
| --- | --- | --- |
| Results 1 through 15 of 525 | Page 1 of 35 | |