| | |
| --- | --- |
| | Winter Site Manager Andy Martinez worked all South Pole winter long in his spare time to refurbish many of the broken frames that held pieces of polar history, and also built many new frames out of used wood from the old station. |
Preserving Pole's past
Station memorabilia gets new home in elevated station
Posted October 26, 2007
Visitors to the newly constructed, elevated station at the South Pole will surely marvel at the sheer magnitude of materials and manpower it took to erect one of the world's most high-tech, scientific research facilities in the middle of Nowhere, Antarctica.
But today's South Pole is only the latest incarnation in a steady stream of historical watersheds. Countless reminders of past glories sit in glass displays and hang from the walls of those spotless hallways, witness to 50 years of habitation and human drama.
Photos, paintings, plaques and pole markers make up the bulk of South Pole's physical memories from the last five decades. These artifacts and memorabilia were donated and created by those who passed through 90 South—from famous explorers and adventurers to blue-collar machinists.
Items include faded, black-and-white photographs of crews who spent the winter at South Pole, dating back to 1957; as well as belongings as unique as the sweater apparently worn by Adm. Richard Byrd during his historic flight over the geographic pole on Nov. 29, 1929.
Some items were originally displayed in buildings under the iconic Dome. However, those structures were demolished during the last couple of years. Other items were squirreled away in boxes, finally seeing the light of day after who knows how many years.
For Jerry Marty, a South Pole history buff and long-time Polie, such items are treasures without price tags. The facilities construction manager for the National Science Foundation's Office of Polar Programs, Marty was at the South Pole last austral summer and discussed what to do with the "boxes and chests" of memorabilia with some of the station management.
"We said, 'Gee. Now is the time. We need to start displaying this, and do it appropriately [in a way] that would be compatible with the design of the new station,'" he says.
That task largely fell to Andy Martinez, the 2007 winter site manager. It was another item on a long, winter checklist that soon became a job outside his normal 54-hour, six-days-a-week role as the station's leader.
"It's been a pretty fun project, but pretty time consuming," Martinez says over the phone, still about a month shy of the arrival of the first LC-130 aircraft flown by the New York Air National Guard at the end of October.
Framing the past
It turned out the task involved more than just throwing a few pictures on the wall and ensuring they weren't crooked. Martinez soon found himself in the restoration business.
A number of the wood picture frames were busted, particularly those from many of the early civilian winter-over crews after the domed station was dedicated in January 1975. Some photos were not even framed, but merely displayed behind Plexiglas. Carpenters of other Pole seasons past built frames from scrap wood or old cargo pallets. But Martinez came up with an even better idea—a source that would wed the new station to the old.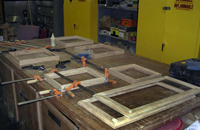 New frames held together by clamps in the South Pole carpenter shop.
This past winter's ongoing demolition included the former gym, which sported a hardwood floor. Martinez got the idea to salvage some of the seasoned maple for a new set of frames. He had to rip out nails, and trim, sand and plane the wood to remove 30 years of wear and tear and smells. He ended up building some 30 frames.
"I knew I wanted to repair a few of the frames, but I didn't realize I would do so many," he says. "There's a lot of creativity that has to happen down here, I think, and [I thought] bringing some of the old station into the new station with these frames … would be a good idea, to incorporate both stations into one."
Spindler's List
There might not have been so many pictures to frame if not for another Polie who, over the years and thanks to the material he archived on the Internet, has become the unofficial South Pole historian. Bill Spindler's Web site, www.southpolestation.com, began as a method to chronicle his 1977 winter, leading up to a reunion with his old Polie pals in 2000.
"While doing this, I realized that I had a bunch of historical info from clippings and personal notes that existed nowhere else, so I started putting the timelines together," he explains via e-mail.
During a return visit to the Pole for the 2005 winter, Spindler scanned and photocopied all of the photos in the old library under the Dome before that building was disassembled.
The Web site is now a sprawling archive of photos, historical essays and trivia. Martinez has dubbed the site "Spindler's List" as, while working with Spindler, he was able to retrieve about 18 missing winter-over photos. Many of the shots were Navy-era teams who wintered at the original International Geophysical Year station between 1957 and 1974.
About a dozen winter-over group photos from the last half-century are still MIA, but Martinez has created temporary plaques with the names of each crew.
"I've made it a major effort over the past eight … years to first try and collect the station managers' names and numbers of winter-overs, then the actual list of names, and finally photos," Spindler says.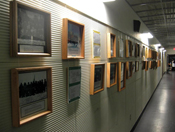 Fifty-one winter-over photos and plaques line a hallway in the new South Pole Station.
Now, 51 photos and name plaques line the long, second-floor hallway of the station's A3 wing in chronological order. The timeline is a window on the past, starting with smaller, all-male crews (some pictured with dogs, when canines were allowed on the continent) to the modern-day, color photos of winter-over teams with as many as 86 men and women.
"It's really funny how you can see on the wall these small frames, and they're gradually getting bigger as you get to the end of the wall," Martinez says of the evolution.
He thinks the current crew appreciates the new display. "It's been kind of fun to see these old faces," he muses. "They were doing exactly what we did—wintering over at South Pole … It gets [us] thinking about past winters, and what it was like wintering here in 1962."
Marking a new era
Modern-day Polies contribute to one of the most popular mementos on the continent—the pole markers. (In fact, they have become something of an Antarctic phenomenon, with replicas on sale at all three U.S. stations.)
The first marker was created in 1959 by the U.S. Coast and Geodetic Survey, and a later marker by the U.S. Geological Survey commemorated the Bicentennial in 1976, according to Spindler.
"These markers were no different than the bench marks you might find along any American city street or section corner," he says. Later on, winter crews would simply fashion a sheet metal tab etched with the year, stick it on a galvanized pipe, and place it at 90 degrees south on New Year's Day.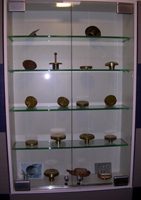 A display case holds 17 South Pole markers, the earliest dating back to 1987.
(The spot for the marker moves by about 10 meters per year as the South Pole is on a dynamic, moving ice sheet.)
Recent crews have created virtual works of art in pole markers shaped like Antarctica or the new elevated station. These are safely locked away in glass cases now. But many of the older markers are buried under ice and snow, perhaps as deep as 15 meters. Marty would like to see some of them recovered, if the effort can be done safely.
"I personally really, really enjoy seeing the markers," he says. "The creativity, the thought, and the time and attention to detail we are seeing … is pretty darn special."
More to come
There's certainly plenty of room in the new station for them. Martinez says there are enough walls and space in the building to accommodate new works of art and photographs.
"We don't have enough [memorabilia]… to fill up the entire station. But I think in 20 years' time, you're just going to accumulate that stuff, and it will fill up pretty good," he says.
"We're trying to brighten this place up a bit," he adds.
Related Story: Favorite Pieces