| | |
| --- | --- |
| Photo Credit: Peter Rejcek | Dave Breitenfield, center, helps direct an exercise for South Pole firefighter trainees at a facility in Arvada, Colo. Breitenfield, a certified firefighter, will be stationed at the Pole during the austral summer. |
Learning the basics
South Pole staff and scientists train as firefighters to prevent blazes from spreading out of control
Posted October 26, 2007
It's a mild September day in Arvada, Colo., a suburb west of Denver, with bluebird, cloudless skies. But the firefighter trainees are perspiring heavily in their yellow bunker gear, the sweat pouring off noses and down necks like candle wax melting.
These are not ordinary recruits training to become full-fledged firefighters. These folks are mechanics or meteorologists or even scientists — and most of them will spend the next year or so of their lives at the South Pole. They are known as winterovers in the parlance of the U.S. Antarctic Program — people who will spend the winter months on the continent. Learning basic firefighting skills before heading south is another part of the job.
"This is our team-building time," explains Ethan Dicks, a science grantee who works on the IceCube project, a massive neutrino observatory buried in the ice at South Pole. This will be Dicks' third winter at the Pole and his third time attending the weeklong fire brigade training.
He says he makes it a point to attend the school because of his experience living and working at the world's southernmost research station. The instructors at the Arvada Fire Protection District training center don't necessarily understand the unique logistical challenges faced by Polies, he says, so he offers details about the station to help the class.
"The things that they may consider as normal, we don't have that," he says.
Like water hoses. The station does sport a few two-wheeled, mobile water tanks, but they use a dry chemical powder as an extinguishing agent. The volunteer firefighters will mainly rely on handheld fire extinguishers and the new elevated station's automated fire-suppression system in the case of an outbreak.
Capt. Ron Weber of the Denver Fire Department says his crew of instructors is concentrating on the basic skills the fire team members will need once they land on the Ice. "We're focusing more on what their concerns are with their buildings."
Katie Hess, South Pole winter site manager for the 2008 winter, lauded the way the fire instructors have custom tailored the course for the Polies. "They did a fantastic job and were very accommodating to focus on teaching a unique set of skills and tools," she says while watching her crew run drills into a smoking building on the training grounds.
"Most firefighting employs water hose for extinguishment and ventilation, we use mostly dry chemical agent and electric fans," she adds.
Fire is of particular concern at the South Pole because of the extremely dry conditions. A blaze in the middle of the winter could be life-threatening if the main station building were severely damaged.
"They have no support," Weber says.
The freshman firefighters, however, will have some help during the summer when they first arrive. A small contingent of full-time personnel from the Antarctic Fire Department, based at McMurdo Station, will be stationed at the South Pole, primarily for airfield safety and support.
But another part of their job will be to ensure the civilian Polies are well trained before the last flight for eight months leaves in February, according to Dave Breitenfield, one of two full-time firefighters who will work at Pole all summer season long.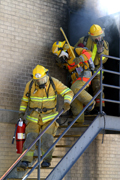 Photo Credit: Peter Rejcek
South Pole firefighter trainees leave a smoking building during an exercise.
"They've done a very good job of modifying their regular curriculum to help us with what we need to know while we're down there," Breitenfield says of the instructors, who are cramming five weeks worth of information and skills training into five days.
Breitenfield has served as a volunteer firefighter in Colorado on and off for nearly 15 years. He earned his professional certifications during his most recent stint with the Platte Canyon Fire Department, about a half-hour west of Denver in the mountains.
"Some of this stuff is a good refresher, and I'm getting a different perspective from different departments and firefighters," he says. But even more important for his job, Breitenfield gets to see how the rookie firefighters work together as a team. "Plus, [I get] to know and bond with them, and get to be a part of the team before I get down there.
"The idea of having us here [at training] is that we can get an idea of what things we need to address and focus on before the season even starts," he adds. "We can get a good jump on that before we hit the snow down there."