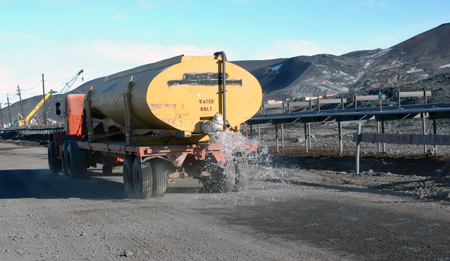 Once the bulk of the snow and ice are gone during the austral summer, McMurdo Station residents and equipment must deal with dust. Above, a truck spreads water on the roads to help keep the dust down.
Innovations bristle with possibilities
NSF considers changes to airfields, energy supply to make operations leaner
Posted October 9, 2007
As George Blaisdell looks around Antarctica, he does not see so much what is here as what might be.
As operations manager in the Office of Polar Programs of the National Science Foundation, his job covers the spectrum of how things get done, from getting electricity to the stations to giving aircraft a safe place to land. While such a job is continually focused on the here and now, he can easily fill a conversation with his images of the future.
Visions such as going from three seasonal airfields at McMurdo Station to just one, adding a wheeled runway at South Pole that would support C-17s, using an electromagnetic sea ice profiler to make projects on the ice safer and quicker, harvesting electricity from the wind and sun, and using a soy-based product to lengthen the lives of roadways while reducing the loss of materials.
A couple of these have worked their way to the testing phase; the rest are dreams for which he is still working out details.
"I have to put all of this on a spreadsheet and say, 'All right, let's take this scenario,'" he said after walking through his idea of a consolidated airfield. "'Let's drive it through and find out what it takes. What do we gain? What is it going to cost us more? Now let's try it this way.'"
One project that is slated to be tested in a couple of years is the viability of generating electricity with wind-powered turbines. Blaisdell is currently scouting out prospective spots for the towers.
However, a more imminent project is the testing of a biodegradable surface binder called Envirotac II, popularly known as Rhino Snot.
A 500-gallon sample of the product has arrived at McMurdo, and some of it may be placed on the helicopter pad and roads in the next few weeks. But Blaisdell said the bulk of the testing will happen next summer, "when it's warmest and you can mix it in and set it up."
He said there are several reasons for wanting to control the dust that is stirred up from roads by traffic and quickly dispersed by the wind.
"It gets in vehicles' filters, radiators and cabs," Blaisdell said. "It's particularly corrosive here because this is a volcanic dust, which is very high in silica, which is a hard material, so things wear."
The abrasive nature of the dust shortens the life spans of filters, lubricants and any moving parts in a vehicle, necessitating increased maintenance time and use of materials.
Health issues are a consideration, too, he said, from breathing dust and getting it into one's eyes.
"When there is dust in town," said lead physician Harry Owens, "it can be bothersome from a health standpoint, mainly as an eye irritant – especially for people with contact lenses – and secondarily as a sinus and nasal passage irritant."
The volcanic dust creates a problem not only with where it goes but also where it was blown from. Fines – the crushed rock material used around the station on road surfaces and to improve traction on ice – must be replenished and Blaisdell said there is not a good source for it.
"One of the ways that we can help that problem is to reduce our use of fines and the way to do that is to preserve what we have," he said.
What Envirotac II does is give cohesive ability to a substance, such as sand, that lacks it. The product played an important role in the early movements of the U.S. military into Afghanistan shortly after Sept. 11, according to the Web site of the manufacturer.
As troops set up Forward Operations Base Rhino on a dry lake bed airfield, the nearly constant flow of aircraft created havoc with the surface. It was there that Envirotac picked up the nickname Rhino Snot.
"They use it, in this particular case, as a road binder and to settle the dust, to keep the dust down," said Fleet Operations Manager Gerald Crist. "They've been using it heavily over in Iraq to build airfields in the sand and it almost makes like a pavement. It just kind of binds it together, but it's not like it's something toxic or anything that we're used to."
Blaisdell said it is a by-product of soy and is very benign.
"It's non-reactive with the kinds of soils we have here," he said, "with waste or with fuel or with oils that might get dribbled on it. It's considered very neutral in that regard."