| | |
| --- | --- |
| Photo Credit: Chad Carpenter | |
Dropping in
Air Force C-17 delivers cargo to South Pole in training mission
A C-17 Globemaster III, flown by airmen from McChord Air Force Base in Washington, airdropped more than 20,000 pounds of cargo at the South Pole on Dec. 19, in a training exercise designed to keep personnel sharp in the case of an emergency.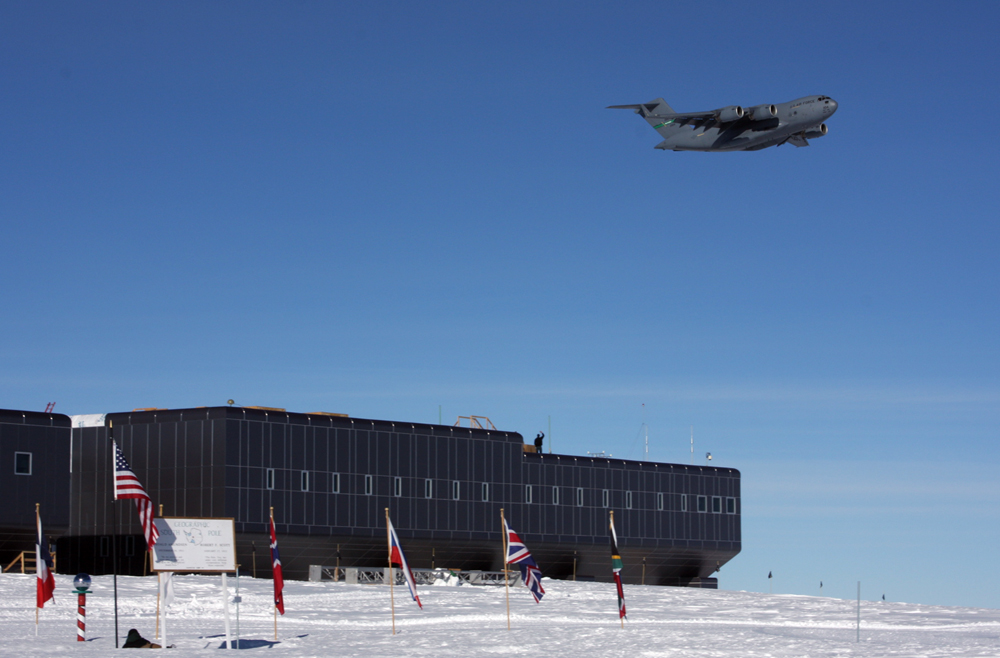 Photo Credit: Chad Carpenter
An Air Force C-17 flies past South Pole Station during an air drop on Dec. 19.
"The big drive is to make sure we have the right people trained, and enough people trained, to execute this capability any time we need to," said Lt. Col. Jim McGann, 62nd Operations Group deputy commander-Antarctica.
Almost a year ago to the day, a crew from McChord executed a similar airdrop, a first for the C-17 in Antarctica. (See the Dec. 31, 2006 issue of The Antarctic Sun.) McGann said his team would like to make the airdrops an annual exercise, and said next year the target drop zone could be the station's skiway, where the New York Air National Guard LC-130s operate.
"We love to airdrop. It's a great capability for us. It's exciting, and it's a challenge — and we love a challenge," McGann said.