| | |
| --- | --- |
| Photo Credit: Kevin Pettway | Penguin researcher Grant Ballard walks around the Adélie penguin colony at Cape Crozier. Cape Crozier is one of six Antarctic Specially Protected Areas under review by the members of the Antarctic Treaty nations this year. |
Special areas
Management plans for ASPA sites tightened for upcoming review by Treaty nations
Posted March 14, 2008
Antarctica has come to symbolize one of the last, great frontiers for science — a pristine, natural laboratory for oceanography, glaciology, biology, astrophysics and a host of other research endeavors.
Keeping the continent neat and tidy — unsullied from pollution and degradation from human activities as much as possible — is one of the chief goals of the nations that operate on its ice sheets, in biologically and geologically diverse areas, and near its shores.
Environmental protection of Antarctica has been a cornerstone of international policy since at least the 1960s, and many areas of special interest to scientists and historians enjoy additional safeguards under various designations that dictate how national programs manage those sites.
The management plans for six sites overseen by the U.S. Antarctic Program (USAP), called Antarctic Specially Protected Areas (ASPAs), are up for review by the nations that take part in the Antarctic Treaty System, a nearly 50-year-old collection of agreements that regulates activities on the seventh continent.
It's up to Nathan Biletnikoff, manager of Raytheon Polar Service's environmental engineering department, and his team to ensure the ASPA management plans remain current with how the United States and others use those sites. Raytheon Polar Services (RPS) provides much of the logistical support for the USAP, which is managed by the National Science Foundation.
"We're taking environmental protocol that has been evolving in the treaty system, and that has been implemented by treaty members, and making sure we're on pace with everybody," Biletnikoff said.
However, the USAP wants to do more than follow. "Actually, we're trying to lead the way [on conservation]," he added.
"What we are implementing are slightly stricter environmental protocols," Biletnikoff said. The updates to the management plans, for instance, focus on preventing the invasion of nonnative species to Antarctica or cross-species contamination of neighboring sites.
For example, the McMurdo Dry Valleys, a relatively ice-free area that is the site of a number of scientific studies, has a series of lakes that contain endemic microorganisms. Scientists who study these ecosystems risk transporting a species from one ice-covered lake to another, so one recommended procedure would require personnel to wash boots after working in one of the lakes.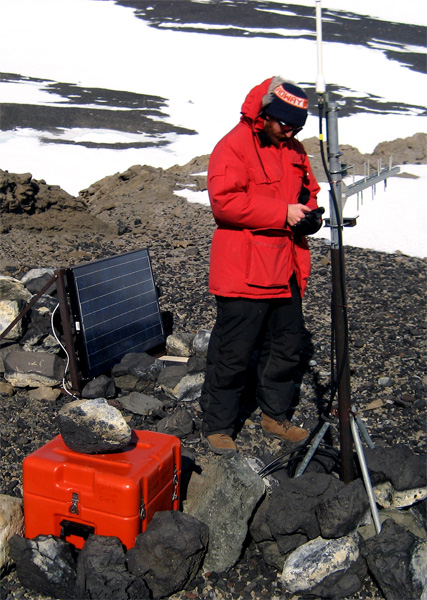 Photo Credit: Kevin Pettway
Environmental technician Nathan Williams determines the GPS location of a repeater antenna at Cape Crozier.
"Some of those species are actually separated in those lakes, where they occur in one lake and not the other," Biletnikoff explained.
There are 67 ASPAs under the treaty system, many of which were established as early as 1966. However, the current designation system was adopted following the 1991 ratification of a comprehensive plan called the Protocol on Environmental Protection to the Antarctic Treaty.
Entry into an ASPA requires a permit. The areas are under protection for a variety of reasons, according to Kevin Pettway, the environmental lead at McMurdo Station. His job during the 2007-08 season involved doing much of the legwork for the ASPA management plan updates.
Some areas are home to unique species, such as at Linnaeus Terrace, a roughly 3-square-kilometer site near the McMurdo Dry Valleys. Organisms known as cryptoendolithics, which reside within rocks or coral or other impossible places, live in abundance at Linnaeus Terrace in the basalt rock. At Cape Royds on Ross Island lives the most southerly colony of Adélie penguins. Both sites are among the six under review.
Pettway not only visits some of the ASPAs to collect information, but also discusses management practices with the scientists who work in the areas. He wants to know things like whether boundaries need to grow or shrink because of the movement of species.
"It's a high-profile project," Pettway said.
Scientists David Ainley and Grant Ballard spend the austral summer among Adélie penguin colonies on and near Ross Island, where McMurdo Station sits. Both men say the ASPA designations are important to control human traffic through the sensitive areas they study.
"I think we would see visitors more often for sure [without the ASPA]," said Ballard, a researcher with PRBO Conservation Science in Petaluma, Calif., and who works mainly at Crozier. "I don't think visitors are inherently bad, but it would add a whole other level of complexity to managing our project and making sure that there wasn't an impact."
While tourism in Antarctica is steadily growing — the International Association of Antarctic Tour Operators (IAATO) estimates that more than 37,000 tourists visited the continent during the 2006-07 summer season — only a small fraction of tourists visit ASPA sites in the Ross Sea.
The most popular is Cape Royds, where Ainley has worked for a number of years. However, Ainley is not so much concerned with tourists, as he is in overfishing in the areas where the penguins forage. He said the current ASPA boundary for Royds extends about 500 meters off shore, and the current management plan says the penguins forage there. In reality, those penguins forage at least 20 kilometers away from the colony, and more than 30 kilometers when food is scarce, according to Ainley.
"I would like to see the entire Ross Sea protected — but I would be dreaming," said Ainley, a researcher with the ecological consulting firm H.T. Harvey and Associates in California. "It's been pretty easy to protect the Antarctic continent, but it's nearly impossible to protect the Southern Ocean."
Ballard said that the penguin research team has data from satellite tags that show the extent of the foraging areas. He worries about the sort of ecological disaster posed should a vessel sink, like what happened earlier in the season when a cruise ship went down off the Antarctic Peninsula in less than 48 hours.
"It would be nice to protect the area that [the Ross Sea penguins] actually use and need for breeding, which includes their foraging area," Ballard explained. With a colony of some half-million birds, the marine boundary to protect Crozier could easily extend 200 kilometers, he added.
Biletnikoff said his department is currently working on four different options for the Cape Royds ASPA, which could include changing the current boundaries. He declined to give specifics at this time until a final decision is made.
While ASPA sites in the Dry Valleys are also experiencing more tourist visits, Biletnikoff noted that the management plans are really to minimize impacts from science and operation activities.
"We're trying to protect the areas from our own grantees and operations personnel, primarily, because those are actually the predominant numbers that visit these areas," he said. Other national Antarctic programs also operate within the ASPA sites, such as New Zealand and Italy.
The next Antarctic Treaty Consultative Meeting is scheduled for June in Kiev, Ukraine.