| | |
| --- | --- |
| Photo Credit: Calee Allen/Antarctic Photo Library | An aurora shimmers over the South Pole in this shot by Calee Allen, who is one of the Polie winter-overs corresponding with an adult literacy class in New Orleans. The post-Katrina residents are interested in everything from climate change to what's on the dinner menu. |
Long-distance correspondence
New Orleans literacy class swaps e-mails with people in Antarctica
Posted July 18, 2008
It's not every day that the same sentence mentions the South Pole and New Orleans. The two would seem worlds apart in every way.
But adult students in a New Orleans literacy class are swapping stories and e-mails with a group of people spending the dark, cold winter in Antarctica.
It all started with a little geography lesson and a box of maps.
"I began a geography class, because I noticed that a lot of our students did not have very strong geography skills, and that's how we got into the Antarctica dimension," explains Adrian McGrath, a teacher with Literacy*AmeriCorps

in New Orleans, part of the national service program AmeriCorps

, a sort of domestic Peace Corps

created by President Bill Clinton in 1993.
A volunteer with Literacy*AmeriCorps, McGrath teaches adult basic education at the St. Vincent de Paul Society's

school in New Orleans. One day he brought a box of old National Geographic maps for his class to study. The one of Antarctica, as white and nearly featureless as a snowball, immediately stood out.
"When I took out the Antarctica map, they were all fascinated by it because it looked so different from any other map they had seen," McGrath says. "Most maps have cities or roads; Antarctica, of course, looks completely different."
The students, who range in age from late teens to 74 years old, seemed so intrigued that McGrath researched the subject further. He contacted personnel at Raytheon Polar Services Co. (RPSC)

, the prime contractor for the National Science Foundation's

U.S. Antarctic Program (USAP)

. RPSC eventually put him in contact with several people wintering at the South Pole and McMurdo research stations to begin a correspondence project.
What could possibly interest folks in New Orleans about Antarctica? Plenty, according to McGrath. "They're interested in how do people live in conditions that are so cold," he says.
Another favorite topic: What's on the menu down there? "In New Orleans, we have a love affair with food," McGrath says. "Everybody likes to cook; we all make jambalaya and gumbo and so forth, and so they were all fascinated with what people eat down there."
Shandra Cordovano, a MAPCON data specialist at McMurdo Station

who has been corresponding with the New Orleans class, agrees that food is a favorite topic. Despite a busy work schedule that only includes one day off a week, Cordovano says she was eager to volunteer and describe life on the seventh continent.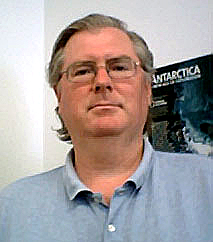 Adrian McGrath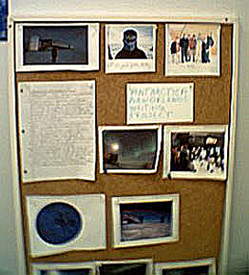 Photo Credit: Adrian McGrath
Photos and letters from Antarctica are displayed on the school's bulletin board.
"I had always been interested in participating in an adult literacy program," she says via e-mail. "I looked into volunteering for one several years ago, but they wanted a year-long commitment, and that didn't work for me at the time. When this opportunity came up, it seemed liked a good way to help in that cause in some capacity.
"I'm happy to be participating, although it's hard at times to keep up with things," adds Cordovano, a Colorado resident spending her fourth winter on the Ice. "I value reading so much, it pleases me to think of helping someone else to share in that joy, not to mention how much we need reading in daily life just to function."
McGrath says the correspondence helps his students learn about history, public speaking (they read the e-mails aloud in class), writing and geography. "It's a combination of many literacy skills. I think it's been fantastic, quite frankly," he says.
Science is also a key topic, especially so for the New Orleans residents who suffered after 2005's Hurricane Katrina. Just about everyone in the city was affected by the storm, McGrath says.
"This is an issue that concerns us very much," he explains. "So one of the issues we're very interested in is climate change, so when we found that the scientists down there were studying the environment and climate, that in itself was very fascinating for us."
At least 1,836 people lost their lives in Hurricane Katrina and in the subsequent floods, making it the deadliest U.S. hurricane since the 1928 Okeechobee Hurricane. Reports estimated the storm caused more than $80 billion in damage, reputedly making it the costliest natural disaster in U.S. history.
In short, the city was destroyed, McGrath says. The event has redefined New Orleans' very history, as residents refer to time as "before the storm" and "after the storm."
"It's hard to understand the amount of devastation that has happened to the city. It has overwhelmingly been destroyed," McGrath says. "The vast majority was obliterated. The recovery will take at least 10 years."
His family home was spared destruction, but floodwaters surrounded the area and stranded him and his mother there for nine days before firefighters rescued and evacuated them by helicopter, McGrath says. One of his students was stuck on a bridge for days before she was rescued.
"Every student I've talked to has been affected by the hurricane," says McGrath, a freelance writer who joined AmeriCorps after the storm to help his fellow residents. "That's one of the things that helps psychologically with our students — they're amazed at our friends at South Pole with what they have to say."
Jason McDonald is a diesel mechanic at South Pole

who lived in Baton Rouge, La., for about five years. He says he wanted to participate in the penpal project "to let the people in New Orleans know about how life is [like] down here, and to find out about some of the areas that I know very well [and] what happened to them after Katrina hit."
McGrath says the class, with more than 20 people enrolled, was particularly interested in McDonald's story because of the Louisiana connection. "Now they could relate to life down there, because he's telling us he knows about both places. He's been to New Orleans many times and lived in Baton Rouge."
The literacy class is on a short break, but will resume later in the summer. McGrath says he will continue the Antarctica New Orleans Writing Project, which now includes a blog

about the correspondence between the two groups.
"I've had students come up to me and tell me they hadn't heard of Antarctica before, and now they're completely amazed by it," McGrath says.
"They tell their friends about it. It's pretty exciting. It's not just Antarctica, because Antarctica leads to other subjects," he adds. "The study of Antarctica, and the lives of these people who they met through the e-mails, encourages them to learn more about many, many things."
Other Ice correspondents include John Miller, Calee Allen, Leah Webster and Weeks Heist, all at the South Pole.