| | |
| --- | --- |
| Photo Credit: Chris Demarest/Antarctic Photo Library | The fuel tanker Lawrence H. Gianella arrives at McMurdo Station in January 2008. A ship brings fuel to McMurdo each year. That shipment will cost about $12 million more this year compared to last season, one of the main factors in the current budget crisis. |
Budget freeze
Fuel, other factors cause NSF to curtail operations and science
Posted September 5, 2008

The first U.S. Air Force C-17s from McChord Air Force Base

were scheduled to land at Pegasus Airfield near McMurdo Station

this week, bringing in new personnel, equipment and some fresh food for the 125 people who spent the austral winter at the research station.
This year's start to the 2008-09 U.S. Antarctic Program (USAP)

field season is a bit different from those in the recent past. The planes are arriving on the Ice about two weeks later than normal to prepare the station for full-on summer operations beginning in early October. Additionally, the program will no longer construct a temporary airstrip on the sea ice near McMurdo, opting to use its permanent airfield at Pegasus

, which is about 30 kilometers away on the Ross Ice Shelf.
Both moves are cost-saving measures as the National Science Foundation (NSF)

, which manages the USAP, seeks to make up an approximate $35 million shortfall in its operating budget for the 2009 fiscal year. Skyrocketing fuel costs, a weak dollar, a flat budget in 2008 and another flat budget expected for 2009 are the biggest reasons for the deficit.
"The U.S. Antarctic Program, by law, is required to have a balanced budget. We therefore will have to make significant cuts in virtually every aspect of the program," Karl Erb, director of the National Science Foundation's Office of Polar Programs (OPP)

, told the New Zealand press earlier this year.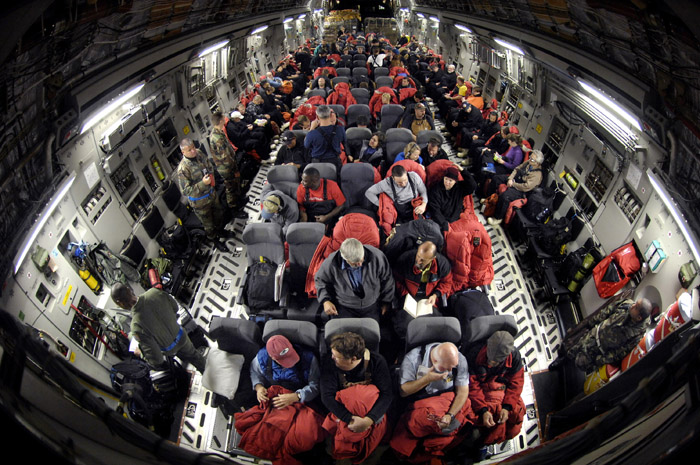 USAP participants inside a C-17 Globemaster III en route to McMurdo in August 2007.
Fuel costs increased by $8 million during the current fiscal year, which closes at the end of September, and the NSF expects it to increase by another $19 million in the upcoming field season ($7 million of that is for vessel operations). NSF's logistics operating budget is $228 million.
OPP recently posted an online announcement to the USAP research community

about the economic situation, including a list of projects that the program will need to curtail or defer as it struggles to balance its budget.
"In light of this situation, we have to make difficult decisions that will affect all parts of the program," wrote Scott Borg, OPP Division Director of Antarctic Sciences

, and Brian Stone, OPP Division Director of Antarctic Infrastructure and Logistics

, to the program's grantees.
Deferred projects include the replacement of a deteriorating pier at Palmer Station

and construction of fuel tanks at McMurdo Station.
The NSF is also reducing flights, cutting out C-17 transport between Christchurch, New Zealand

, and McMurdo during the middle of the season, a 20 percent reduction. The New York Air National Guard

, which operates the ski-equipped LC-130s, will only fly about 305 missions this season, down from 411 originally planned. In addition, a number of science projects are scaling back, particularly deep-field expeditions that require LC-130 air support.
"Lack of funding for research support and logistics also means we will not be able to sustain normal rates of new [science] project funding this year," Borg and Stone wrote. "The overall project success rate will probably slip below 20 percent, and only a few new proposals requiring 2009 deployments are being funded."
Of the roughly 150 research projects scheduled for the 2008-09 season, NSF expects reductions to affect about 25, according to an Aug. 29 story in the journal Science. For instance, the deep-field meteorite hunt, ANSMET

, led by Ralph Harvey with Case Western Reserve University, will be confined to working out of McMurdo Station this year. The same goes for POLENET, an International Polar Year project installing GPS and seismic instruments around West Antarctica to monitor the ice sheet and the bedrock response as the ice ebbs and flows. [See related story: Moving experience.]
The USAP isn't the only science program feeling the crunch. Antarctica New Zealand

reported on its Web site that it would need to budget for a further 60 to 70 percent fuel price increase, which would require it to cut upwards of $500,000 from its operations for the upcoming field season. One cut may include a planned Internet bandwidth increase at Scott Base

, located about 3 kilometers from McMurdo.
The United States and New Zealand Antarctic programs cooperate closely, sharing logistics and collaborating scientifically. New Zealand, with the USAP's assistance, is constructing a small wind farm that it hopes will provide most of its energy needs. McMurdo will also benefit from the alternative energy, with the project slated for completion in 2010. [See related story: Wind power.]