| | |
| --- | --- |
| Photo Illustration: Meridian Energy Limited | In this photo illustration, three wind turbines overlook New Zealand's Scott Base. The proof-of-concept project will begin this season, with completion slated for 2010. McMurdo will get about 15 percent of its annual electricity from wind. |
Wind power
USAP, New Zealand team up on alternative energy project
Posted September 5, 2008
Get wind of this: Antarctica New Zealand will tap into the naturally blustery conditions around Ross Island to help power its research station and the U.S. Antarctic Program's McMurdo Station

.
The U.S. Antarctic Program

and Antarctica New Zealand

have collaboratively designed and planned a proof-of-concept project to demonstrate and quantify the viability of wind power. The project will build the world's southernmost wind farm beginning in November 2008 with construction of three, 330-kilowatt wind turbines on a site called Crater Hill overlooking New Zealand's Scott Base.
Antarctica New Zealand will lead the estimated $10 million (New Zealand dollars) project and will cover the bulk of the cost as part of its enhanced contribution to the shared logistics pool with the U.S. Antarctic Program, which does much of the heavy lifting on behalf of both countries in transporting fuel, people and materials to the continent.
"New Zealand is dedicated to the Antarctic Treaty

principles of environmental protection and, as such, is committed to reducing the environmental impacts of its operations," said Lou Sanson, chief executive of Antarctica New Zealand, in a press release earlier this year.
The project will cut fuel consumption by approximately 463,000 liters every year, an 11 percent savings. Wind-generated electricity will also reduce greenhouse gas production by 1,242 tons of carbon dioxide (CO2) annually. CO2 is a key greenhouse gas, the main culprit in global warming.
"This is a significant reduction in the carbon footprint on the world's most pristine continent," Sanson said.
George Blaisdell, Operations manager for the National Science Foundation's Office of Polar Programs

, said the United States is committed to exploring the use of alternative energy where possible. The USAP will probably look to test a mixed solar and wind power design at South Pole Station

for an area called Summer Camp that provides housing during the busy summer season.
"Right now it's a concept," he said.
McMurdo and Scott Base

, about 3 kilometers apart, have a combined average electricity demand of 1.7 megawatts. Annual fuel requirements for power production for the two stations are almost 5 million liters. Space heating needs consume an additional 2.7 million liters of fuel.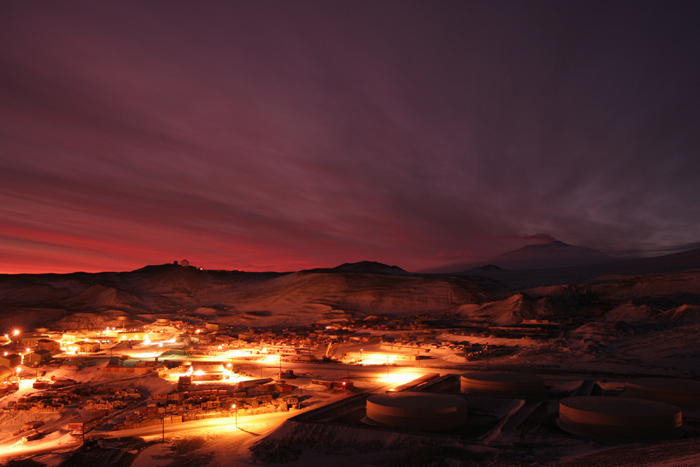 McMurdo Station at winter.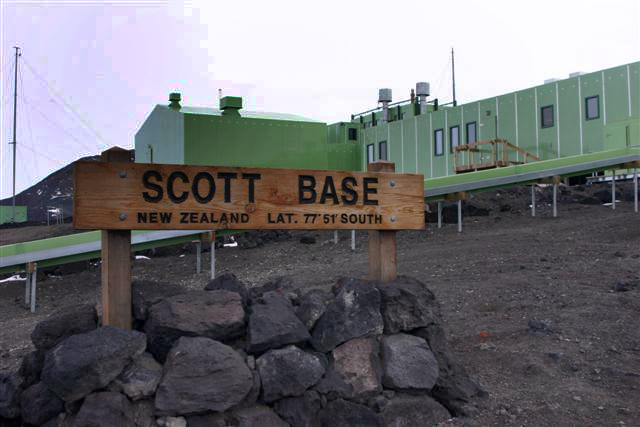 New Zealand's Scott Base.
"All wind-generated electricity will flow into the McMurdo distribution system, and Scott Base will draw electricity via [an] interconnector," explained Claire Shaw, a spokesperson for Meridian Energy

, the New Zealand company heading the development, construction, operation and management of the project.
"Effectively, wind energy will in the first instance meet the Scott Base electrical demand, and then McMurdo electrical demand," she said via e-mail. "As the installed capacity is considerably in excess of the Scott [Base] electrical demand, much of the time, wind-generated energy will be supplying a portion of the McMurdo demand."
McMurdo will consume about 66 percent of the energy generated by the experimental wind farm, while Scott Base will use the rest. That represents about 15 percent of McMurdo Station's annual electricity demand, but about 87 percent of Scott Base's. Currently, both stations draw all of their electrical and heat demand from diesel generators and diesel-fired boilers.
Antarctica New Zealand and Meridian have been investigating the project since early 2005.
"[The wind farm will produce] enough energy for 20 to 25 U.S. homes for a year," said Ralph Giardino, the USAP project manager coordinating U.S. support for the wind farm. "We're providing logistics and transportation support."
The USAP will upgrade roads to Crater Hill, as well as conduct site surveys and provide various supplies and equipment to support the construction. In addition, the USAP will transport all equipment to the Crater Hill site.
Said Shaw, "The success of this project is reliant on USAP support, not only to transport the equipment and staff to Ross Island, but also in terms of providing key support services throughout the installation and commissioning of the project."
During the first construction season, crews will install the steel and concrete foundation for the three turbines, which are 40 meters tall. Each wind turbine foundation consists of eight 13-ton pre-cast concrete foundation blocks. The three-bladed turbines will be erected the following season, with the wind farm operational by February 2010.
If the Crater Hill wind farm is successful, a second phase could include up to 10 more turbines. The location for this second project is still under discussion. One location, Arrival Heights, could support the larger system, but the area overlooking McMurdo Station is an Antarctic Specially Protected Area

. The site enjoys special protection under the Antarctic Treaty because of the presence of sensitive instruments that record upper atmosphere data.
A 10-turbine wind farm would produce enough energy to power a small town, Giardino said of the proposed second stage.
Added Blaisdell, "There is hope we can indeed move past proof-of-concept to a full production wind farm providing perhaps 40 to 60 percent of McMurdo's power needs and 100 percent of Scott Base's needs."
An alternative site along a recreational trail north of McMurdo Station could support about four wind turbines.
Shaw said the German-made machines are well matched for the cold Antarctic climate. "The technology is suited for low temperature operation and has been proven in the Antarctic with two slightly smaller model machines installed at the Australian Antarctic Division's Mawson Station

."