| | |
| --- | --- |
| Photo Credit: Scot Jackson/Antarctic Photo Library | An LC-130 sits on the South Pole airfield runway toward the end of the 2007-08 field season. The ski-equipped planes are flown by the New York Air National Guard 109th Air Wing, which was recently recognized for its global mission, including Operation Deep Freeze. |
Air awards
Air Force, NYANG receive recognition for support services to USAP
Posted October 3, 2008
Military personnel who support the National Science Foundation's U.S. Antarctic Program (USAP)

recently received recognition for their work in Operation Deep Freeze and other missions.
The 109th Airlift Wing (AW) of the New York Air National Guard

was awarded the prestigious National Guard Association of the United States' (NGAUS) Spaatz Trophy for 2007 during the NGAUS Award Ceremony in Baltimore Sept. 22. Lt. Gen. Craig McKinley, Air National Guard director, presented Col. Anthony German, 109th AW commander, the trophy at the ceremony.
In an unrelated ceremony, U.S. Air Force Lt. Col. Jim McGann, 304th Expeditionary Airlift Squadron commander at McChord Air Force Base

, became the first American to receive the Christchurch Civic Award in New Zealand during the opening ceremonies of the Christchurch Antarctic Festival on Sept. 26.
The weeklong festival celebrates Christchurch's close relationship with the USAP in Antarctica, and signifies the start of another season of scientific research on the Ice.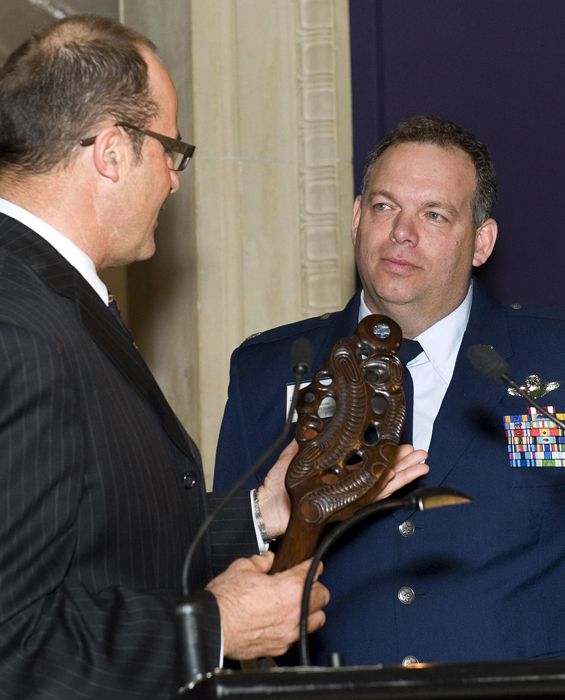 Photo Credit: Neil MacBeth
Lou Sanson, Antarctica New Zealand chief executive, presents Lt. Col. Jim McGann with a traditional Maori chief's weapon known as a Patu at a ceremony in Christchurch, New Zealand, on Sept. 26. McGann received the Christchurch Civic Award.
McGann, who is permanently assigned to the 62nd Airlift Wing at McChord, leads C-17 operations in support of Operation Deep Freeze. The award recognizes the colonel's long-standing relationship with Christchurch, where the USAP stages much of its operation to Antarctica.
The Spaatz trophy, named in honor of former Air Force Chief of Staff Gen. Carl S. Spaatz, is presented to the overall outstanding flying unit in the Air National Guard

.
According to the citation, the wing was honored for executing "state and national objectives in the Global War on Terrorism, the United States Antarctic Program and other contingency operations."
As the operator of the Department of Defense's only ski-equipped LC-130H aircraft, the unit achieved new records for Operation Deep Freeze in Antarctica while simultaneously expanding its combat operations significantly.
Notably, the wing volunteered on a short-notice mission for Operation Enduring Freedom by deploying two aircraft and four crews with associated maintenance and support personnel. This effort required the wing to stand-up the unit's first C-130 combat capability since the Vietnam War in only nine months.
During this time, the 109th AW sustained its support of Operation Iraqi Freedom, global operations in the war on terror, and homeland security priorities including Operation Jump Start. Throughout 2007, the 109th AW deployed a total of 684 personnel serving more than 19,300 days to support these global missions.
The military has a long history of supporting science in Antarctica. Operation Deep Freeze was the codename of the U.S. military mission to support science activities on the Ice beginning in 1955-56 for the International Geophysical Year

, a multi-national science campaign that sparked an unprecedented flowering of discovery and technology. Today, the codename continues to be used to refer to the military support of the USAP.