| | |
| --- | --- |
| Photo Credit: Keith Vanderlinde/Antarctic Photo Library | An aurora shimmers in the night sky above the Martin A. Pomerantz Observatory at the South Pole during the 2008 winter in July. The observatory was named after Martin A. Pomerantz, considered by many as the father of South Pole astronomy. He died Oct. 25, 2008, at the age of 91. |
Martin A. Pomerantz
Father of South Pole astronomy, 91, leaves larger-than-life legacy
Posted October 31, 2008
Martin A. Pomerantz, regarded by many as the father of South Pole astronomy, died Oct. 25, 2008, at his home in northern California, after a long bout with cancer. He was 91 years old.
Pomerantz was an American physicist who served as director of the Bartol Research Institute

, a research center in the Department of Physics and Astronomy at the University of Delaware

. He had been a leader in developing Antarctic astronomy dating back to the International Geophysical Year

, and in 1959 helped establish a cosmic ray detector at McMurdo Station

. He started working at the South Pole

in 1964.
In a statement, Karl A. Erb, director of the National Science Foundation's Office of Polar Programs (OPP)

, expressed sadness on the passing of Pomerantz and lauded his achievements, particularly in polar astrophysics.
"Although few people truly achieve such status in their lifetimes, Dr. Pomerantz was literally a legend in Antarctic science for his vision and dedication to the field of astronomy, specifically in making the South Pole a pivotal location for cutting-edge astrophysical observations," Erb said.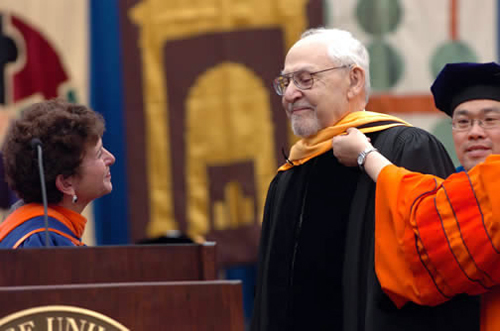 Photo Couresy: Syracuse University
Martin A. Pomerantz receives an honorary degree from Syracuse University in 2007.
"Almost singlehandedly, he recognized the value of one of the world's most remote and inhospitable places as an ideal place to study the physical origin of the universe and other complex astrophysical phenomena," Erb said. "Then he set out, successfully, to convince others of the validity of his arguments."
The NSF dedicated the Martin A. Pomerantz Observatory, which bears his name, in 1995. Located about 1 kilometer from the main South Pole Station, the observatory sits in a region known as the "dark sector," where electromagnetic noise, including light and radio waves, is minimized. The South Pole community generally refers to the observatory as MAPO.
In recent years, the NSF has built a new research station to support the growing number of science experiments, including such high-profile projects as the South Pole Telescope and IceCube

.
Pomerantz was born Dec. 17, 1916, and raised in New York City. He graduated from Manual Training High School in Brooklyn. In 1937, he received an A.B. in physics from Syracuse University. He received an M.S. from the University of Pennsylvania in 1938. In 1938, Pomerantz joined the Bartol Research Foundation, where he spent nearly his entire career.
Karl Erb's full statement

He became a permanent member of the Foundation's scientific staff in 1943. In 1951, he received his Ph.D. in physics from Temple University. In 1959, Pomerantz became the second director of the Foundation, a post he held for nearly 30 years.
Colleagues described Pomerantz as a gifted and broadly experienced scientist. He carried out decades of cosmic ray research in Antarctica and elsewhere, as well as solar seismology, submillimeter astronomy and cosmic microwave background radiation cosmological measurements, all at the South Pole.
Among many other honors, Pomerantz received the NSF's Distinguished Public Service Award in 1987 for his work with the U.S. Antarctic Program

. John Lynch, NSF OPP program manager for Aeronomy and Astrophysics

from September 1985 until November 2000, described Pomerantz as "extraordinarily gifted."
"In my view, Martin's greatest talent was to have the vision to see how a new and important experiment could be done and then to gather together the very best people to do the experiment," Lynch said. "He made a study of just how Antarctica could be used and then convinced others of its value. He was almost single-handedly responsible for the development of South Pole into a major site for astronomy.
"It was a genuine pleasure and honor to have known Martin for so long," Lynch added. "He was one of the nicest and most decent people I have known."
In 1999, Pomerantz gifted $500,000 to support a new faculty position for the Bartol Research Institute. The Martin A. Pomerantz Chair recognizes an outstanding faculty member in the field of physics and astronomy.
At the time of the announcement, then Bartol President Norman F. Ness, a member of the National Academy of Sciences

and a global authority on the magnetic fields in interplanetary space and around the planets, said of Pomerantz:
"Dr. Pomerantz demonstrated remarkable foresight by establishing research facilities or laboratories in Antarctica, where observations of the sun are unimpeded by clouds or the setting sun, and the atmosphere features a window in the Earth's magnetic shield. … He also showed tremendous courage, working in Antarctica when it was still a very hazardous proposition."
Pomerantz is survived by his wife, Molly, and two children, Jane and Martin.