| | |
| --- | --- |
| Photo Credit: Glenn Grant/Antarctic Photo Library | A ship navigates through Neumayer Channel in the Antarctic Peninsula. The spot is the most popular stop for tourists on cruises. The U.S. Antarctic Program's Palmer Station also receives its fair share of visitors each year, as tourism continues to thrive in Antarctica. |
Cruising around
Palmer Station a popular stop on Antarctic Peninsula tourist circuit
Posted November 6, 2008
The U.S. Antarctic Program's Palmer Station

isn't the most popular stop on the increasingly popular tourist circuit around the Antarctic Peninsula. That honor goes to Neumayer Channel, known for its majestic cliffs.
Still, the small research station averages more than 1,000 visitors each year from late November to March, according to Bob Farrell, Palmer Area director.
As many as a dozen tour ships may visit in a given year (the cap set by the National Science Foundation

), unloading passengers by Zodiac, small inflatable boats. Tour groups spend about 90 minutes at the station, which includes a walking tour, a reception with light snacks, and a stop at the station store.
Someone from the station also goes aboard the tour ship prior to the visit to give an overview of Palmer and the U.S. Antarctic Program, according to Farrell.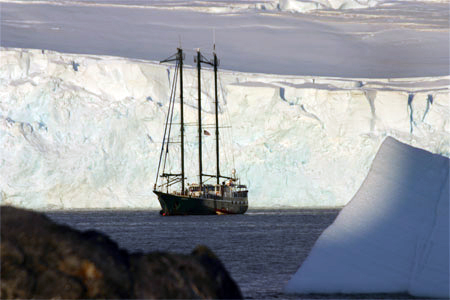 A private yacht near Palmer Station.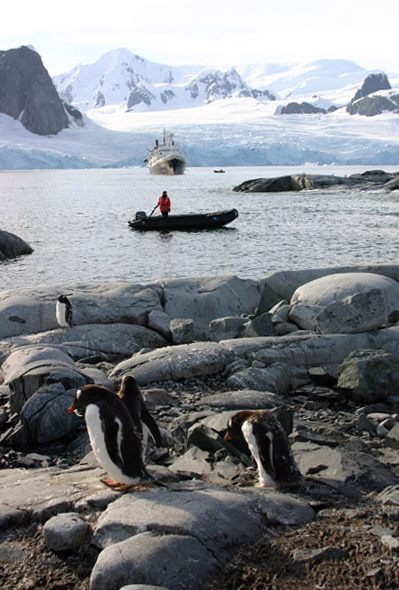 A zodiac boat ferries tourists to Petermann Island, home to genoo penguins.
Several larger cruise ships with several thousand passengers also make a stop at Palmer Station, though the visitors don't disembark. Instead, station personnel, including scientists, will board the ships for longer, more detailed presentations, which also include questions from the audience.
"The question-and-answer period can be great," Farrell said. "We weren't sure how it would go the first time. [The tourists] were absolutely thrilled. … They treat us like rock stars."
More than 46,000 tourists visited Antarctica during the 2007-08 season, according to the International Association of Antarctica Tour Operators (IAATO)

, many of them arriving by ship to the Antarctic Peninsula from the tip of South America. Palmer Station received more than 1,500 last year, based on statistics from IAATO.
The number of tourists has increased nearly sevenfold since 1992, when IAATO reported about 6,700 visitors.
Wayne Trivelpiece, a scientist with the National Oceanic and Atmospheric Administration

, has worked at King George Island's Admiralty Bay since the late 1970s. He said in those early days there were few tourists, and his team would sometimes visit with them and talk about their work.
"It was a pleasure to see them," he said.
But by the mid-1980s, the scientists had to petition to close off the study area because of the increasing number of tourists. "It's completely mushroomed since the days they were first there," Trivelpiece said. Admiralty Bay received nearly 16,000 visitors last year alone.
Farrell said the increased tourism does require quite a bit of support from the station. "It does impact the station — more than half of us are involved in a visit.
"It's a tradeoff, where we lose some productivity … but the American taxpayers are thrilled to visit and get a sense of pride from what we're doing."
Back to main story: Tourism influx.