| | |
| --- | --- |
| Photo Credit: Wayne Trivelpiece | Penguins flock on the beach near the Copacabana field camp, seen in the distance, on King George Island. The remote field operations around the Antarctic Peninsula require special logistics and cooperation between federal agencies. |
Remote operations
Fieldwork along the Antarctic Peninsula requires special support
Posted November 26, 2008

John Evans pulls out a photograph from one of the many binders that line the shelf of his cubicle office at Raytheon Polar Services (RPSC)

in Centennial, Colo. He lets the picture make his point about just how challenging it can be to work in the Antarctic Peninsula.
The photo shows several people (including Evans) in immersion suits, a special type of dry suit, walking waist deep in freezing cold water and guiding an inflatable Zodiac through a thick zone of brash ice. The U.S. Antarctic Program's ARSV Laurence M. Gould

appears small on the horizon, with a leopard seal lounging much closer on an ice floe.
Evans, a coordinator for RPSC's Special Science Projects, dismisses the idea that the leopard seal, which hunts penguins, presents a danger. "No, not really. You kind of watch it. It watches you," he says. "We've never had any incidents. He's just there making a good picture."
The picture was taken from the shores of King George Island, where a National Science Foundation

field camp, Copacabana, is located. Copa, as it is informally known, is one of two such camps supported by NSF in association with the National Oceanic and Atmospheric Administration (NOAA)

in the South Shetland Islands, located just off the northern tip of the peninsula. The other camp, Cape Shirreff, is on Livingston Island, some 150 miles to the southwest.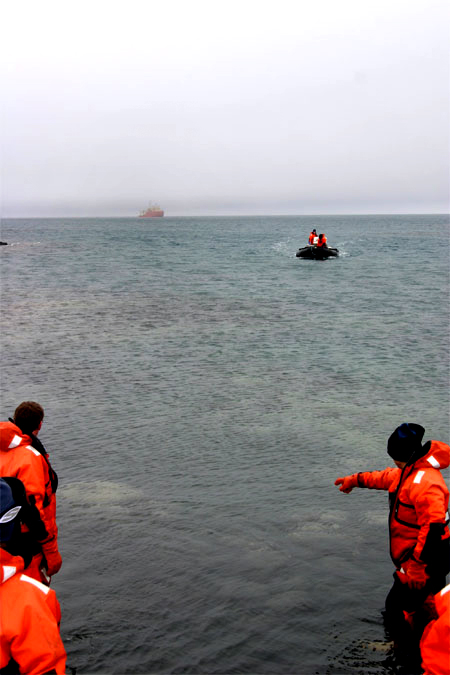 USAP participants direct a Zodiac where to come ashore at Cape Shirreff, Livingston Island.
Copa research focuses strongly on avian biology, and the site was elected primarily because of its proximity to an unusual congregation of breeding colonies of the three small Antarctic penguins known as brushtails — Adélies, chinstraps and gentoos. Researchers also study seabirds at Cape Shirreff, but this location was selected primarily for its access to seal breeding sites, according to Evans.
The NSF and NOAA partnership shares research, operations and funding aspects for the two camps, based on a formal long-term agreement that varies from year to year in its details. Both studies are part of an international program to help monitor and conserve the ecosystem, including a tiny species of crustacean known as krill, which are fished commercially. Krill are also central to the diets of many penguins and seals.
Evans and his RPSC colleague Melissa Rider comprise the sum total of an informal entity called Special Projects, which plans the logistical support of the multi-year Copa and Cape Shirreff camps. They also work projects requiring temporary camps in the region, with one or the other going into the field to provide on-site support.
They also help coordinate projects involving U.S. scientists working with other Antarctic national programs like Argentina and Chile; and pretty much assist with just about any other task outside the mainstream operations of the USAP.
"That's unique for special projects," Evans says of Copa and Cape Shirreff. "Everything else is very temporary. Usually meaning a tent camp in some place that nobody ever heard of, with a handful of scientists for a few weeks. [Then we] pull everything up and return it to its original contour as best we can and go home."
Most fieldwork in other parts of the USAP enjoys support by air, using ski-equipped military planes like the LC-130, smaller aircraft like Twin Otters or helicopters. But if you're headed to an island in the Antarctic Peninsula to conduct research, prepare to get wet. The only way on and off is by Zodiac from one of the RPSC-chartered research vessels dedicated to Antarctic science.
"The camp openings always require a major effort. With good conditions, it's only a few hours, but it's very, very labor intensive," says Evans, who has worked in the Antarctic on and off since the 1960s, when he helped lead the first ascent of Antarctica's highest mountain, Vinson Massif. [Evans attempted to repeat the feat 40 years later in 2006. See story: Repeat bid.]
"There's a lot of things that can shut you down and not very much that can hurry you up," he observes. "If it's blowing a gale, you can't do small-boat operations. If there's too much ice, you can't push through it."
The fieldwork, whether at temporary camps or permanent field stations, occurs in the southern hemisphere summer. That doesn't necessarily mean the weather is ideal.