| | |
| --- | --- |
| Photo Courtesy: Stan Jacobs | Scientists and ship crew use a small boat to help recover the British autosub after one of its missions under the Pine Island ice shelf during an expedition earlier this year. The autonomous sub made six forays underneath the ice shelf, taking measurements never before possible. |
Page 3/3 - Posted May 15, 2009
At play in the field
Ayanna Howard

used to develop robots for jobs outside planet Earth when she worked for NASA's Jet Propulsion Laboratory

. Now, as an associate professor of Electrical and Computer Engineering at Georgia Institute of Technology

, she has turned her attention to developing intelligent rovers for missions closer to home.
"I've always been interested in using robotics for science. That's always been a passion," said Howard. That passion may someday send some of her latest creations, what she calls SnoMotes, to Antarctica.
In collaboration with scientists from Pennsylvania State University, Howard and her lab

, which specializes in robotic artificial intelligence, took an off-the-shelf toy, a snowmobile, and modified it for complex navigation and reasoning. Their eventual goal is to outfit the robots with sensors that would take measurements of ice sheets that scientists can use to create more accurate models of ice sheet dynamics.
The SnoMotes are autonomous robots and are not remote-controlled. They use cameras and sensors to navigate their environment, working together in a team — in what Howard calls a "sensor network" — to cover an area in a methodical grid pattern.
The robots have to figure the best way to carry out the science mission based on their position and the conditions on the ground. "That's where the autonomy comes in," Howard said.
The SnoMotes will head to Alaska this summer for field tests, though Howard said it will be at least a couple of more years before the ski-equipped bots are ready for the tougher Antarctic climate. "We're going to have to beef up a couple of things. One is the power requirement."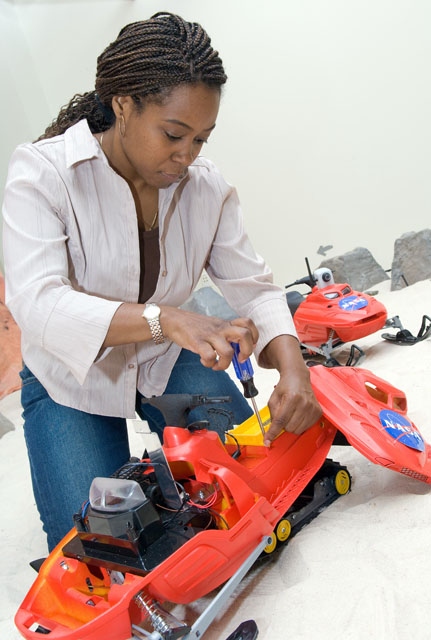 Photo Credit: Georgia Tech
Ayanna Howard works on a SnoMote, a robot with artificial intelligence that may one day help researchers in Antarctica.
Scientists on the polar plateau, living and working at an altitude of more than 3,000 meters for months at a time this past field season, found some instruments just aren't ready for the Antarctic.
A small UAV developed by engineers from Norway, and successfully used in other colder climes, didn't do well in the frigid, thin air. It managed only a couple of short flights during the nearly four-month, overland traverse conducted by Norwegian and U.S. scientists

across East Antarctica. [See related story: IPY Traverse.]
"It wasn't the scientific tool that we had hoped it would be," said Ted Scambos

, lead scientist at the Boulder, Colo.-based National Snow and Ice Data Center

who accompanied the expedition this past season. "The plateau is just more of a challenge than just about anywhere else on Earth."
New frontiers
Despite the occasional setback, robots are already exploring Antarctic frontiers where humans can't go.
A robotic submarine made only the second foray ever underneath an ice shelf this past field season, traveling 60 kilometers under the ice. The Autosub 3 that scientists deployed on the two-month science cruise to Pine Island Bay was developed as part of a five-year research program, Autosub Under Ice, supported by the British National Environment Research Council

. [See related story: Pine Island cruise.]
"The sub was basically in the same configuration as it had been during that program, although work had been done following that program to make the operational systems more robust," said Adrian Jenkins

, a scientist with the British Antarctic Survey (BAS)

who was a co-principal investigator on the Pine Island cruise. Jenkins credits those modifications for helping the yellow submarine survive an impact with the ice during one of its six missions.
While the AUI program adapted existing technology for under-ice exploration, researchers had always intended to use the autosub in polar environments, particularly for exploration below the ice, according to Jenkins. "So the non-ice-capable vehicles were always seen as a stepping stone towards the ultimate goal," he said.
Implementing effective sonar systems to identify under-ice hazards — and developing the software to help the sub decide on how to maneuver around obstacles — was a major challenge, according to Gwyn Griffiths, who heads the project lab.
"Effective collision avoidance has been key for work under sea ice and under shelf ice, where the seabed topography and the ice canopy topography are unknown, and where objects such as grounded icebergs can pose hazards to the progress of the vehicle," he said.
There may be manned subs capable of extreme depths, but Jenkins said he believes there are few if any able to operate below the ice.
"It is also a very risky environment, with no chance whatsoever of surfacing in an emergency," Jenkins said. "Therefore, I think that beneath ice shelves is one place manned vehicles will never go. So, this is one example of where AUVs are not replacing people, but undertaking work that could otherwise not be done at all."
However, in the future, will robots do fieldwork currently performed by people on ships, in the air or on the ground?
Borg said he believes the U.S. Antarctic Program

is a "long way from replacing people with robots." In the long term, with continued miniaturization of components and the development of ever more sophisticated navigation systems, we should expect to see more unmanned planes in the Antarctic skies, he predicted.
"That's going to be further down the line, but eventually we'll get there," he said, "but I think there's almost always going to be a continuing need for aircraft systems with manned aircraft to do development work of new sensors."