Photo Credit: Billy-Ace Penguin Baker

The USS

Mills

Honor Guard stands by while

U.S. Ambassador to New Zealand John F. Henning

unveils a bust of Admiral Richard E. Byrd at Unity Park in Dunedin, New Zealand on Oct. 31, 1967. The USS Mills and other picket ships were based in Dunedin.
The Other Deep Freeze
Picket ships supported Antarctic mission for 11 years
Posted September 4, 2009
What is an Operation Deep Freeze

weather picket ship?
The picket ships provided weather reporting and search and rescue duties for aircraft operating between New Zealand (NZ) and the Antarctic continent. These picket ships were stationed at 60° south latitude and 170° east longitude, roughly 900 miles south of Bluff, New Zealand.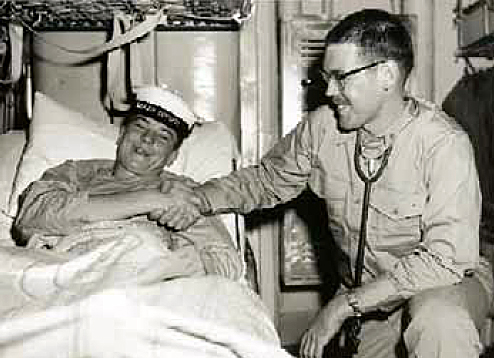 Photo Credit: Billy-Ace Penguin Baker
Lt. John M. Alexander, doctor aboard USS Hissem, receives a handshake from a grateful Kiwi sailor after an emergency appendectomy.
Tours of duty "on station" ranged from a short two weeks or less, to a long tour of an entire operating season for some of the ships. Hazards of this arduous sea duty included frequent maneuvering to avoid collisions with icebergs and the extremely severe weather conditions of the "Screaming Sixties" that characterize that part of the Southern Ocean.
The picket ships were based in Dunedin, NZ. Because of their isolation from the Christchurch and Port Lyttleton areas from which the rest of Deep Freeze operated, the existence of these units are virtually unknown to many who worked in the U.S. Antarctic Research Program, as it was called then.
During the 11 years that the U.S. Navy Ocean Station Vessels served with Operation Deep Freeze, there were numerous things that these ships had in common besides being on station around 60° south.
In military terms, a picket refers to a soldier or small group of soldiers maintaining a watch. Hence, the term picket ships for the vessels that stood watch on the Antarctic Circle and elsewhere.
One of those commonalities was routine port calls at Campbell Island, the NZ sub-Antarctic weather station. Not only did the ships bring freshies (fresh vegetables and fruit) and mail, but the island also served as a liberty port for the sailors, who always made sure to bring along a good supply of libations for the Campbell Island bar.
Another common thread was marriages of crewmembers to NZ girls, and then the ships went on an "around the world cruise" after out-chop from Deep Freeze operations. Additionally the ships seemed to hold "open house" at the drop of a white hat.
And last, but not least, the picket ships always managed to get far enough south so the crew could get "hero shot" photos of themselves with icebergs in the background.
Deep Freeze Weather Picket Ships
USS Brough DF-II, *III, *IV
USS Curtils DF-II
USS Peterson *DF-60
USS Wilhoite *DF-61
USS Vance DF-62
HMNZS Rotoiti DF-62. 63, 64
USS Durant DF-63
USS Forster DF-63
USS Hissem DF-64
HMNZS Pukaki DF-64, 65
USS Mills DF-65, 67, 78
USS Thomas J. Gary DF-66, 67
USS Calcaterra DF-66, 68
*Denotes that the ship was on station for the entire season.
Not everything was routine though. On Nov. 24, 1963, the HMNZS Rotoiti notified USS Hissem that one of her seamen was suffering from apparent acute appendicitis. Since the NZ ship had no medical officer, the seaman was transferred to Hissem by highline in a full gale.
Hissem's doctor, Lt. John M. Alexander, performed an appendectomy as soon as the Kiwi sailor was brought aboard. The NZ seaman recovered rapidly and spent the rest of the picket on Hissem. He left the ship on Christmas Eve after having spent 73 days at sea, which was more than he bargained for because Rotoiti had been on station for 33 days when he was transferred to Hissem.
RMC Billy-Ace Penguin Baker, USN (Ret), has been involved with the
U.S. Antarctic Program
since 1962
. He is an officer with the Old Antarctic Explorers Association

, an organization always interested in recruiting new members who have been to the Ice. [See previous article: OAEA wants you.]

Return to main story: Off the radar