| | |
| --- | --- |
| Photo Credit: Paul Thur/Antarctic Photo Library | The South Pole Traverse parked at the geographic pole on Dec. 16, 2008. The NSF is purchasing vehicles and equipment for a second traverse "train" to carry fuel and equipment between McMurdo and South Pole stations. |
Stimulus money
NSF allocates $18.5 million in ARRA funds for transportation, infrastructure
Posted September 11, 2009
The American Recovery and Reinvestment Act of 2009 (ARRA)

is investing hundreds of billions of dollars to stimulate the U.S. economy, as well as to save or create several million jobs. Some of the stimulus money will buy goods and services — and employ Americans — for supporting scientific research in Antarctica.
The National Science Foundation (NSF)

has tasked Raytheon Polar Services Co. (RPSC)

, the prime contractor on the U.S. Antarctic Program (USAP)

, to spend up to $18.5 million in ARRA funds. The money will support infrastructure improvements intended save energy and create jobs, as well as major transportation and safety initiatives.
Nearly half of the ARRA money, about $7.5 million, will purchase new equipment for the South Pole Traverse, an overland tractor train that transports fuel and supplies on a snow-compacted route between the McMurdo and South Pole

research stations — a distance of about 1,000 miles.
The traverse uses Case and Caterpillar tractors, which pull specially designed sleds loaded with fuel, along with other cargo and a sleeping/cooking module. A 10-person team spends months in the field on these re-supply missions, traveling across an icescape that requires crossing crevassed ice shelves and moving glaciers.
This method saves fuel and the associated carbon footprint over using large, ski-equipped airplanes flown by the New York Air National Guard

. One roundtrip swing by the South Pole Traverse saves about 32 LC-130 flights. It costs nearly triple as much to fly cargo to South Pole on an aircraft versus hauling it overland.
An additional $3 million will buy materials for a "scientific traverse" — equipment somewhat similar to the South Pole Traverse, but with the intent of supporting a major scientific campaign in the coming years, with modules for labs, ice-core drilling and other scientific equipment.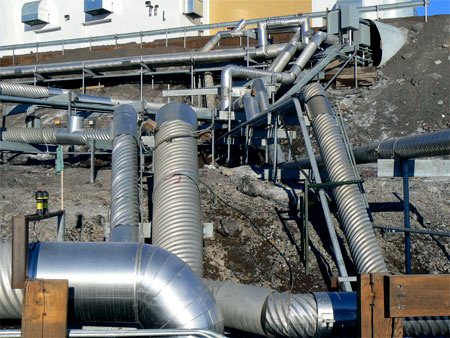 Outdoor piping at McMurdo Station.
Another $3 million will pay for a new McMurdo Station heat-trace system, an electrical system that carries heat along the length of a plumbing system to keep the water from freezing in the pipes — an obvious concern in Antarctica.
The current system is not very efficient because there is no way to regulate it, so it remains on all the time, according to Mike St. Jean, RPSC Life Cycle manager. The plan is to install a thermostatically controlled system along six miles of pipeline, as well as replace nearly half a mile of pipe.
St. Jean said the new system would be roughly 40 percent more efficient, saving the NSF about $300,000 a year in energy costs. The one-year project will employ 21 people during the summer field season, which runs from October to mid-February, and 18 people during the winter season. Some of those hired for the project will work both seasons, so it is unclear at this time how many people the project will ultimately employ.
"We're not only giving a [U.S.] design firm some work, but we'll have a dedicated crew working on the pipeline," St. Jean said.
Finally, $5 million will be invested in new airfield vehicles ($3.3 million) for transporting cargo and people, and emergency vehicles and fire suppression equipment ($1.7 million), including two new ambulances.
A number of RPSC employees are busily reviewing the bid packages for the various projects, with hopes of getting as many materials as possible on the re-supply vessel that steams down every year to McMurdo Station, the main logistics hub and research facility of the USAP.
Said Sam Feola, RPSC Program Director, "We will accomplish the objective of the ARRA funds by pumping $18.5 million into the U.S. economy, thus creating jobs and helping American companies survive these difficult economic times."
The NSF's first major award

under the ARRA was for the construction of a new Arctic research vessel.