| | |
| --- | --- |
| Photo Credit: Forest Banks/Antarctic Photo Library | An aerial view of the Atmospheric Research Observatory at South Pole Station. ARO houses equipment used by NOAA for atmospheric research. David Hofmann, as director of NOAA's facilities at South Pole, traveled often to Antarctica. |
RIP David J. Hofmann
Long-time polar researcher instrumental in ozone hole studies
Posted November 6, 2009
David J. Hofmann, one of the pioneers of stratospheric aerosol and ozone research, passed away in Boulder, Colo., on Aug. 11 2009. He was 72.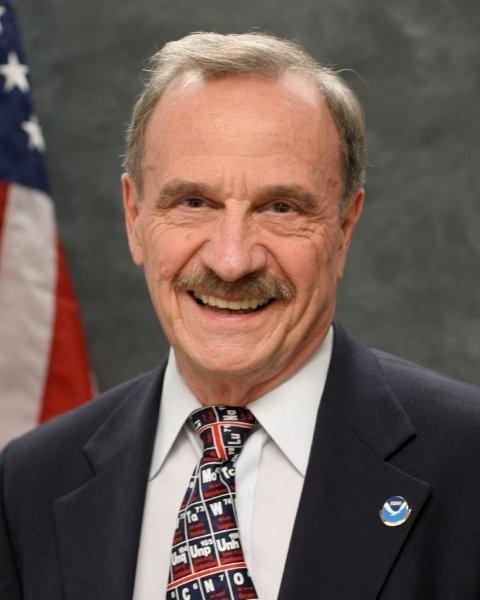 David J. Hofmann
Hofmann's long and prolific scientific career was, as he would say, simple in concept. Make a long-term commitment to specific measurements, pay attention to the details, and focus on the important issues that the measurements raise — simple in concept, yet challenging to maintain in a world of short-term contracts and budgets.
He sustained and led such programs through 25 years at the University of Wyoming and 17 years in the Climate Monitoring and Diagnostics Laboratory at the National Oceanic and Atmospheric Administration

(NOAA/CMDL), which later became the Global Monitoring Division (GMD)

of NOAA's Earth System Research Laboratory

. Most of the measurement programs he initiated, and the instruments he helped develop for them, continue today as a firm testament to the value of his focus and lasting influence. He retired as director of the GMD in 2007.
Hofmann began his technical career in the Navy as a radar technician aboard an aircraft carrier, 1954-1958. He later studied physics at the University of Minnesota

, where he was introduced to balloon-borne cosmic ray measurements. He completed his PhD there in 1965. In 1966, he accepted a faculty position in the Department of Physics and Astronomy at the University of Wyoming

, serving as department head from 1978-1983.
In 1971, he and colleague Jim Rosen began making regular balloon-borne measurements of the size distribution of stratospheric aerosol. Together they initiated the first regular measurements of stratospheric aerosol since these particles were first measured a decade earlier. He and his colleagues also sampled the aerosol layer at other locations, ranging from nearly pole to pole.
Soon after the Antarctic ozone hole was reported, Hofmann drew on his ballooning expertise and polar experience to develop better instruments. He and his group deployed to the U.S. Antarctic Program's McMurdo Station

in 1986 to work on the ozone problem. Their measurements were instrumental in establishing the important link between ozone loss and heterogeneous chemistry on polar stratospheric cloud particles.
Hofmann loved going to Antarctica. Over a period of 30 years, he traveled to the continent 19 times, as a leader of University of Wyoming research teams, and as director of NOAA's facilities at the South Pole Station

. His polar experience was put to good use through service on the U.S. Arctic Research Commission

(1991-1994), the National Academy of Sciences Polar Research Board

(1999-2001), and the advisory committee to the Office of Polar Programs

at the National Science Foundation

(2000-2002).
In 1991, Hofmann left Wyoming for a position as chief scientist at NOAA/CMDL, and in 1996 he accepted the position as director of NOAA/CMDL. He was instrumental in developing NOAA's annual greenhouse gas index, and the ozone depletion index, as tools to enhance the connection between scientists and society. He was awarded the Department of Commerce's Silver Medal for creating the greenhouse gas index.
Hofmann is survived by his partner, Shirley Purcell, daughters Gretchen and Jennifer, and son Karl.
Contributed by Terry Deshler, University of Wyoming, Laramie; James H. Butler, Susan Solomon, John E. Barnes, and Russell C. Schnell, NOAA, Boulder.