| | |
| --- | --- |
| Photo Credit: Peter Rejcek | Dr. Ed Ehrlich pauses on the steps to the Madison capitol building in Wisconsin. Ehrlich served as the medical officer at the IGY Little America V station from 1956-57. Today, he is a professor emeritus at the University of Wisconsin-Madison |
Profile: Ed Ehrlich
IGY doctor grabbed opportunity for adventure when it came his way
Posted November 20, 2009
Dr. Ed Ehrlich likes to say that he didn't fall back on excuses when he had the opportunity to go to Antarctica.
He certainly had his reasons in 1955. A young medical school graduate who had been called up for service after joining the Naval Reserve, Ehrlich found himself at a crossroads in life.
He was halfway through a two-year stint in the military. The Navy was decommissioning the ship he had served on for his first year, leaving him to find a new assignment. He saw a notice about an Antarctic expedition — Operation Deep Freeze — to support a scientific campaign for the International Geophysical Year

. [Also, see the Sun's short history on IGY.]
The job piqued Ehrlich's interest. But he doubted he had the right experience. And what would such an assignment mean to his career? The trip would require him to extend his tour of duty. Ehrlich recalls his captain convinced him that one didn't seek practical excuses when adventure calls.
The 26-year-old medical officer opted for a bit of adventure. "It was kind of impulsive in a way."
That spirit still twinkles in Ehrlich's eyes and plays at the corners of his smile as he reminisces about days long past in a busy coffee shop in downtown Madison, Wis. Ehrlich is today a professor emeritus at the University of Wisconsin-Madison

. Though retired, he volunteers once or twice a month at a local clinic that specializes in endocrinology.
Getting ready to go
The decision to join about 1,800 Navy men for the first Operation Deep Freeze in 1956 may have been impulsive. But he was methodical in his preparation.
"I figured that I was the wrong kind of guy for this operation. What they wanted was someone who had surgical, emergency room experience," Ehrlich explains, so he undertook his own training after it became obvious that he wouldn't get much from the Navy.
Originally assigned to work in the emergency room at the Naval Hospital in Bethesda, Md., before his deployment, Ehrlich grew bored with treating politicians' sons. Mending lacerations for politicians' sons wouldn't cut it in the Antarctic, he decided.
He arranged to work in the Naval Hospital in Newport, RI, where he could learn the sort of surgical skills he thought might serve him well in his isolated outpost. He even learned a bit of dentistry, as the only dentist on the continent would be at Williams Air Operating Facility (now known as McMurdo Station

).
"It gave me some understanding of what we'd need to be able to supply a sick bay down there and some of the tools we might need," Ehrlich explains.
Good thing, because not all was well in Davisville, RI, ground zero for Operation Deep Freeze logistics. The Navy flight surgeon in charge of outfitting the medical facilities had put together the equivalent of a battalion first-aid kit, according to Ehrlich.
The same surgeon hadn't skimped on the "medicinal" alcohol. Ehrlich says the fellow had ordered 20,000 bottles of medicinal Coronet brandy, another thousand bottles of a type of bourbon called Old Methuselah, and 50 five-gallon drums of alcohol. Ehrlich and his chief petty officer, Ken Aldrich, ended up building their clinic from scratch.
On the Ice
Today, one can leave Los Angeles on Friday and can reasonably expect to land on an ice runway in Antarctica by Monday, if all goes according to plan. Ehrlich and his Navy buddies spent weeks at sea, stacked three-high in bunks, in quarters so tight the men had to rotate positions to stand up.
Some things don't change, however. The ships stopped in Christchurch, New Zealand, just as U.S. Antarctic Program

participants do today en route to McMurdo Station. Like many who have passed through the country's acclaimed Garden City, Ehrlich has fond memories of the visit. He was more than a little reluctant to leave when he did.
"New Zealand was like paradise. The people in Christchurch treated us like heroes," he recalls fondly. He talked to people who had met the famous (and doomed) explorer Capt. Robert F. Scott on his way south for his own adventures.
After an all-too-brief stop in New Zealand, the Navy ships made their final push toward the continent, with a mission to begin establishing bases for the upcoming science campaign. "The first site of Antarctica was chunks of ice with Adélies penguins on it," Ehrlich says.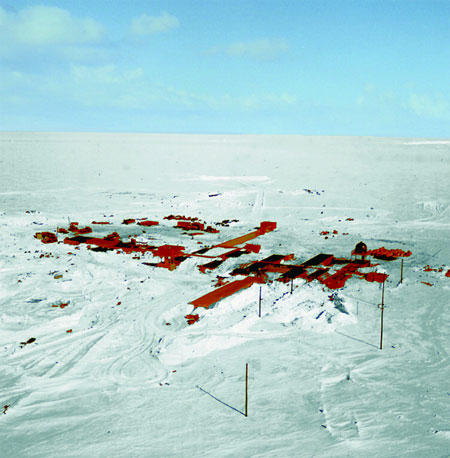 Little America V in 1957.
Ehrlich's station, Little America V, was established near Adm. Richard Byrd's 1929 base on the edge of the Ross Ice Shelf. The other base constructed that year, Williams Air Operating Facility, was built on Ross Island.
In addition to his duties as medical officer — and fortunately those were few moments that required his ministrations — Ehrlich labored with enlisted men on work details. "Rank didn't mean anything," he says of those days taking order from a second-class petty officer who might be in charge of whatever work needed to be done.
Otherwise, he occupied his time reading, playing never-ending ping-pong tournaments and tinkering with the airplane model kits that he and Aldrich smuggled down in boxes marked as medical supplies.
"One of the gratifying things [I] carried away was a lot of close friendships," Ehrlich says. "In a situation like that, you learn to rely on people. I enjoyed the company of the men I was with."
Many of those friendships have endured over the decades. Ehrlich recently hosted a meeting of the Antarctic Deep Freeze Association

, a group dedicated to preserving the history of the U.S. Antarctic Program, in Madison. He notes that only five members of the Little America team made it to the reunion.
Lessons learned
It's those enduring friendships that have kept Ehrlich engaged in Antarctic matters. Unlike some of his compatriots, he didn't have a particular affinity for the continent.
"There was no mystic experience that was associated," he says "I was there with a mission. I was there with a bunch of people. That's what kept me going."
Still, the experience certainly influenced him beyond the cold months he spent there. "My best and worst day is when I did an appendectomy down there. The best was when I was done, finished, and the patient was in bed and had survived," he says, laughing.
The lesson he drew from working as a generalist was that he preferred to be a specialist, to be an expert as much as possible. He was also able to save money during his tour, which he used to help support himself during his residency at the University of Chicago.
"If not for my Navy experience, I don't think I could have afforded my post-graduate training at the University of Chicago," he says. Ehrlich stayed on as a faculty member at the university for 14 years as a professor. In 1974, he came to Madison, where he stayed for the remainder of his career.
Ehrlich never returned to Antarctica with the Navy, though he did go back for a recreational trip to the Antarctic Peninsula some years ago with his wife of 47 years.
Would he have gone back again with the Navy? Do another winter? In a heartbeat, he says. "You like to know that you can," Ehrlich says.
"The satisfaction is that when the opportunity for adventure was offered to me, I took it. I think I weathered it pretty gracefully," he adds, finishing his coffee and nimbly darting out the door into the autumn cool of Madison.
Additional sources for this story: "Deep Freeze" by Dian Olson Belanger, as well as Belanger's interview with Dr. Edward N. Ehrlich on Dec. 1, 1998 for the Antarctic Deep Freeze Oral History Project.