| | |
| --- | --- |
| Photo Credit: Peter Rejcek | U.S. Antarctic Program participants talk about science and other topics to guests aboard the tourist vessel Vandeem in January 2010. Increased tourism at Palmer Station has led to more outreach and education of the USAP in recent years. |
Tourism at Palmer Station
U.S. research base welcomes visitors throughout summer season
Posted February 12, 2010

The job description term "other duties as assigned" takes on a different meaning at Palmer Station

.
For Jon Brack that means he moves cargo from Point A to Point B — part of his regular job — and serves as the fire marshal for one of several emergency teams. On Saturday afternoon, with the rest of the support personnel and scientists, he takes his turn as a janitor in the ritual known as house mouse, cleaning the station.
Then there's playing tour guide to the more than 1,000 visitors who stop by the U.S. Antarctic Program's

smallest research station each year.
"I don't mind it all. I definitely understand the importance of outreach and giving tours, and seeing people so excited to see what we're doing and asking great questions," says Brack, part of the two-person logistics team at Palmer during the summer season, which lasts roughly from September to April.
The National Science Foundation (NSF)

allows up to 12 tourist ships to visit the station, located on Anvers Island on the northern end of the Antarctic Peninsula. Generally, they carry anywhere from 80 passengers to more than 1,000 people. Smaller private yachts and sailboats also make the pilgrimage to the region.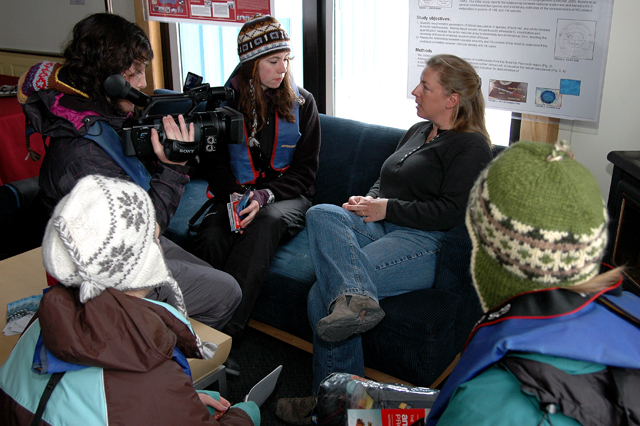 Photo Credit: Peter Rejcek
Students from a tourist vessel interview scientist Donna Patterson-Fraser at Palmer Station.
The location is a hotspot for wildlife, where Adélie penguins mate and defend their downy chicks against opportunistic brown skuas, while monstrous elephant seals play the marine mammals' version of sumo wrestling only a few minutes' boat ride away from the station. Giant petrels placidly squat on their single brood on nests made of small rocks or limpet shells.
Of course, there are certainly other places to see such displays of Mother Nature in all her polar splendor. But few also offer the opportunity to see a real Antarctic research station. Palmer supports a variety of science programs, most focused on the marine ecosystem.
"I get more involved and interested in the science here by explaining that to other people, by sharing it with other people," says Bob DeValentino, the other half of the Palmer logistics team, who also serves as a goodwill ambassador for the U.S. Antarctic Program (USAP) when company comes calling.
January is the tourist peak, and it is not unusual for shiploads of passengers to disembark at Palmer Station on consecutive days via inflatable boats called Zodiacs. Add the smaller yachts — which the NSF does not cap but does ask to schedule their visits in advance — and some days turn into a nonstop tour. Hero Inlet, where the station pier is located, has seen several small sailboats tied up at one time.
Most everyone at the station pitches in when the tourists come ashore. Some are tour guides, navigating groups of bundled up guests along the wooden boardwalk that connects the station's main buildings. A popular stop is the station's small store, which stocks such things as T-shirts and fleeces and stickers with various station and USAP logos.
The tours end in the Palmer dining hall, which is temporarily rearranged into a reception area where station residents mingle with their guests, answering the usual range of questions: Where are you from? What do you do here? What's it like to live and work here? Tea and coffee are available, as well as chewy chocolate brownies, popular enough to garner a mention in Lonely Planet's Antarctica guidebook.
And you never know just who is going to show up at the front door.
This year, both Neil Armstrong and Buzz Aldrin, the NASA Apollo 11 astronauts who were the first people to walk on the moon, visited on separate vessels. On the cruise ship Ushuaia, a class from Pacific Lutheran University in Tacoma, Wash., pulled out video cameras to interview scientists and personnel for a class project.
Canadian Wendy Nelson, a guest aboard perhaps the most well known of the Antarctic tour ships, the National Geographic Explorer, says while chatting in the dining hall that the station facilities are amazing. What brought her to the white continent? "Just because it's there," she says enthusiastically.