| | |
| --- | --- |
| Photo Credit: Peter Rejcek | Stacie Murray prepares dinner in the Palmer Station kitchen. A classically trained French chef, Murray also loves to cook northern Italian food and says, "I like cooking for an enthusiastic crowd." |
Cooking on ice
Palmer chefs keep station personnel well fed with five-star cuisine at budget prices
Posted March 5, 2010
It's Sunday morning at Palmer Station

. A few early risers are sipping coffee and scratching their heads over the day's crossword puzzle. A bank of windows at the front of the dining room offers a view of Hero Inlet, Arthur Harbor and beyond.
Outside, the wind is pushing 25 knots, stirring the sea into frothy whitecaps, while a steady snowy-rain mix makes any inclination to leave the cozy confines even less appealing.
Inside, the smell of freshly baked blueberry muffins ensures no one is going anywhere for a while. Antarctica may be a harsh continent and all that, but the cooks at Palmer Station ensure no one has to endure the isolation and long work hours on an empty stomach.
Diane Curran, the station sous chef, is at it again on her one day off each week. She's not only gotten up early on a Sunday morning to make pastries, but she's cut up some of the station's dwindling supply of fresh oranges, kiwi fruit and melons for people to snack on.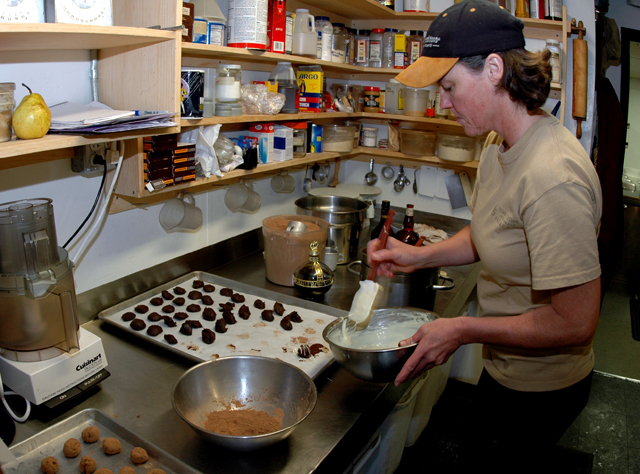 Photo Credit: Peter Rejcek
Chef Diane Curran creates another fantastic dessert. She finds personal satisfaction in baking.
"I can't help it. I have to bake," Curran says, almost apologetically, as if someone would complain.
But the only complaints are light-hearted groans from weak-willed diners who shuffle up to the serving line for a second muffin. At the other two U.S. Antarctic Program

research stations — McMurdo and South Pole

— scientists and personnel can drop a few pounds, especially those working in field camps. Some Palmer Station residents hit the gym or run up the short but steep nearby glacier to keep their waistlines in check.
"I like cooking for an enthusiastic crowd," says Stacie Murray, the head chef of the two-person kitchen staff.
It's not hard to get excited about the food here. The menu would challenge the most ambitious five-star restaurants in the United States. Spicy Indian food for lunch, maybe followed by prime rib for dinner. Some mornings you can have fresh eggs made to order. The cooks do their best to satisfy the meat-and-potatoes crowd as well as the foodie sect.
"It's surreal. You're in this isolated, remote place and you're eating this gourmet food," says scientist Jonathan Cohen

, who started to impose on himself a strict rule of only eating freshly baked cookies on Mondays, Wednesdays and Fridays
It's gourmet cooking on dollar-menu prices, with the per person, per day costs a fraction of what you might expect to pay for all that home cooking. Murray says about 90 percent of the food is made from scratch, including breads, bagels and all manners of dessert.
The job is not without its challenges. Like most of the seasonal contracts at Palmer Station, the cooks work at least seven months of the year on the Ice.
"You've got to be willing to be away from home for long stretches of time," says Curran, who has worked at all three stations, which vary in size from about 40 people at Palmer to more than a thousand at McMurdo Station. The South Pole Station population peaks around 260 or so in the summer. Her first year in the program was in 2000-01 at South Pole.
"I'd like to go back to the Pole because I haven't cooked in the new station," adds Curran, who grew up around the hot sizzle and flames of her father's restaurant outside of Chicago.
"There's grease in my veins," she says, explaining that the family business wasn't fancy, born in the early days of the fast-food nation, specializing in staples like Italian beef sandwiches.
Supplies are usually plentiful except for fresh food and vegetables. Palmer Station is fortunate in that the ARSV Laurence M. Gould

resupplies it throughout the year, whereas the logistics chain to McMurdo and Palmer breaks off throughout the longer winters. The downside is that the ship only arrives every month to six weeks between September and April, and usually less often during the winter months.
Most of the fresh ingredients usually last about three weeks or so, says Murray while chopping enough onions to make an entire Army platoon weep. Cooking is a second career for the tall, cheerful chef. She worked about six years at IBM before escaping the cubicle life.
"I really had no idea of what I was going to do next," Murray says. She traveled the world for a year, depleting her savings along the way. Then she took odd jobs, mostly to help with catering for friends' parties. She enjoyed herself so much that she went to culinary school.
Now a classically trained French chef, Murray also loves to cook northern Italian food, marked by lots of roasted meats and heavy sauces. What she didn't love was working in fancy restaurants where there wasn't enough room for all the egos. So she took her culinary skills to the outdoors, cooking for whitewater rafting trips. It was during one of those expeditions that she met someone from the USAP, which inspired her to apply for a job on the Ice.
Now she's on her fourth stint at Palmer Station.
"I enjoy the people. I love the beauty of it in the summer," she says of why she keeps coming back to work at this isolated spot on the Antarctic Peninsula. "It's a beautiful kitchen and facility."