| | |
| --- | --- |
| Photo Credit: Peter Rejcek | Jon Brack moves a pallet of gas cylinders next to the pier so they can be loaded onto a boat. Brack is part of the two-person logistics department at Palmer Station that is responsible for moving and tracking materials to, from and around the station. |
Moving to a different beat
Logistics chain that links Palmer Station to U.S. goes through Chile
Posted March 5, 2010
The packaging on sundry items like paper towels and glass cleaner is in Spanish. The wine bottles in the store carry Chilean labels. The avocadoes, as one might expect, are also from South America.
All signs that the logistics link to Palmer Station

on the Antarctic Peninsula from the United States is very different from the rest of the U.S. Antarctic Program (USAP)

.
Most of the cargo required to sustain the National Science Foundation's

research program on the continent arrives at the USAP's logistics hub at McMurdo Station

on a once-a-year supply vessel stacked with Crayola®-colored cargo containers. Some material, including fresh food, arrives in the large belly of U.S. military aircraft based in Christchurch, New Zealand, during the austral summer.
Not so for Palmer Station, the smallest of the USAP's three research stations, with a focus on marine ecology. Most of the cargo starts at the same place — Port Hueneme, Calif., — but that's about where the similarities end.
Rather than Christchurch — one of New Zealand's largest and busiest cities — all goods headed north and south to the Antarctic Peninsula must go through the sleepier port town of Punta Arenas at the southern tip of skinny Chile.
"The biggest challenge is that we're based out of Punta Arenas," said Bob DeValentino, Peninsula logistics coordinator for Raytheon Polar Services Co.

, the prime contractor to the NSF for support services, doing most of the jobs required to run a small town.
While some goods destined for Palmer Station take a slow boat to Punta Arenas from Port Hueneme, station personnel also rely heavily on air shipments between Chile's capital of Santiago and Punta Arenas, a three-hour plane ride that parallels the snowy, spiky spine of the Andes for part of the distance.
The challenge, DeValentino noted, is that those are all commercial passenger flights — maybe a half dozen or so a day in the busier summer months, half that in winter —and there is a lot of competition for that limited cargo space.
"That's our only cargo flight capability," he said.
Chile is certainly one of the most stable and prosperous nations in South America, yet even there politics can trump commerce. DeValentino said that the weeks leading up to the country's presidential election in January created havoc for moving goods south.
"We had a huge problem in the past month getting cargo down here because of that. We had two- and three-day customs strikes at the airport," he said.
And no matter how it arrives in Punta Arenas — by air, sea or even overland, which requires a border crossing into and out of Argentina — all of that material usually comes less than once a month on the ARSV Laurence M. Gould

, a research and resupply vessel.
If any cargo misses the boat, whether it's stuck at a border crossing or left in a warehouse in Punta Arenas, then it's just that many more weeks before it arrives on station. It's up to DeValentino to keep track of every line item to make sure that doesn't happen.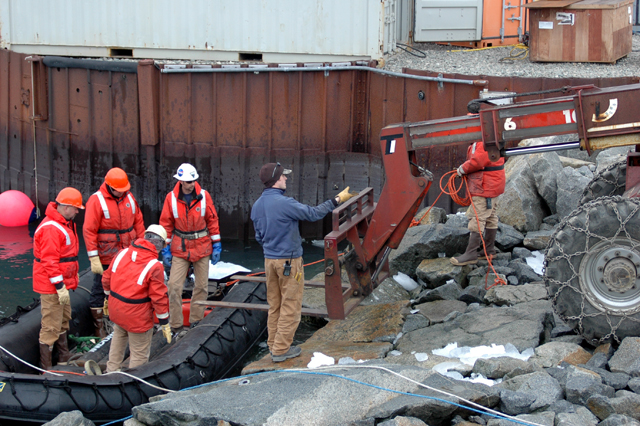 Photo Credit: Peter Rejcek
Bob DeValentino directs Jon Brack (not pictured) on maneuvering the forklift.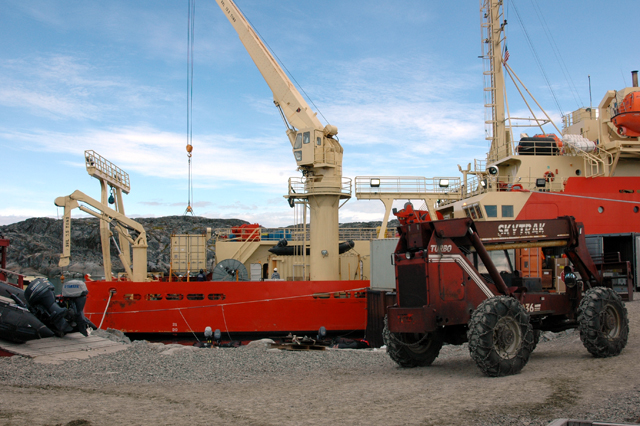 Photo Credit: Peter Rejcek
A crane on the ARSV Laurence M. Gould moves a container onto the Palmer pier.
"That's how I spend a lot of my time — chasing things," he said while taking a break in his small office in the station's GWR building (an abbreviation for the not so creatively named Garage, Warehouse and Recreation building, where about half of Palmer's housing is located).
The rest of his time — and that of Jon Brack, a cargoperson and the other half of the logistics department — is spent managing all those materials.
"Stuff comes and stuff goes," said Brack, simplifying a rather complex job. There's a small army at McMurdo Station in charge of tracking, moving and storing the thousands of different widgets that arrive. At Palmer Station, it's mainly DeValentino and Brack.
"What's strange is that we see everything," Brack said. "I'm opening up boxes, and one is nuts and bolts and the next is science equipment. The one after that is anchors for the boathouse and the one after that is soap for the kitchen.
"In a lot of ways we know everything that's on station, because it all comes through us before it goes everywhere else," he added. "I like it because it means I'm working with everyone on station, involved with everything that is going on."
The Gould transports an average of 33,000 pounds of food and cargo on each southbound trip, though that number is a bit skewed because it takes into account the two large shipments at the beginning of summer in September and winter in April. Most cruises average about 15,000 to 20,000 pounds of stuff. (All fuel for the station also arrives on the Gould; a separate tanker ship arrives each year in McMurdo at the end of January.)
Finding a home for those thousands of pounds of materials at Palmer Station is another task that keeps DeValentino and Brack busy during the six-day workweeks here. There is very little cargo space inside the buildings, so anything that can freeze ends up in metal cargo containers, or left in a warehouse in Punta Arenas until needed.
Palmer Station also has one variable that McMurdo and South Pole stations don't that makes outside storage even trickier — rain.
"Everything gets soaking wet, or rusts from the salt water," DeValentino said.
Despite the long list of challenges — or perhaps because of them — DeValentino loves his job. He's been with the USAP for 10 years, working full time with the program for the last two.
"The science happening here at Palmer is fascinating and it's rewarding to be a tangible part of that process," he said.