| | |
| --- | --- |
| Photo Credit: James Walker/Antarctic Photo Library | McMurdo Station during the 2009 winter, when 24-hour darkness blankets much of Antarctica. |
The winter of 1990
A look back at McMurdo 20 years ago through The Antarctic Nite Times
Posted March 12, 2010
The online version of The Antarctic Sun

— the U.S. Antarctic Program's

official news source for everything you wanted to know about National Science Foundation-funded

research and the people who make it happen — is only the latest incarnation of the newspaper whose roots go back to the 1950s.
It began with the McMurdo News published during the International Geophysical Year

. The McMurdo Sometimez — so named because of its irregular publication schedule — ran from at least 1960 until 1980.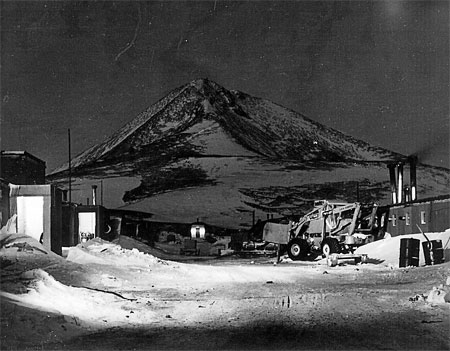 McMurdo Station during the 1956 winter.
Along the way, sometime in the early 1970s, professional Navy journalists took over the operation from Navy volunteers. In 1980, the name morphed into the more professional-sounding Antarctica Sun Times.
The Navy would continue to operate the paper until the 1997-98 austral summer, when civilian contractors took over the publication as part of the de-commissioning of Operation Deep Freeze.
Nearly two years ago, Warren Ross contacted us about a stash of newspapers that he edited during the 1990 winter while he was assigned to McMurdo Station

with the U.S. Navy. Called The Antarctic Nite Times, the paper provided local features along with wire news.
On the 20th anniversary of The Antarctic Nite Times, we will publish reprints of some of the more interesting bits every couple of weeks through the austral winter. Keep in mind that much has changed in 20 years with the transition of the Navy culture to a civilian workforce. Some events and attitudes have naturally gentrified over the years.
Then again, some things never change — the sense of community and wonder of spending a winter in Antarctica.
Enjoy, and check this page often for updates.
The Antarctic Nite Times, Issues 1 and 2, March 4 and 11, 1990

The Antarctic Nite Times, Issues 3 and 4, March 18 and 25, 1990

The Antarctic Nite Times, Issues 5 and 6, April 1 and 8, 1990

The Antarctic Nite Times, Issues 7 and 8, April 15 and 22, 1990

The Antarctic Nite Times, Issues 9 and 10, April 29 and May 6, 1990

The Antarctic Nite Times, Issues 11 and 12, May 13 and 20, 1990

The Antarctic Nite Times, Issues 13 and 14, May 27 and June 3, 1990

The Antarctic Nite Times, Issues 15 and 16, June 10 and 17, 1990

The Antarctic Nite Times, Issues 17 and 18, June 24 and July 1, 1990

The Antarctic Nite Times, Issues 19 and 20, July 8 and 15, 1990

The Antarctic Nite Times, Issues 21 and 22, July 22 and 29, 1990

The Antarctic Nite Times, Issues 23, 24 and 25, Aug 5, 12 and 19, 1990