| | |
| --- | --- |
| Photo Credit: Robyn Waserman/Antarctic Photo Library | McMurdo Station after a summer dusting of snow. The research station is the logistics hub of the U.S. Antarctic Program. The NSF has asked Congress for $2 million to help fund energy efficiencies at McMurdo, among other budget requests. |
NSF FY11 budget request
Agency seeks 8 percent increase, 17 percent bump for OPP
Posted March 12, 2010
The National Science Foundation (NSF)

is asking the U.S. Congress for $7.4 billion for the 2011 fiscal year (FY), an 8 percent increase over 2010.
The request supports President Barack Obama's goal of increasing the nation's total public and private investment in research and development to at least 3 percent of the gross domestic product, according to an NSF press release.The proposal would keep the federal agency on track for doubling its budget between about 2007 and 2017.
The NSF's Office of Polar Program (OPP)

, which manages the U.S. Antarctic Program (USAP)

and funds Arctic research, would increase to $528 million, 17 percent above the FY 2010 level of $451.16 million.
NSF Director Arden L. Bement, Jr. said NSF's FY 2011 budget request represents reaffirmation of "the agency's roots as the nation's wellspring of scientific innovation" as it celebrates its 60th anniversary.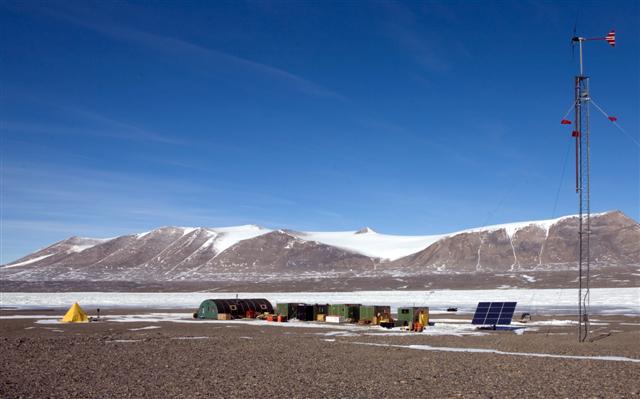 Lake Fryxell Field Camp with solar and wind power array.
The FY 2011 request for NSF OPP includes funds for a review of USAP facilities and logistics. "This review will take a systems approach to reviewing science drivers and identifying the complementary logistics and infrastructure that are needed to support that science into the next decade and beyond," according to the FY 2011 Budget Request to Congress.
The proposed $280 million Antarctic Infrastructure and Logistics

budget for NSF OPP continues to stress the use of alternative and renewable energies for the USAP, and maintaining communications and data-handling capabilities to support science and operations.
A comprehensive review of McMurdo Station's

energy supply and usage was recently completed, setting the stage for improvements and savings in FY 2011, according to the budget request. For example, the agency has asked for $3 million to fund energy upgrades at McMurdo Station's Black Island telecommunications facility.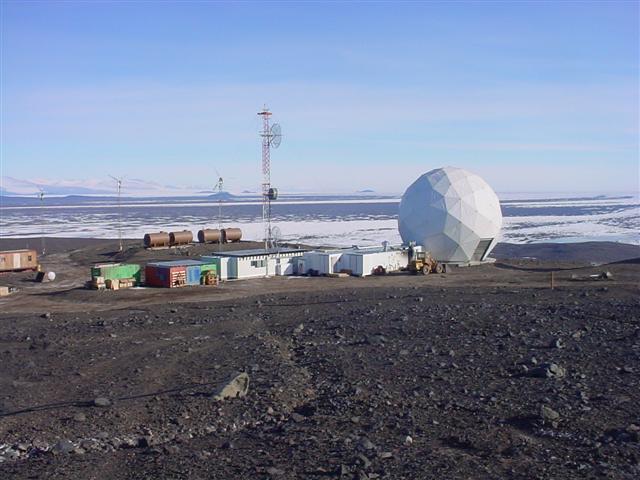 Black Island
Black Island provides satellite communications supporting McMurdo, as well as the National Polar-Orbiting Operational and Environmental Satellite System (NPOESS) and NASA's

Ground Networks for the relay of data. The project will emphasize the use of wind and solar energy.
A project to install "smart grid" technology for power distribution at McMurdo is planned to continue in FY 2011 for the tune of $2 million. This project will install metering and networked direct digital controls to monitor and manage power, lighting, heating, and water for more cost-effective and efficient operation of McMurdo's power grid.
Antarctic research funding stands to grow by nearly 6 percent, to about $75.2 million. Most of the money is slated for research grants, with about 40 percent earmarked for new grants. Arctic science would receive a nearly 5 percent bump to about $111 million.
OPP supported an estimated 279 Arctic and Antarctic research grants in 2010 out of 1,033 proposals. The NSF across all programs awards about 10,000 new grants each year, supporting an average of 200,000 scientists, engineers, educators and students.
"Since its establishment 60 years ago, NSF has been 'the tip of the spear' in the nation's scientific and engineering research and education enterprise," Bement said. NSF's FY 2011 budget proposal is "designed to keep the agency at the forefront and, in turn, to ensure the future well-being of not only the United States but humanity generally."