| | |
| --- | --- |
| Photo Credit: Lee Thomas/Antarctic Photo Library | An aerial view of Byrd Surface Camp in West Antarctica, which used a newly developed portable Iridium Multi-channel System for various communication needs, including instant messaging. The Polar Technology Conference focused on Iridium communication. |
Polar Technology Conference
Meeting brings together experts in cutting-edge instrumentation
Posted April 16, 2010
Some came looking for answers and allies in future endeavors. Others to share their successes and failures for lessons learned.
And most everyone in attendance at the sixth annual Polar Technology Conference

in Boulder, Colo., learned just what science could be accomplished in the polar regions with a little ingenuity, even in some of the worst conditions imaginable.
With a focus on communications and power — how to send more and more bits of data to and from remote places as often as possible without relying on a square city block of batteries — about 80 people from all corners of the polar community shared challenges and solutions over the two-day conference.
"You really have to have the community to help one another," said Roy Stehle, a project manager with SRI International

, a nonprofit research institute involved in helping support Arctic science

projects funded by the National Science Foundation's Office of Polar Programs

.
Boulder-based UNAVCO

hosted the event. UNAVCO is a non-profit consortium that supports various Earth science projects with high-tech GPS instruments and related technologies. It receives funding from the NSF and NASA

, and supports a variety of polar projects in both the Arctic and Antarctic.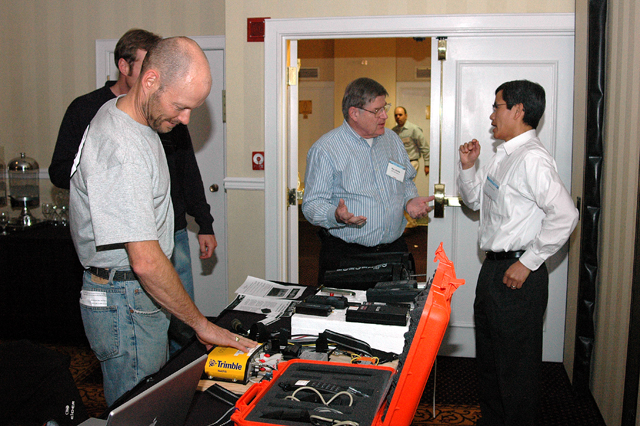 Photo Credit: Peter Rejcek
Attendees at the Polar Technology Conference look over instrumentation used in the Antarctic and Arctic.
"The polar community has helped re-energize UNAVCO as an organization," said Meghan Miller, UNAVCO president, to open the meeting.
Many of those in attendance were looking for more literal energy from the assembled crowd.
Liz Bagshaw

, a biogeochemist with the Bristol Glaciology Centre

in the U.K., traveled far seeking insight on how to keep monitoring systems on glaciers warm and working throughout a field season.
"Why I'm here is to pick your brains and figure out what works and what doesn't," she told the assembled scientists, engineers and computer gurus in the room.
Bagshaw is interested in the microbial communities that form in small meltwater pockets on the surface of glaciers. Sediments blow onto the surface of the ice. The dark particles absorb heat and melt into the ice to create a small microbial community, she explained.
"You've got your own little ecosystem, and they form on glaciers all over the world," she said, adding that these pockets of life may be sources or sinks for atmospheric carbon dioxide, a key greenhouse gas.
The problem, she said, is trying to devise a method to continuously monitor the biological activity by measuring dissolved oxygen. The ad hoc system she tested in such places as Antarctica's McMurdo Dry Valleys

, in collaboration with U.S. Antarctic Program

scientists, had limited success. For example, they used an electronic blanket made for pets to keep the sensor equipment warm.
It worked — but only intermittently and with big power demands.
"This is more data that we've gotten before," she said of the recent fieldwork. "We need to get a continuous measurement over the whole season. We know the technology is there. You guys have been doing it for years."
Engineer Bob Zook

offered a thumbnail overview on three years of field-testing a new underwater robot called SCINI, for Submersible Capable of under Ice Navigation and Imaging

.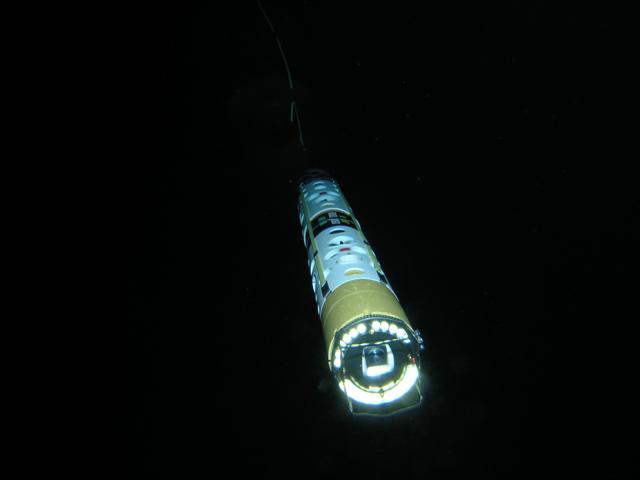 SCINI underwater in McMurdo Sound.
Funded under the NSF's Major Research Instrumentation program

, SCINI only has a diameter of about 15 centimeters, making it easy to deploy through a hand-cut hole in the sea ice. Specifically, principal investigator Stacy Kim

used the robot, tethered and controlled from the surface, to explore the marine seafloor in McMurdo Sound.
Many of SCINI's components are right off the store shelf, according to Zook, down to its model racecar motor controllers.
"Off-the-shelf is something we've relied on heavily," Zook said. "Basically, SCINI is a camera with thrusters on it."
SCINI may need to gain some weight and bulk for its next assignment, if proposals and plans come together on the next phase of the ANDRILL (ANtarctic geological DRILLing) project

.
ANDRILL, a multinational rock-coring program, drilled two long cores near McMurdo Station

in 2006-07 and 2007-08. The cores contain sediments that date back millions of years in the past, providing important clues to Antarctica's climatic history, particularly the ebb and flow of its ice sheet.
Now scientists are planning to survey a new location for possible drilling close to the edge of the Ross Ice Shelf

. Frank Rack, executive director of the ANDRILL science management office, said this year's fieldwork would include drilling at several holes through the 270-meter-thick ice shelf to deploy moorings with instruments to measure various ocean properties below. The team would like to use SCINI to take a look the conditions underneath the ice shelf.
The team needs to understand the ice and ocean because — if the NSF funds the coring phase — it will need to figure out how to drill through an ice shelf that moves two meters a day while extracting sediment cores from the seafloor, located hundreds of meters through the ocean below the ice.
"There are a lot of interesting engineering challenges here," said Rack, who attended the technology conference to spread the word about ANDRILL's latest endeavors and discuss the use of GPS technology with UNAVCO.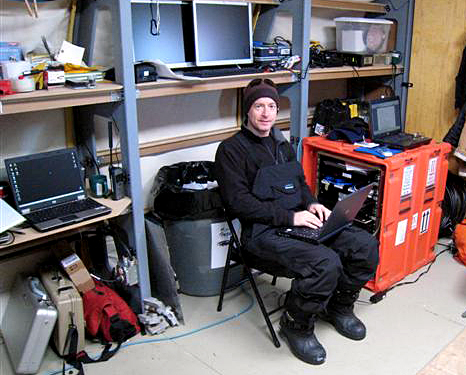 IT employee Kevin Bliss works on the portable IMCS, shown at right in the orange box.
The challenge of communications across a continent the size of the United States and Mexico combined dominated many discussions. The use of the privately owned Iridium satellite system

has become the de rigueur for polar communications because of its 24-hour coverage, even at the South Pole.
Gary Ferentchak, IT Iridium program manager for Raytheon Polar Services Co. (RPSC)

, presented some of the latest innovations in this field. RPSC is the prime contractor to the NSF for the USAP. Ferentchak was on the team that developed the first 24-hour email capability for the South Pole Station

using an Iridium Multi-channel System (IMCS) in 2006.
Iridium service is primarily intended for voice telephone calls. IMCS provides an external computer network connection by adding together several simultaneous Iridium phone calls to produce a usable data channel, roughly equivalent to home dialup service.
Now it's possible to send small e-mails from field camps over a wireless connection. All of the components fit into a portable cabinet that can be plugged in and operational within minutes. Such a unit was used this past season at the newly re-constructed Byrd Field Camp in West Antarctica, nearly 1,000 miles from McMurdo Station.
"It's just an extension of the USAP network," Ferentchak said. "It just happens to be in the middle of nowhere."
Thanks to such innovations, the middle of nowhere — and what can be discovered there — is a lot closer these days.