| | |
| --- | --- |
| Photo Courtesy: Lucy Jane Bledsoe | Author Lucy Jane Bledsoe on Petermann Island off the west coast of the Antarctic Peninsula during the 2003-04 field season. She recently published her fourth book based on her experiences in Antarctica. Her trip was sponsored by the NSF's Antarctic Artist and Writers Program. |
Intersection of art and science
Bledsoe's latest novel about Antarctica explores dynamics between artists and scientists
Posted April 30, 2010
Antarctica's raw beauty has been a natural setting for numerous books of fiction and nonfiction over the years. Lucy Jane Bledsoe

, a two-time recipient of a grant from the National Science Foundation's Antarctic Artist and Writers Program

, has been repeatedly drawn back to the icy continent over the last decade.
Bledsoe recently published her fourth book based on her experiences from two trips to Antarctica in 1999-2000 and 2003-04. In the following interview, Bledsoe discusses what attracts her to the continent and how her latest effort, "The Big Bang Symphony: A novel of Antarctica," is the book that she went to the Ice to write.
1. You've made two trips down to the Ice, with "The Big Bang Symphony: A novel of Antarctica," representing your fourth novel in the last 10 years since you initially ventured south in 1999-2000. What first drew you to Antarctica, and what about the icy continent continues to attract you as a writer?
Lucy Jane Bledsoe: I remember telling [former National Science Foundation Antarctic Artists and Writers Program Manger] Guy Guthridge that I wanted to talk to people who thought of Antarctica as "home." And he laughed (good-naturedly) at me. He said no one thinks of Antarctica as home. Which is probably right. And yet, I felt there was a rift between the explorers' ongoing metaphors about conquering the continent — conquering anything wild at all — and my feelings of love for and belonging in wilderness. I wanted to find out if that would be true in Antarctica, too. Would I find something essentially homelike there? I think I did. Antarctica lets us know ourselves on a biological level. As animals, in other words. Animals who above all else need food, warmth, shelter. To me, that's a very comforting perspective, and it does feel like home.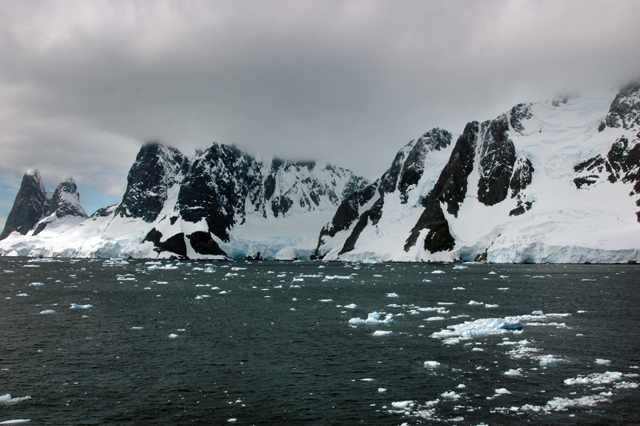 Photo Credit: Peter Rejcek
The Lemaire Channel, located along the Antarctic Peninsula, is an example of the "extremities of beauty" found around the continent.
That same feeling draws me as a writer. In my stories, I want to find out who people are at our deepest level. The best way to get to that level is to stress people. Put them on the edge of their existence. Illness can do this. Violence can do this. I like to use the extremities of biological necessity. As well as the extremities of beauty — in landscape and love.
Put people in these wild places and see how they change, evolve, or destruct.
2. You've written both fiction and nonfiction about Antarctica. This latest book is a fictional account about the intersection of three types of people that you meet in Antarctica — the scientist, the artist and the support contractor. What does the book have to say about that dynamic and life on the Ice?
LJB: I'm aware that some folks on the Ice are wary of artists. For good reason.
We are brought down to interpret the experience, and in most cases, we never have the depth of understanding that long-timers have. We're bound to get some things wrong. And yet, what I love about the [Antarctic] Artists & Writers program is that it fosters dialogue between these three groups of people. It's rare in our culture to find programs that ask scientists and artists to converse.
So in "The Big Bang Symphony," my characters do have some of those conversations: where does art and science intersect? The geologist character, near the end, realizes that she "has been seized by randomness...," including a new friend, a new love affair, and "most of all, most awesomely reason-bashing of all, was this continent's beauty." The title of the book comes from the composer character who is writing music about the Big Bang, and she and an astrophysicist talk about their intersecting points of view.
3. The three main characters are all women. As you probably know, the first American women first joined the U.S. Antarctic Program

40 years ago, and today women are an integral part of the program. What did you want to convey by making all of your protagonists women?
LJB: I wanted to write about the women working in Antarctica in a matter-of-fact way. As you say, they've been on the Ice for decades now. Yet, when their stories are told, it's often in the context of "Now we're going to tell you about the women," rather than writing about women as being integrated in the community, which I think they are. My three main characters are women, but there are several major men characters, too. That said, many people still think of extreme places like Antarctica as male territory, and some of the old tropes, like conquering, are still in place. I thought several different women's perspectives might be fresh.
4. What's the most difficult thing about writing a story based in Antarctica?
LJB: Avoiding purple prose, over-dramatization, hyperbole. It's such an intense place. I want to show that intensity, but that's hard to do without overwriting. At the same time, I think minimalist writing is often just a way to avoid finding the words to say something meaningful. The absence of words stands in for the meaning. So to write about the extreme beauty and the intense ways the continent affects people, making it believable and not overwritten, was the hardest part.
5. Can we expect more Antarctic-based stories from you in the future? If so, what's next?
LJB: Possibly! I'm working on a collection of short fiction and it includes a couple of Antarctic stories. I've done a collection of narrative nonfiction — "The Ice Cave: A Woman's Adventures from the Mojave to the Antarctic" — in which there is one long Antarctic piece. I've done a nonfiction kids' book, "How to Survive in Antarctica," and a novel for kids, "The Antarctic Scoop." But I have to say, "The Big Bang Symphony" is the book I came to the Ice to write.
6. Anything else you'd like to add?
LJB: Nope. These were great questions. I'd love to hear from anyone on the Ice who reads the book and wants to let me know their thoughts.
Other works by Bledsoe about Antarctica include a book on armchair travel to Antarctica for youngsters, "How to Survive in Antarctica," a novel, "The Antarctic Scoop," about a young girl who uncovers a plot to ruin the continent, and a nonfiction collection of stories, "The Breath of Seals: Adventures in Fear and Grace."