| | |
| --- | --- |
| Photo Credit: Peter Rejcek | Elizabeth "Lily" Glass, an instrument tech at Palmer Station, attends to a high-performance liquid chromatographer that isolates chemical compounds. Glass says it's hard to say "no" to coming back to Palmer Station time and time again. |
Page 4/4 - Posted May 21, 2010
There and back again
There are few people as enthusiastic about the community and Palmer Station as Evans. It's common to step into the station galley — a cozy room above the laboratories with a wall of windows looking out onto the harbor, islands and icebergs — and find her smiling and wearing an apron in the kitchen.
"Here at Palmer we're more a part of a community than some of us are at home," she says. "It's a lot easier to volunteer here doing little things than it is at home doing little things. You don't have to go far."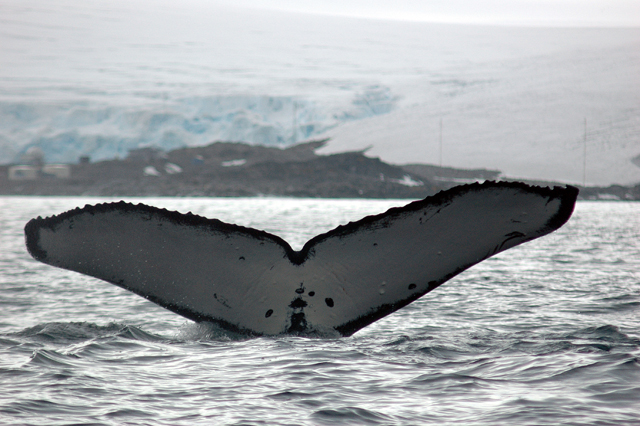 Photo Credit: Peter Rejcek
A humpback whale tail breaks the water, framing Palmer Station in the distance.
She's also an unabashed ambassador for the USAP when off the Ice.
"I promote Antarctica as a job. I wish I had cards to hand out," says the Minneapolis resident. "It's a beautiful landscape. It's pristine."
Pristine but changing rapidly. Veteran residents — and even those who have only ventured down the last few years — see the changes wrought by global warming. Penguin colonies are shrinking. The front of the glacier behind Palmer Station, part of the Marr Ice Piedmont that covers most of Anvers Island, retreats about 30 feet a year.
"I definitely see the changes," says George Ryan, hazardous waste technician, who has been traveling to Palmer Station on and off for the last decade. In 2004, the rapid melting of Marr Ice Piedmont from a spot called Norsel Point on Anvers Island revealed a separate spit of land, now called Amsler Island.
Still, the landscape inspires many at Palmer Station, where it seems almost everyone sports a fancy digital SLR camera to capture the ever-changing scenery. Even the inexorable collapse of the ice amazes, where the melting ice caps on the individual islands look like melted marshmallow on a sweet potato pie as it deflates.
"It's an amazing setting. I still enjoy walking between the buildings and looking out across [the landscape]," Shoop says. "It's wonderful. You'll see something different — the light, something in the water, the ice moving in and out."
Most of the folks I talked to for this story have themselves moved out of Palmer Station, and a smaller crew has moved in for the winter. This ebb and flow of humanity mirrors the natural cycle of wildlife in the region, breeding giving way to broods giving way to migration for another season.
No doubt, many of Palmer personnel will be back in September, when the penguins and petrels and seals also return, to begin anew the challenges of life on the Antarctic Peninsula.
"It's always difficult to say, 'no,' to coming back," Glass says. Back 1 2 3 4