| | |
| --- | --- |
| Photo Credit: Peter Rejcek/Antarctic Photo Library | The bow of the U.S. Coast Guard icebreaker Polar Sea pushes through bergy bits of ice in the channel to McMurdo Station in January 2007. That was the last time ship visited Antarctica. |
Not shipshape
Coast Guard icebreaker may not be available for standby duty for 2010-11 season
Posted July 9, 2010
The U.S. Coast Guard

announced last month that an unexpected engine problem aboard the icebreaker Polar Sea

may keep the ship from providing standby capability for cutting a channel to the U.S. Antarctic Program's McMurdo Station

for the 2010-11 field season.
However, this shouldn't affect the annual icebreaking mission to the Ross Sea. The National Science Foundation (NSF)

, which manages the U.S. Antarctic Program (USAP), has already chartered the icebreaker Oden from the Swedish Maritime Administration and the Swedish Polar Research Secretariat

to cut through the sea ice that forms every winter in front of McMurdo Station.
The channel from the ice edge to the station allows the annual resupply and fuel ships access to McMurdo.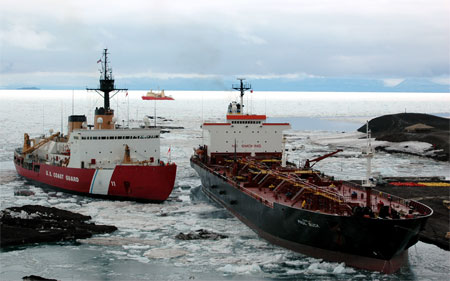 The USCG cutter Polar Sea next to the annual fuel ship at McMurdo Station in February 2007.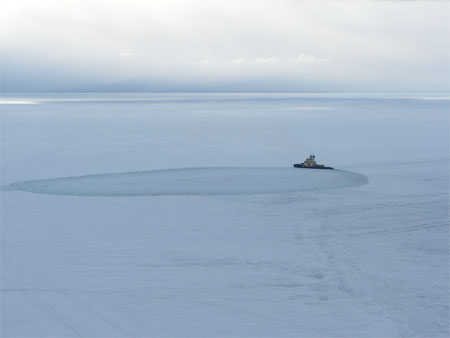 Swedish icebreaker Oden carves a turning basin to allow non-icebreakers to turn toward the ice pier at McMurdo Station.
The 108-meter-long Oden has served as the primary icebreaker for the USAP since the 2007-08 season. It is also a research vessel that supports joint U.S.-Swedish science missions each year.
The Coast Guard said the Polar Sea will likely be in a maintenance status and unavailable for operations until at least January 2011. Its sister ship, the Polar Star

, has been in caretaker status since 2006 but expects to be back in service in 2013.
The Polar Sea was commissioned into service on Feb. 23, 1978, and has exceeded its intended 30-year life. In 2006, the Coast Guard completed a rehabilitation project that extended its service life to 2014.
The Coast Guard's third icebreaker, the Healy

, works primarily in the Arctic under lighter ice conditions. The Healy is currently under way this summer on an oceanographic campaign sponsored by NASA called ICESCAPE

, which stands for Impacts of Climate on Ecosystems and Chemistry of the Arctic Pacific Environment.
Scientists aboard the ship are taking an up-close look at how changing conditions in the Arctic are affecting the ocean's chemistry and ecosystems that play a critical role in global climate change.
Built in 2000, the Healy is the most technologically advanced polar icebreaker in the three-vessel fleet, but it does not have the same ice-breaking capabilities as the two 122-meter-long ships based in Seattle. The Coast Guard assumed responsibility of the nation's entire icebreaking fleet from the U.S. Navy in the 1960s.
The Foundation charters two icebreaking research vessels, the Nathaniel B. Palmer and the Laurence M. Gould

, through Raytheon Polar Services

for research in the Antarctic.