| | |
| --- | --- |
| Graphic Courtesy: Michael Christiansen | The flyer for the McMurdo Station international film festival. The event drew a record 41 entries from 21 research stations around the Antarctic. The annual film festival includes several categories, with the winning entry for Best Film coming from Australia's Davis Station. |
At the movies
McMurdo film fest draws record number of entries from 21 research stations around the Antarctic
Posted August 6, 2010
There is a moment at the end of the Base Alfred Faure film, "Camembert Man," when the French protagonist refers to McMurdo Station

residents as "chickens" that I will always remember because of the reaction here as we viewed it.
Hoots of laughter, howls of excitement, and rapidly escalating applause filled the dining hall, as if our favorite singer had just mentioned our town name on stage at a concert.
For me, this was to become the defining moment of the 2010 International Winter Film Festival — the moment when a big smile broke out on my face as I listened to the laughter and excitement from my colleagues, as we watched movies made by strangers. And yet, they weren't quite strangers, for we are all wintering in the Antarctic, which makes us neighbors.
This past weekend McMurdo held the third annual viewing of the International Winter Film Festival. The festival is open to any wintering station in the Antarctic or subantarctic. [See related article: Caught on camera.]
What began with eight participating stations in 2008 has grown considerably over the years. This year had record participation, as 21 stations, representing 11 nations, produced 41 films.
Those films fit into one of two categories. The open category, as the name implies, can be about anything. The 48-hour film category was a bit more restrictive.
Since there are no restrictions in the open category, the films tend to be more reflective and polished. An entry from Australia's Davis Station

exhibited some of the stunning aurora displays they have had this year, images that many lucky winter-overs are able to identify with.
A French filmmaker chronicled the journey that took him from France to the Dumont d'Urville Station in Antarctica. Though the places were different, the journey was something that all McMurdo residents were able to relate to, as we have all navigated the logistical hurdles of getting here. The film also captured that great moment of incredulity when we slip the bounds of industrial society and enter the haunting, desolate realm that is the Antarctic.
The 48-hour films require the filmmaker to spend no more than 48 hours conceiving and completing a film. This challenge makes these films the most popular, and oftentimes the most compelling.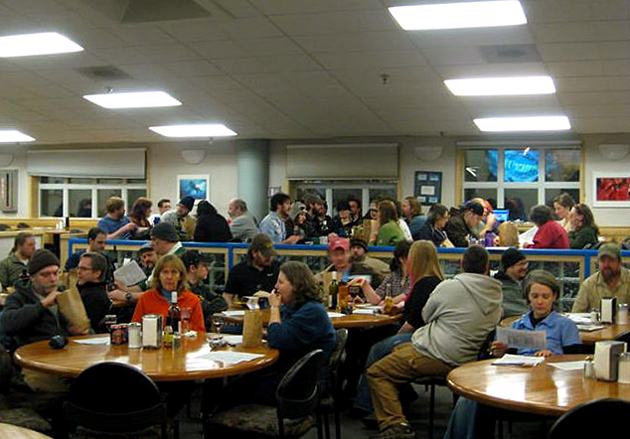 Photo Credit: Michael Christiansen
A crowd watches the film festival at the McMurdo Station dining hall.
This year, stations all over the continent had the July 17-18 weekend to make their film. To keep everyone honest, and to make the films more interesting, each film had to contain five "required elements," picked by the five stations that won last year: a grumpy, diesel mechanic; a mop; a bottle of mouthwash; the sound of a siren, and the line, "Has anybody seen my chicken?" McMurdo Station picked the line of dialogue.
It's always fascinating to see how filmmakers shape entire plots around these elements. There were numerous sightings of life-size chickens, mop love triangles, and quite a few people getting splashed with mouthwash.
Britain's Rothera Station

, in its bid to win Best Film for the third year in a row, offered up a Bond-like villain planning to melt the continent, which culminated in a high-speed boat getaway.
The Norwegians at Troll Station, in their film "Recapture of the South Pole," told the tale of their recent attempt to follow in the footsteps of Roald Amundsen and retake the South Pole from the United States. Their first attempt was hilariously unsuccessful, and the film ended with a wonderful song and dance routine accompanied by an accordion.
The U.S. Antarctic Program

stations were all represented this year.
The 10 films from McMurdo pushed the limits of creativity, ranging from a spoof of "Who's on First" to the retelling of a dream stitched together by clips of many residents of McMurdo talking about their dreams.
The South Pole Station

produced five films that through humor and drama explored the realities of the isolation and potential for real danger that living in Antarctica offers. Palmer Station

produced one film, highlighting some of the minor annoyances and struggles to find quiet that comes from living in a small communal environment.
Each station has an opportunity to vote for their favorite films. This year there were five categories for the 48-hour films: Best Film, Best Acting, Best Cinematography, Best Screenplay and Best Use of the Elements. There is also a vote for Best Open Film. The only prize for winning the festival is bragging rights, plus the winning stations pick one of the required elements for the next year's 48-hour part of the film festival.
Best Film: Fitness Month, Davis Station (AUS)

Best Acting: Camembert Man, Alfred Faure Station (Crozet) (FR)

Best Cinematography: Fitness Month, Davis Station (AUS)

Best Screenplay: From Rothera With Love, Rothera Station (UK)

Best Use of Elements: Mission Unmoppable, King Edward Point (UK)

Best Open Film: Blaireauxwitch Projet, Alfred Faure Station (Crozet) (FR)

Aside from entertainment, the films also offer a glimpse into life at other stations. Many of us will never visit these stations, but through the videos we are able to experience life there.
We see the different buildings, landscapes that surround them and the staff that inhabit them. And while some stations might have sunlight, and some might have grass and others might have wildlife, it seems that all stations are inhabited by men who grow thick, burly beards, and at least one Mohawk hairstyle.
The film festival is made possible by video compression software and the Internet, but that doesn't mean distributing the films is an entirely painless process. This year a few of the stations with slow Internet connections battled malfunctioning satellites and big winter storms to send their films out into the world.
The folks at the Polish Henryk Arctowski Station

tried for seven hours to upload their film, while the French station of Dumont d'Urville could only submit its films and won't be able to view any of the others until later in the year.
It's hard to say exactly why this event is so popular and what makes people spend seven hours uploading a small file. Many of the stations I have heard from have told me how much fun they had producing their films. It's a unique activity that often gets the entire station involved, an activity where a mechanic by day becomes an amateur actor by night, or a scientist puts down her microscope and picks up a camera.
For me, as fun as it is to make a movie and watch the films, it's the idea of being a part of the larger Antarctic community that gets me excited. It's one weekend where nationalities, science and distances are all put aside for a brief moment to have fun and celebrate how lucky we all are to be spending the winter in Antarctica.