| | |
| --- | --- |
| Photo Credit: Wikipedia Commons | Central Christchurch was severely damaged during the Sept. 4 earthquake that rocked New Zealand's South Island. The city's iconic cathedral, seen in the distance, escaped harm thanks to recent renovations that strengthened the building. |
Earthquake in Christchurch
USAP operations mostly unaffected as summer field season approaches
Posted September 7, 2010
An early-morning 7.1-magnitude earthquake that hit near Christchurch, New Zealand, on Sept. 4 (local time) caused widespread damage throughout the South Island's largest city but did not significantly affect U.S. Antarctic Program

operations or facilities.
No one was killed, though several injuries were reported.
The quake was centered 25 miles west of Christchurch and was felt widely across the South Island, with reports of the quake being felt as far as Wellington on the North Island, according to The Press.
The trembler, one of the strongest in New Zealand recorded history, temporarily closed the airport and disrupted power to the city and surrounding towns. The domestic terminal remained closed at the time of this report. Pictures of the aftermath showed rubble and bricks in the street, crushed cars, and cracked roads. A newly formed fault line left a 13-mile scar on the landscape. [See New Zealand Herald video

.]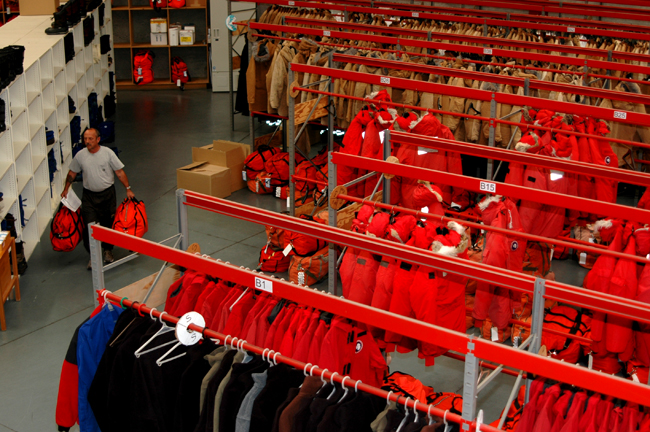 Photo Credit: Peter Rejcek
The CDC warehouse in Christchurch contains a large stock of extreme cold weather gear.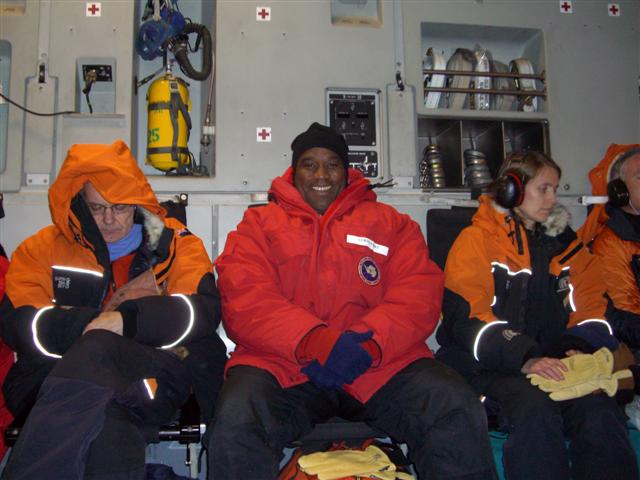 U.S. and New Zealand personnel on an Air Force plane en route from Christchurch during the 2010 Winfly period.
Officials at Raytheon Polar Services (RPSC)

, the prime contractor to the National Science Foundation

for the USAP, immediately completed a muster of all USAP personnel in the region. Raytheon New Zealand has 23 employees working and residing in the Christchurch region called Canterbury. Three families had significant damage to their homes.
Raytheon New Zealand operates the Clothing Distribution Center (CDC), which warehouses equipment for scientists and personnel heading to work in Antarctica. Minor flooding occurred in one warehouse after the powerful earthquake caused the sprinkler system to rupture.
Most other damage to the CDC facility and offices was superficial, though about $7,000 in computer hardware was destroyed.
Christchurch is the gateway city to the USAP's McMurdo Station

, the U.S. logistics hub on the continent. Seven U.S. Air Force cargo and passenger flights had flown between Christchurch and McMurdo last month during the winter fly-in (Winfly) transition period between winter and summer. [See related article: Ramping up.]
The main scientific field season is scheduled to begin on Sept. 23 when hundreds more scientists and support personnel will transit through Christchurch, which has been involved in USAP support since the 1950s.
"It seems like most everything will be up and running by the time we move folks there in about two weeks," Tom Ellis, RPSC Operations director, told Denver's 9 News in an interview

.
As of Sept. 6, more than 100 aftershocks had been recorded, including three 5.4-magnitude quakes. Some have caused further damage, ruining buildings in Christchurch's central business district.
Scott Base, Antarctic New Zealand's

research station located on Ross Island about three miles from McMurdo, had lost e-mail connectivity after the early-morning trembler. RPSC's IT team assisted with rerouting e-mail traffic to restore connectivity for Antarctica New Zealand.
The U.S. and New Zealand Antarctic programs share some logistics and collaborate on various research projects. The two nations recently worked together to install three wind turbines to reduce reliance on fossil fuels. [See related article: Winding up.]