| | |
| --- | --- |
| Photo Credit: Fen Montaigne | Researcher Bill Fraser stands near the last remaining Adélie penguin adult and chicks on Litchfield Island off the Antarctic Peninsula. Within several days, the colony was wiped out by brown skuas, bringing to an end at least 500 years of Adélie habitation on Litchfield Island. Journalist Fen Montaigne's new book chronicles Fraser's work and the plight of the penguins. |
Fraser's penguins
New book chronicles the work of a long-time Antarctic researcher
Posted December 17, 2010
Editor's introduction: Journalist Fen Montaigne

traveled to Antarctica in 2005 on an Antarctic Artists and Writers Program

grant from the National Science Foundation

to write a book about Bill Fraser's

research. Fraser has spent more than 35 years working in the Antarctic Peninsula studying Adélie penguins and other polar seabirds as the region warms and its species struggle to adapt and survive. Montaigne's new book, Fraser's Penguins

, describes a season living and working in this unique and breathtaking environment.
Antarctic Sun: You first visited Antarctica in 2004 to cover Bill Fraser's research for National Geographic, and then returned the next year on a National Science Foundation Artists and Writers Program grant. What interested you in Fraser's research that you decided it would make a good subject for a book?
Fen Montaigne: By the time of my first visit in January 2004, Bill Fraser's work had been well covered in the press. But after spending nearly a month with Bill and his team, I realized that the importance of his work, Bill's life story, and this breathtaking part of the Antarctic Peninsula — with its dramatic history of exploration — was worth a book. My goal was to return and spend the entire five-month birding season with Bill and his team, and thanks to Bill and the NSF's Artists & Writers Program, I was able to do that.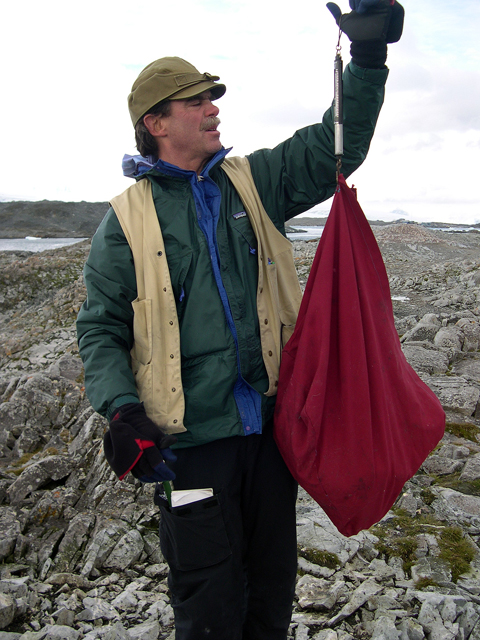 Photo Courtesy: Fen Montaigne
Journalist Fen Montaigne measures a southern giant petrel as part of a long-term monitoring program.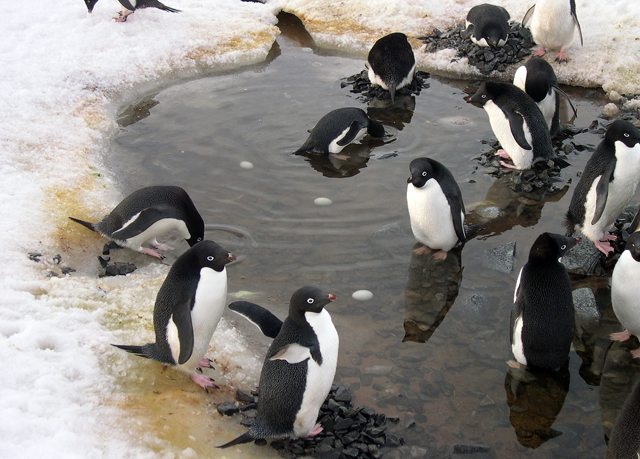 Photo Credit: Fen Montaigne
Adélies try unsuccessfully to move their eggs out of a melt pond. Snowfall is increasing along the western Antarctic Peninsula as sea ice melts, exposing more open ocean and leading to greater evaporation and precipitation — a serious problem for the nesting seabirds and their young.
AS: You worked with Fraser's team for five months out of the U.S. Antarctic Program's Palmer Station

. What insights or observations did you make regarding how people live and work in remote locations? What impressed you?
FM: I have never in my life worked with such a collegial and friendly group of people, and that includes Bill's birding team and the entire staff at Palmer Station. I write in my book that spending five months at Palmer was as close as I'll ever get to living on a commune — albeit a federally funded and highly functional one. The spirit at Palmer was exceptional, and Bill's birding team members showed great patience and good humor as I clumsily learned their work.
AS: What message or lesson do you want the reader to take away from your book, Fraser's Penguins?
FM: The first message would be an appreciation for the extraordinary beauty and uniqueness of the Antarctic Peninsula and the continent as a whole. The second message is that nearly everything in that ecosystem is somehow connected with ice, and that the warming of the western Antarctic Peninsula is the first sign that this great citadel of ice is starting to feel the heat.
AS: What was your biggest challenge as a journalist telling the plight of the Adélie penguins to a general audience?
FM: So much has been written about Adélies and penguins in general that the challenge was to describe these seabirds in a fresh, engaging way. I tried to do that both through my months of field observation, as well as through the observations of great explorers such as Ernest Shackleton, Robert Falcon Scott, Apsley Cherry-Garrard, G. Murray Levick, Roald Amundsen, etc. One reason the book took me so long to complete is that I spent many months reading the journals and books of Antarctic explorers. It was also a challenge to explain the impact of warming on the Antarctic Peninsula in a way that was accessible to general readers.
AS: What was the most surprising thing you learned about the Antarctic ecosystem during your time with Fraser's team?
FM: Despite the relatively small number of species in the Antarctic, the species that do exist there are found in incredible numbers. One researcher estimated that there may be as many as 75 million seabirds that nest in, or travel through, the region south of the Antarctic Convergence [where Antarctic and subantarctic waters meet]. Crabeater seals exist in the tens millions, Antarctic krill in the gazillions. As I write in the book, Antarctica gives you "an almost euphoric appreciation of the bounty of the wild world when left unmolested by man."
AS: What's your best memory from your five months at Palmer Station? Maybe something that didn't make it into the book.
FM: I have so many vivid memories from my time at Palmer, but one of the best is traveling to the Joubin Islands with Bill and the team. Located 12 to 15 miles from Palmer, the Joubins are the most remote spot we visited by Zodiac, and cruising around the islands to count penguins, our boats rising and falling in the swells, was exhilarating. The Joubins were encircled that year by grounded, tabular icebergs, and taking in that scene — the bergs, 9,000-foot Mount Francais on Anvers Island, the ramparts of the peninsular range — was one of those Antarctic experiences that cannot be captured in words or pictures. I felt that way many times at Palmer, as we visited other beautiful spots such as Dream Island and Biscoe Point.
AS: Anything you'd like to add?
FM: Profuse thanks to the NSF and Bill Fraser for making this book possible and for enabling me to experience one of the great adventures of my life.