| | |
| --- | --- |
| Photo Credit: Paul Thur/Antarctic Photo Library | A blizzard during the 2008-09 season hits the South Pole Operations Traverse. During the 2010-11 season, a powerful storm buried the traverse train. The crew eventually dug its way out and made it to the South Pole Station on Dec. 19. The traverse was scheduled to travel another 450 miles to East Antarctica to retrieve a field camp. |
Perfect storm
Snow buries South Pole traverse before tractor train reaches 90 South
Posted December 24, 2010
On Dec. 14, 1911, Norwegian polar explorer Roald Amundsen and his team of men and sled dogs arrived at the geographic South Pole — the first visitors to that barren spot.
The journey took about eight weeks from the edge of the Ross Ice Shelf

, after a false start in September due to plummeting temperatures. The men encountered blizzards and butchered many of their sled dogs for meat.
Today, one can get to the South Pole Station

from the U.S. Antarctic Program's McMurdo Station

in about three hours aboard an LC-130 airplane, with a nice box lunch to enjoy along the way. But some fuel and cargo are still moved on the ground, using horsepower versus sled dogs. And weather can still slow down the mightiest of machines.
The South Pole Operations Traverse, which uses tracked Caterpillar and Case tractors to haul bladders of fuel and sleds of cargo across the continent, was stopped in its tracks for about four days from one of the worst storms in recent memory.
The big rigs and sleds were buried by the snow, a sort of Antarctic concrete. The team's mechanics were able to free the train's front-end loader to help dig out the tractors. Still, even with the mechanical assistance, there was still plenty of shoveling to do, with snow packed into every nook and cranny.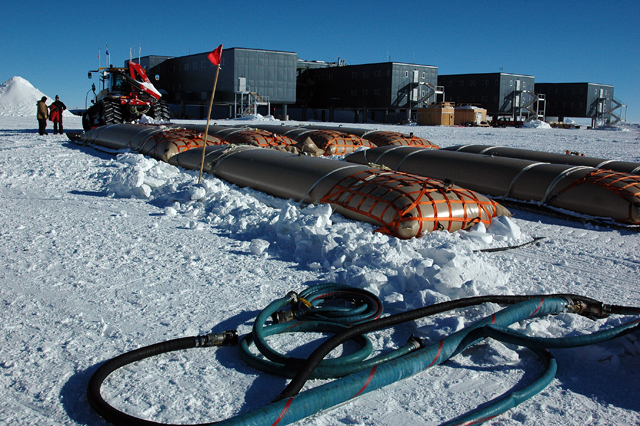 Photo Credit: Peter Rejcek
Fuel bladders hauled to the South Pole by the SPoT train wait to be transferred to the station.
When the storm finally broke, just a few days before Amundsen's 99th anniversary of reaching the Pole, the SPoT team encountered a different sort of expedition leaving the polar plateau for the Leverett Glacier.
The Moon Regan Transantarctic Expedition

was on its way back from the USAP's South Pole Station, claiming to have made the fastest vehicle crossing of the continent in history at about 13 days. The 10-person team traveled in a small convoy led by a propeller-driven, biofuel vehicle. Two large trucks followed behind carrying most of the crew and equipment.
The SPoT is about efficiency, not records.
This year it will deliver about 75,000 gallons of fuel to the South Pole. It will also transport nearly 20,000 pounds of cargo to the Ross Ice Shelf for research projects in the region. The traverse will close out a deep-field camp on the polar plateau.
The route between McMurdo to South Pole is a little more than 1,000 miles. It crosses through two shear zones, or heavily crevassed areas, using a ground-penetrating radar to avoid trouble, following a flagged route along the way.
Update: The SPoT team rolled into the South Pole on Dec. 19. The crew was expected to be at the station for several days before embarking to the field camp on the polar plateau — a one-way trip of 450 miles. It would reportedly represent the first traverse of that stretch of East Antarctica.