| | |
| --- | --- |
| Photo Credit: Kristan Hutchison/Antarctic Photo Library | The Beardmore Glacier. The nearby field camp in 2010-11 has about 17 staff to support 18 science groups. There are more than 50 LC-130 missions, 61 Twin Otter missions and 750 mission hours split between two Bell 212 helicopters scheduled to support the camp and the satellite field sites. |
Page 2/2 - Posted October 9, 2007
Antarctic Treaty has withstood the test of time
Zumberge explained SCAR in detail. E. Fred Roots (Canada) discussed the role of science in the treaty system: "In no other large part of the world is the pursuit of science such a dominant activity."
L.F. Macedo de Soares Guimaraes (Brazil) provided the eloquent and moving perspective of a new consultative nation, Brazil having achieved that status just four months earlier. An enthusiastic public backed his country's new Antarctic science program, and Guimaraes argued that the activities of the consultative parties are not based on expertise or experience: "Brazil could hardly claim that. The right words are not expertise or experience, but involvement and responsibility."
Zain Azraai (Malaysia), the presumed antagonist, was affable, articulate, popular — and unrepentant. The treaty parties, he said, regarded the U.N. debate "as an irrelevant nuisance to their pursuit of the proper management of Antarctica" even though the debate "did not make a constructive contribution." But — he conceded while in Antarctica — "All sides need to exercise forbearance, refrain from casting aspersions on one another's motives, and examine issues with an open mind."
Azraai got his wish.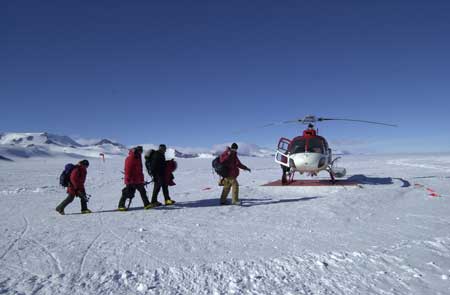 Photo Credit: Kristan Hutchison
Scientists pile into a helicopter to fly to a field site near the Beardmore camp in 2003.
My impression was that the workshop was bold and brilliant — that science's never-ending quest for reality trumped any diplomatic maneuver and that the sincere, sometimes heartfelt conversations in the cold, bright sunlight couldn't but lead to rational decisions by governments.
Nevertheless, "The Question of Antarctica" remained on the United Nations agenda until well into the 21st century. Perhaps the tension between member and nonmember nations won't ever go away, just as the Pergamon Museum's retention of the Market Gate of Miletus and the British Museum's hold on the Elgin Marbles will stay in dispute. Custodianship — of priceless marbles or a priceless continent — perhaps always will be the uneasy mix of assertive protection and generous sharing.
It's not as if tension doesn't exist amongst the treaty parties themselves. During the visit to Amundsen-Scott South Pole Station by those 57 distinguished Beardmore South participants, a Norwegian and a British representative cornered me as we stood by the vertical copper pipe in the snow marking the exact location of 90 degrees south latitude, the South Pole itself. Inserted into the pipe, as then was the custom, was the flag of the United States of America — flying in the cold breeze from a wood staff.
Never mind that we Americans had named South Pole Station after the non-U.S. heroes who first reached this spot, and never mind that U.S. taxpayers who'd never be so lucky as to be there had sponsored these diplomats' trip: the visitors viewed the flag as an affront to the international character of the Antarctic.
Maybe they were right, those two, and maybe not. Either way, these days a handcrafted medallion — in 2010 it's an engraving of the South Pole Telescope and IceCube Neutrino Observatory

— caps the annually repositioned copper pipe. The USA flag flies, rank and file, alongside the flags of fellow Antarctic Treaty nations in a circle around a ceremonial South Pole marker a short distance away.
Now entering its second half-century, the Antarctic Treaty seems to have withstood its tests. International Antarctic science is more robust than ever. Since 1985, the treaty has added another 15 members, although Malaysia hasn't signed on. The 47 treaty nations represent two-thirds of the world's human population and four-fifths of its economy.
And the Beardmore South camp? Withstanding the 1985 winter unoccupied, it was reopened on Oct. 26 for its originally intended use as a helicopter-supported field camp. Sixty-six researchers in 18 earth and atmospheric science projects successfully operated throughout the austral summer. The camp was closed on Feb. 3, 1986, and most of the structures, equipment, and supplies were retrograded to McMurdo for future use. A small emergency shelter was left in place as a refuge.
Guy Guthridge retired from the National Science Foundation after 35 years. He played a pivotal role in creating the Foundation's unique Antarctic Artists and Writers Program

.Back 1 2