| | |
| --- | --- |
| Photo Credit: Robert Schwarz | Professional mountain runner Rickey Gates goes on a training run at the South Pole, where he took a job in the station kitchen for the austral summer. Gates added the fastest time to finish the two-mile South Pole Race Around the World to his impressive résumé of international records and runs over the past four years. |
Race around the world
Professional mountain runner Rickey Gates takes a spin at the South Pole
Posted January 7, 2011
In the last four years, Rickey Gates has raced around the world as a top mountain runner.
He owns the Half Dome trail-running record at Yosemite National Park

, powering up and down nearly 5,000 vertical feet over 16 miles in a remarkable 2:28:18. He won New Hampshire's Mount Washington Road Race

in 2009, becoming only the second American to run the 7.6-mile course — with an average grade of 11.5 percent — in under an hour.
Every summer he hops on his touring bike and cruises through Europe to compete in some of the world's toughest mountain-running races. In 2009, he finished fourth at Sierre-Zinal in Switzerland, considered by many as THE mountain race on the planet — a punishing 19-mile scramble on varying terrain that gains about 7,200 feet in elevation before a short 2,200-foot plunge to the finish.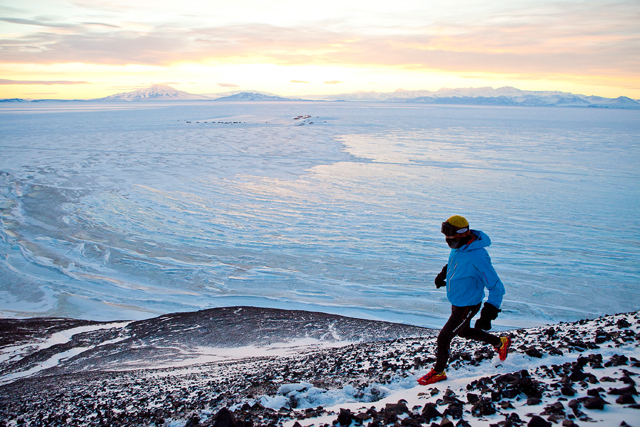 Photo Credit: Haley Buffman
Rickey Gates runs a trail near McMurdo Station in the early days of the 2010-11 season.
Now the 29-year-old Coloradoan can truly say he's literally raced around the world. Gates took first place in the annual Race Around the World at the South Pole Station

on Christmas Day 2010.
The two-mile course takes fleece-clad runners around the U.S. Antarctic Program's

southernmost research station. The race spins around the geographic South Pole where all lines of longitude converge.
The opportunity to participate in this unique race, which takes place on the East Antarctic ice sheet at a lung-gasping 9,300 feet, drew Gates to Antarctica. He finished in a scant 13:32 — the fastest time anyone has posted for the race, though the course rate has changed over the years.
His job is as a dining attendant in the South Pole Station kitchen, spending his working hours mopping floors and washing dishes for the 250 people that spend the short summer season there from late October to mid-February.
"Antarctica fit in quite perfectly [with my lifestyle]. There aren't many races during the winter, and it's a continent that I've always wanted to come down and see," says Gates, a soft-spoken man who sports an unruly mop of ginger-colored hair and a matching thick mustache in the Wyatt Earp style.
Gates is no stranger to the food service industry. During the off-season in previous years, he's worked as a waiter and bartender, including a stint at Boulder, Colo.'s most famous restaurant, Frasca, where many of the staff are world-class athletes, chosen more for their stamina and work ethic than their knowledge of fine food and wine.
Recently, he moved back to his hometown of Aspen, where he first started running in middle school. A member of the high school's cross-country team, Gates didn't jump into international racing until his mid-20s when he decided to eschew the traditional training regime that dictated a strict adherence to routine and diet.
"For me that's not what it's all about. I did away with all that; I did away with my watch and started going with how I felt," he explains. "Some days I don't even know what I'm going to do for workout even as I'm putting on my running shoes."
At the South Pole, Gates has a little more time to think about his workouts. Before he ventures outside, where summertime temperatures rarely break above 0 degrees Fahrenheit, Gates dons polar fleece longjohns, Gore-Tex tights, several layers of shirts, a balaclava, hat, goggles and ski gloves.
"It takes 15 minutes to get ready for a run rather than throwing on a pair of shorts and a pair of shoes, and being out the door in less than a minute," Gates says.
Despite working nine hours a day, six days a week, Gates gets in a run most days. The temperatures don't really deter him — he's slogged across the soft snow and wind-sculpted ice plateau in temperatures 40 below zero.
The wind is another matter. "You're running down the skiway [ice runway] and it's not bad, then you turn around and it's like running against a wall," he says. "I'm not getting fast down here, but I'm staying strong."
Gates' immediate plans after leaving the Ice include about six weeks on his vintage Trek touring bike in New Zealand, the gateway to the U.S. Antarctic Program's main research base at McMurdo Station

. Maybe he'll even find a race or two to enter.
Longer term, the nomadic athlete has his sights set on several races and records. There's a trip to Mount Fuji as part of a team sponsored by Salomon. Maybe another shot at the rim-to-rim trail record at the Grand Canyon. He fell about a minute short on the 21-mile course. Tackling mounts Rainier and Hood are also penciled into the schedule.
"That might be one season," says Gates, who uses a 1974 orange Volkswagen bus for his cross-country touring in the United States.
He recently penned a cover a story for Trail Runner magazine about his 2010 summer road trip aboard Orange, the VW bus, with British mountain runner Martin Cox, still a strong competitor at 41. The article has encouraged him to think about different careers, maybe in photojournalism, after he's tread across as many peaks as possible.
"I can't do it forever. It's a lot of fun, but there's other things I'd like to pursue," he says.
Like maybe another trip to Antarctica?
Gates pauses before answering. Maybe, he concedes.
"It's definitely the most unique community I've been in. It's a concentration of pretty amazing people here," he says.
You can follow Gates' blog at mostlypaved.blogspot.com

.