| | |
| --- | --- |
| Photo Credit: Peter Rejcek | A lone tractor crawls along the sea ice in front of the Royal Society Range across from McMurdo Station. Filmmakers John Major and Frida Waara want to compare life in the Antarctic against inner city Detroit in a project sponsored by the National Science Foundation. |
Condition one
Film project compares extremes of Antarctica with inner city life
Posted February 4, 2011
The Antarctic and the city of Detroit: These two places, separated by more than 9,000 miles and residing in different hemispheres, would seem to be far apart from one another in more ways than just geography.
Yet filmmakers John Major and Frida Waara

see a common message between the white continent and one of America's most blighted and downtrodden cities.
Their documentary, "Condition One,"

is about that most Americana of ideas: Hard work that lifts one above the tough conditions of life, whether it's laboring through a snowstorm in Antarctica or working to find a job in a city with more than 20 percent unemployment.
"It's really about the human spirit and how it deals with extremes and overcomes environments and adversities that we face in daily life," explains Major, as he and Waara take a brief pause in today's filming at McMurdo Station

.
In a half-hour, they need to run up to the hills overlooking the U.S. Antarctic Program

research base to film Stephanie Massey, an electrician and Detroit native whose background as a first-generation Polish-American and her work ethic made her an obvious choice to include in the film.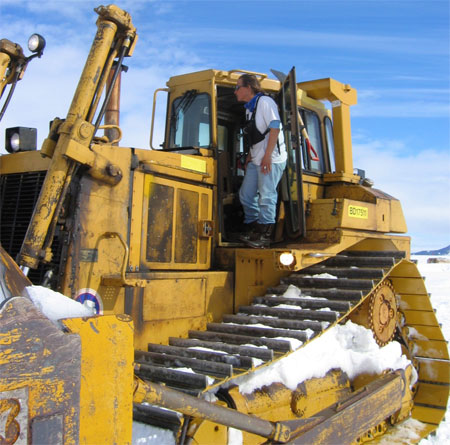 Jules Uberuaga, a heavy machine operator, is one of the people filmed for Condition One.
Then it's a dash down the volcanic dirt road to where it meets the ice shelf to feature another hard-working Antarctican, Jules Uberuaga, who has labored on the continent for 32 years running, many of them as a heavy equipment operator.
"We've never heard anybody down here say the job is impossible," enthuses Waara, the scriptwriter and storyteller of the duo. "In fact, it's a joke that impossible just takes a little bit longer. No one has told us something can't happen. From top to bottom this place is about making it work, figuring out how to make it work."
The supporting cast, of course, is the continent itself and its extreme environment. Condition One is local nomenclature for the worst of all weather conditions — suffocating whiteouts with sustained winds seemingly strong enough to bowl over even a penguin.
In inner city Detroit, a different sort of storm is also raging, Major says.
"They have a condition one going on in that urban environment," he explains. "It's a completely different environment — yet there are similarities there. There are people overcoming these adversities, and we want to find the correlation between the two, find the bright spots, and show the human spirit at its best."
Both Major and Waara excel in the outdoors. He has worked with the National Ski Patrol for 20 years. She joined an all-women expedition on an unsupported ski to the North Pole. Together they have about 45 years of videography experience.
"These polar regions have such great stories that come from them. You don't have to have someone die. You don't have to be stuck in a Scott tent on March 29 writing your last words," says Waara, referring to the death of Capt. Robert F. Scott on his return from the South Pole in 1912.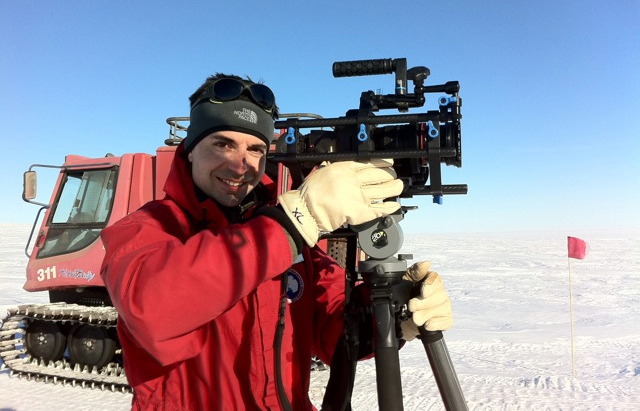 Photo Credit: Frida Waara
John Major sports his specially made cradle for an SLR camera that doubles as a video camera.
Getting those stories thanks to a special grant from the National Science Foundation

isn't always an easy task even in modern-day Antarctica.
Major recalls their trip to the South Pole Station

, a sleepless 42-hour scramble on an ice sheet 9,300 feet above sea level. Few days have ended before midnight, as they take advantage of the precious month of time they have on the continent.
Looking wan and rubbing at dark circles under his eyes, Major takes the long hours in stride, keeping step with the message of his film: "Hopefully it will open some eyes and let people know they don't have a lot to complain about. Just work hard and get it done."
The pair hopes to convince PBS to pick up "Condition One" for broadcast. There will also be a photo exhibit as a companion piece to the film. Interestingly, all of the shooting — film and still — is done on digital SLR cameras in lieu of using traditional video equipment.
The technique is new, according to Major, who employs special equipment to cradle the SLR like a video camera. The system survived minus 70 wind chill temperatures at the South Pole.
"So far, it's been phenomenal. Everything has performed really well," Major says.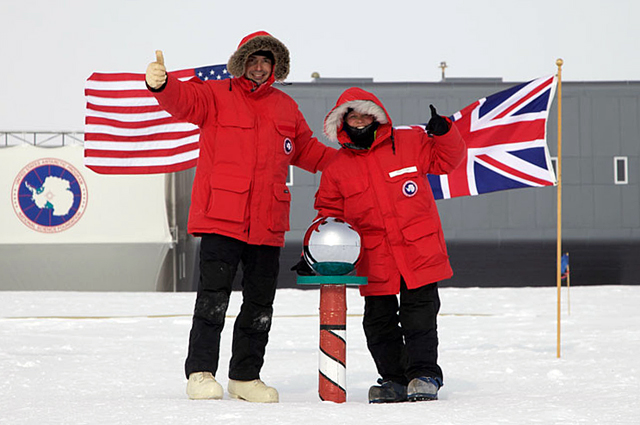 Photo Courtesy: Frida Waara
John Major and Frida Waara pause from filming for a "hero shot" at the South Pole.
The next stop for the documentary team is Detroit, where much of the focus will be on the schools, which graduate fewer than 25 percent of high school students. Still, like in Antarctica, people rise above the conditions, Waara says, citing the work of Detroit charter schoolteacher Kathleen O'Connor who could be teaching in affluent areas of the state.
"Some of the children in her class are homeless," Waara says. "She doesn't understand how some of them even get to school every day."
No one is homeless in Antarctica, of course. But it is far from home — a place with not just an extreme environment, but also an extreme culture and ethic.
"We're producing this program to show as many people what this place is all about. But, in essence, we're producing the program for the people here. We want them, after they see our show, to say, 'I think they started to get it.' We want to be as authentic as possible," Waara says.
NSF-funded research in this story: John Major and Frida Waara, Antarctic Artists and Writers Program, Award No. 0839982.