| | |
| --- | --- |
| Photo Credit: Robert Schwarz | Rickey Gates crosses the finish line during the South Pole Contingency Marathon, held in January after Gates and fellow runners Christina Knoblock and Marco Tortonese failed to make it to the annual McMurdo Ice Marathon after a flight was diverted to West Antarctica. |
Racing for the cold
South Pole Station hosts historic marathon
Posted February 11, 2011
There were three of us. We had earned a spot to go to McMurdo Station

and represent the South Pole Station

in the McMurdo Ice Marathon by winning the annual Race Around the World here on Christmas Day in our respective categories.
Rickey Gates had won the 2.2-mile race on the nearly two-mile-high polar plateau in 13:32. Christina Knoblock was the fastest woman at 18:22. I won the Masters category (age 40-plus) with a time of 16:52. No women over age 40 had participated, so the three of us made up the South Pole contingent.
We had trained hard, and were psyched up and ready to go. We were supposed to leave on Saturday, Jan. 15, after lunch on a New York Air National Guard

LC-130 flight, and come back on Monday, Jan. 17.
I was looking forward to the trip with my running friends, especially for the possibility of seeing penguins, seals, or whales in McMurdo, the only life forms other than human that I would get to see during my 13-month residence in Antarctica.
We checked the weather forecast and it looked good, both for the flight and for the race. Our bags were ready the night before, packed with everything needed for a 26.2-mile run on the Ice.
We got up in the morning to find out that all the Saturday flights had been cancelled. We were puzzled. Had the weather suddenly turned bad in McMurdo? Did all the planes coincidentally experience mechanical failures? Or was there some other kind of mistake?
This could not be true.
We rushed into Comms, our communication center and control tower (they always know everything), and they were puzzled, too. They had just received word of the flight cancellation, but didn't know why.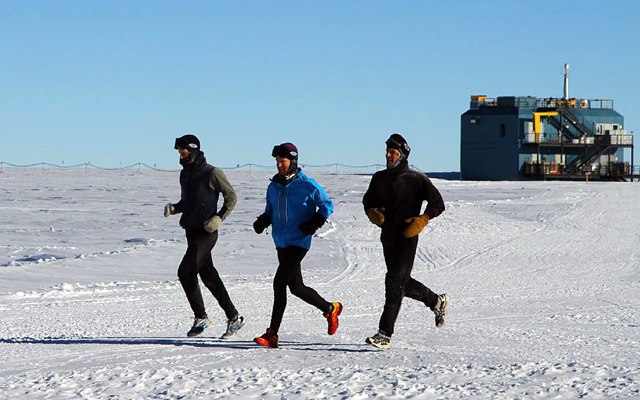 Photo Credit: Robert Schwarz
Three marathoners run past the Atmospheric Research Observatory in the clean air sector at the South Pole.
Later in the morning, we found out that the flights had been diverted to a field camp in West Antarctica. We, piggy-backer athletes, had no say in the matter.
Luckily, Curtis Moore, who had come in second place in the Race Around the World, had left on Friday to go back home in the United States, as he had just finished his work as an IceCube

driller on the neutrino project. He was staying a couple of days in McMurdo before flying to New Zealand, just enough time to run the marathon.
He would be the only South Pole representative this year — but we would only need one. Curtis won the 2011 McMurdo Ice Marathon in three hours and 15 minutes. [See related article in New York Times: A Marathon on Ice

.]
After coming to terms with the fact that we were indeed stuck at Pole, we figured we had to do something about it.
What if we were to run our own marathon here instead?
Great idea, but none of us had ever organized a race before. How would we measure the course, and how about timing? We wanted it to be a certified, or certifiable, marathon. Could we even run 26.2 miles in the harsh conditions at Pole? What aid stations would we need to make sure we would remain safe for the several hours it would take us to complete the course? All these were unknown.
Once again, we rushed into Comms. It was 3:30 p.m. on Saturday, and we started brainstorming with Tina Green, who was managing operations at that time of the day. While I wrote a list of what we would need at the aid stations, Rickey drew a course, and Christina composed an e-mail to solicit volunteers to help us on the course. Tina also contacted our surveyors, Kurt Skoog and Tim Riley-Burnett, to get the most accurate distances.
We needed a name for the race. Rickey threw out South Pole Contingency Marathon, and we all agreed. That was what it would be: a contingency marathon.
We picked a tentative start time of 1 p.m. Sunday, less than 24 hours after we had set events in motion. There was no turnaround. We were committed. We just had a little more to do in the morning to get the aid stations positioned on the course.
In the frenzy of organizing our own race in such a short time, we did not even think or worry about whether or not a marathon had ever been run at the South Pole before. It wasn't until Saturday dinner that someone raised the possibility that we may have broken some historic records.
So, we did some Internet research and found out that, to the best of our knowledge, this would be the second marathon ever run here. As reported in a Sports Illustrated article

on April 23, 2002, the first one occurred on Jan. 22, 2002.
For that race, five people were flown to the South Pole. They spent three days camped out to acclimatize to the altitude, then were driven by snowmobile 26.2 miles north and ran back to the pole. Two of them ran a half-marathon, while three of them completed the entire distance. They ran on the sastrugi — snow sculpted by the wind — and two of the marathoners used snowshoes, so their times were understandably much slower than our times.
We broke at least three records with the South Pole Contingency Marathon. Christina, at 29 years old, is the first and fastest woman ever to complete a marathon at the South Pole, clocking in four hours, 53 minutes and 30 seconds.
Rickey, also 29 years old and a professional mountain runner, had the fastest time, finishing in four hours, two minutes and 15 seconds. [See previous article: Race around the world.] I can claim the fastest time in the Masters (age 40-plus) category, completing the course in four hours, 32 minutes and 42 seconds at age 48.
We had 11 runners for the race. Aside from myself, Rickey and Christina, Keith Fouts, 32 years old, also stuck it out, finishing the marathon in six hours, 16 minutes and four seconds.
The temperature at race time was minus 19 degrees Fahrenheit, with the wind chill dropping the temperature to minus 40. The elevation at South Pole is 9,300 feet. Changes in barometric pressure meant we ran the race at a physiological altitude of 9,900 feet.
This was — and will probably remain for a long time — the most sensational race I ever ran. Not just for its location, but first and foremost, for the great support we received from all our friends at the station.
Thank you, fellow Polies: We couldn't have done it without you!
Marco Tortonese is a research associate at the South Pole Station. You can follow his adventures into the winter at his blog, The Adventures of Marco Polie

.