| | |
| --- | --- |
| Photo Credit: Kristin O'Brien | Bruce Sidell, foreground, assists with deploying fish traps during a 2007 science cruise.Sidell died on Feb. 8, 2011, at the age of 62. He was a professor and founding director of the School of Marine Sciences at the University of Maine, Orono. |
Bruce Sidell
Antarctic icefish researcher passes away on Feb. 8, 2011
Posted February 18, 2011
Longtime U.S. Antarctic Program

researcher Bruce D. Sidell

died on Feb. 8, 2011, at the age of 62. He was born March 20, 1948, in Manchester, N.H., son of Michael and Annah (Burns) Sidell.
Sidell received his AB in biology at Boston University in 1970, and his Master of Science degree and doctorate in physiology at the University of Illinois in 1972 and 1975. He was a professor and founding director of the School of Marine Sciences at the University of Maine, Orono

.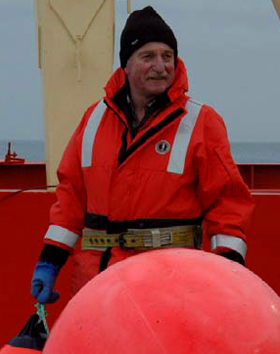 Photo Credit: Kathleen Gavahan
Bruce Sidell
Through his work as a researcher, educator and mentor, he traveled to Antarctica numerous times since the 1980s and received numerous awards for his work. His research focused on the Antarctic icefish that inhabited the Southern Ocean. In an interview with The Antarctic Sun in 2009, Sidell talked about his motivation for doing his work: "I just want to figure out how these critters work. These are pretty unique animals, and we get a chance to ask some questions with these that you can't ask with other animals on the planet."
Recently, the U.S. Geological Survey and National Science Foundation

named an Antarctic peninsula the "Sidell Spur," in honor of his many years of Antarctic research. His work and research were truly his passions in life and his contributions will live on in the scientific community. Bruce will be sadly missed by his family and all who knew him, especially his faithful canine companion, Barnum.
Survivors include his wife, Mary (Keegan); three daughters, Amy Sidell, Jessica Kettell, and Amanda Sidell; six grandchildren; and a sister and uncle.