| | |
| --- | --- |
| Photo Credit: Peter Rejcek | A Caterpillar tractor, dubbed "Elephant Man," serves as the fire truck for the Antarctic Fire Department' Fire Station No. 3 at the South Pole Station. The professionally trained firefighters are responsible for airfield safety while the New York Air National Guard flies during the summer field season. |
Standing ready
Southernmost fire department maintains vigil for aircraft safety
Posted March 2011
Nothing is easy about working and living at the U.S. Antarctic Program's South Pole Station

, located on a plateau of ice nearly two miles high.
Even being a firefighter there makes routine tasks more difficult.
"It's different. The altitude gets to you once in a while. You can't use water on a fire, because it freezes. It's a different challenge," notes firefighter Chris Giorgiani. "And putting out a fire in 80-degree weather is completely different than negative 30."
Giorgiani is one of a half-dozen firefighters with the Antarctic Fire Department posted at Fire Station No. 3 — the southernmost professional firefighting crew in the world.
A volunteer fire department — manned by station scientists, carpenters, heavy equipment operators and others — has been a fixture at the South Pole Station for years. Composed mostly of winter-overs who receive a week of training prior to coming to Antarctica, the South Pole fire team is in charge of protecting the station in the cold and dry climate of the polar plateau. [See previous article: Learning the basics.]
A few years ago, a professional crew was added to the station. Its mission is to be on standby at the South Pole airfield during the summer months when the New York Air National Guard

flies its ski-equipped LC-130s.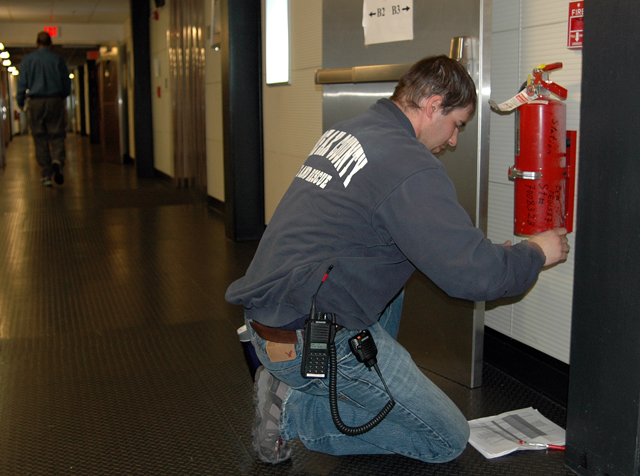 Photo Credit: Peter Rejcek
Firefighter Chris Giorgiani inspects a fire extinguisher in the South Pole Station.
"If there is an aircraft emergency, that's our responsibility, and we're in charge of that," said Capt. Don Taylor, the fire chief at Station No. 3, which is a cubicle office in the elevation station's computer room. (Station No. 1 is located at McMurdo Station

, while Station No. 2 protects the airfield at McMurdo Station.)
Taylor oversees a team of five other professional firefighters, all certified in aircraft rescue firefighting (ARFF). Approaching an airplane accident takes a different skill set from attacking a fire in a building, he explained.
"With a structure you can come in and cut off the utilities. You can't necessarily do that with an aircraft," Taylor said.
Giorgiani said responders receive 40 hours of ARFF training, which includes everything from learning how to shut down engines to evacuating passengers.
"An aircraft, if it crashes, it's pretty much written off. The big thing is saving the people inside. That's what our training is about: Getting in through closed hatches, getting crewmembers out of their seats and down flight deck stairs," said Giorgiani, who also works at a volunteer fire department in the Washington, D.C. area.
Don't look for a big red truck at the South Pole. Instead, Station No. 3 relies on "Elephant Man," a yellow Caterpillar tractor that pulls two black modules on sleds that each contains 500 pounds of dry chemical and 600 gallons of foam.
Four firefighters standby from the time before the military aircraft lands until it takes off again. The flights carry passengers, cargo and fuel for the station. Some days can last 12 hours or more depending on the number of flights scheduled. Fortunately, most days are satisfyingly routine.
"There could be that point in time where we have to get in the middle of it. We go from zero to 100 miles per hour in just a couple of seconds, because when something happens you have to be able to react," said Taylor, who recently retired from Department of Defense after 30 years.
The crew also conducts inspections of fire extinguishers and helps train the volunteer fire crew when airfield operations are quiet.
"By the time we leave at the end of the season, the [volunteers] are doing fantastic work," Taylor noted. "This is a fun place. Everybody works together."