| | |
| --- | --- |
| Photo Credit: Kent Colby/Antarctic Photo Library | One of two electric-powered vehicles is driven off an Air Force C-17 jet at McMurdo Station's Pegasus Airfield. The small utility trucks will be tested over the next year to see how they fare in Antarctica's harsh climate. |
Plugged in
USAP tests electric vehicles during winter in Antarctica
Posted May 13, 2011
Antarctica is a natural laboratory that draws hundreds of scientists down to the southern hemisphere each year to conduct research on everything from climate change to penguins and whales to astrophysics.
However, an experiment under way this winter falls a bit outside the norm.
The National Science Foundation (NSF)

and Department of Energy (DOE)

have teamed up on a project to test just how well an all-electric vehicle might fare in the coldest place on Earth.
A pair of lightweight utility vehicles manufactured by e-ride Industries arrived at the U.S. Antarctic Program's McMurdo Station

in February at the end of the austral summer. The goal is to test how the vehicles hold up over the next year. In the winter, temperatures can drop to minus 60 degrees Fahrenheit.
Each electric vehicle has a cab for two people with larger utility-style tires for use on dirt roads, with one sporting an enclosed rear bed and the other an open flatbed. Its maximum speed is 25 miles per hour, with a max load of about 1,000 pounds.
They were outfitted with insulation for the batteries and battery heaters, with one also carrying a data logger that records a variety of information, such as speed, distance, battery charge and even outside temperature. The base price for each vehicle was about $17,000.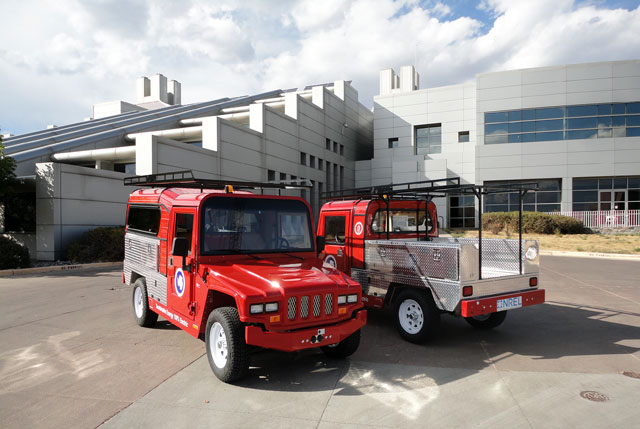 Photo Credit: Dennis Schroeder/NREL
The e-vehicles parked in front of the National Renewable Energy Lab in Golden, Colo.
If successful, a future generation of a similar electric vehicle might replace much of the station's truck fleet, if the NSF decides to make the investment, according to Kent Colby, McMurdo's technical projects manager for Raytheon Polar Services Company (RPSC)

, the prime contractor to the NSF. There are about 60 Ford trucks at the station.
"Eighty percent of their usage is just short hops around town," Colby said. "I could see that they could replace a good amount of the in-town vehicle usage because every time you look at a pickup in town, you have one, maybe two people in it with one, maybe two tool bags."
DOE's National Renewable Energy Laboratory (NREL)

, based in Golden, Colo., has worked with NSF and RPSC for the last couple of years to select the vehicles and develop the test protocols, according to Ted Sears, senior task leader at NREL, one of several national labs that support the DOE.
"The idea is that these types of vehicles could be used in other cold-weather programs and NSF sites, such as Summit Station

in Greenland and other places, to reduce program dependence on large diesel trucks for fleet operations." Sears said.
Some of the initial testing was conducted at NREL's facility using a cold cell where the temperature was dropped down to minus 9 degrees Fahrenheit while the vehicles were on a dynamometer, a device that measures the engine's power and torque.
On the Ice, the vehicles have performed as expected, climbing the steepest hills on a full charge. However, as winter settles in, the charge only lasts about an hour-and-a-half, Colby said, though he added that may be due to operators not plugging in the battery warmers.
"Keeping the batteries warm is more critical than keeping them charged," he said.
Noted Sears, "They have limitations. The cold really saps the battery." But added: "It sounds like to me there are many opportunities for using these."
The vehicles are also an attractive alternative thanks to the low maintenance required on the electric engines, according to Colby. "Basically, their maintenance schedule is once-a-year lubrication," he said.
The electric vehicles represent the latest efforts by the USAP to lighten its carbon footprint in the Antarctic. In recent years, more and more field camps sport solar panels and small wind turbines versus diesel generators.
Antarctica New Zealand

, with assistance from the USAP, completed installation a three-turbine wind farm on Ross Island in 2009 to power its research station at Scott Base

. McMurdo also benefits from the alternative energy, saving about 78,000 gallons of fuel last year.
Even when it must rely on fossil fuel, the program has made strides in being more efficient. Its new power plant diesel engines return 33 percent of the fuel's energy as electricity, according to George Blaisdell, operations manager in NSF's Office of Polar Programs

, who was recently interviewed in Car and Driver magazine.
The system is able to capture much of the remaining energy as waste heat to warm many of the station's buildings.
"At McMurdo, we capture a total of 85 percent as useful energy; at the South Pole, we believe we are closer to 95 percent," Blaisdell said in the interview. He estimated that McMurdo's light-vehicle fleet only gets back 10 to 15 percent of the fuel's "energy content."
"With an electric truck, the power comes from batteries that are charged by our power plant, which is harvesting eight times as much energy from our fuel as the internal-combustion engine does," he said. "For light electric vehicles, McMurdo's environment is ideal."