| | |
| --- | --- |
| Photo Credit: Chris Demarest/Antarctic Photo Library | The USNS Paul Buck, right, delivers 5 million gallons of fuel to McMurdo Station in late January 2010. The ship in the distance is the Swedish icebreaker Oden, which was not available this year to break ice to McMurdo. Instead, a Russian icebreaker will clear a channel in the sea ice for the 2011-12 season. |
Breaking news
NSF secures Russian icebreaker to help resupply McMurdo for 2011-12 season
Posted August 26, 2011
The National Science Foundation (NSF)

has announced that it has reached an agreement with a Russian company to charter a diesel icebreaker, ending weeks of speculation about whether the U.S. Antarctic Program (USAP)

would be without an icebreaker for the 2011-12 summer field season.
NSF signed a one-year contract, with an option for additional years, with the Murmansk Shipping Co. to use the Canadian-built icebreaker, Vladimir Ignatyuk, according to an NSF press release

issued on Aug. 25. Built in 1983, Ignatyuk currently provides icebreaking service to other national Antarctic programs including India.
The USAP requires the services of an icebreaker each year to cut a channel through the annual sea ice that fronts its largest research base at McMurdo Station

on Ross Island. The channel allows fuel and cargo vessels, escorted by the icebreaker, to reach the station's ice pier.
The 5-million-gallon fuel resupply is particularly critical to support the science missions based out of McMurdo and South Pole

stations, which include everything from glaciology and geology to biology and astrophysics.
For decades, U.S. Coast Guard

icebreakers supported the USAP. However, in recent years, the Coast Guard's two heavy icebreakers, the Polar Sea and Polar Star

, have been largely inoperable. The Coast Guard plans to decommission the Polar Sea in September, while the Polar Star is undergoing an extensive refit with hopes of going back to sea by 2014.
For the past several years, the NSF had contracted with the Swedish government for the icebreaker Oden

, which also doubles as a research vessel. But the Swedish government decided that the Oden was needed at home after two harsh winters disrupted shipping lanes in the region, according to an Aug. 18 news article in the journal Science.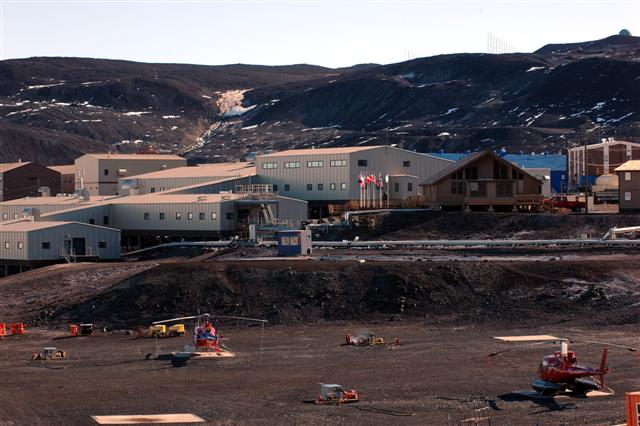 Photo Credit: Peter Rejcek
Helicopters sit in front of McMurdo Station's science and administrative buildings.
"With Oden in the Baltic Sea, it is likely that these delays could have been avoided," Swedish Minister of Foreign Affairs Carl Bildt wrote in a July 5 letter to U.S. Secretary of State Hillary Clinton

, Science reported.
The absence of an icebreaker would not only affect the USAP. Antarctica New Zealand

, which operates Scott Base

on Ross Island, shares logistics with the USAP. The USAP also collaborates with and helps support other national programs, such as those run by Italy, Australia and the United Kingdom, which would also have been affected by the lack of an icebreaker.
However, despite the announcement of a deal to secure an icebreaker, the NSF has indicated it may still curtail some research projects to conserve fuel to avoid a future situation that would require even more severe austerity measures.
That news came in a letter


from NSF's Office of Polar Programs (OPP)

Director Karl Erb to the research community. The letter was posted on OPP's webpage concurrently with the press release.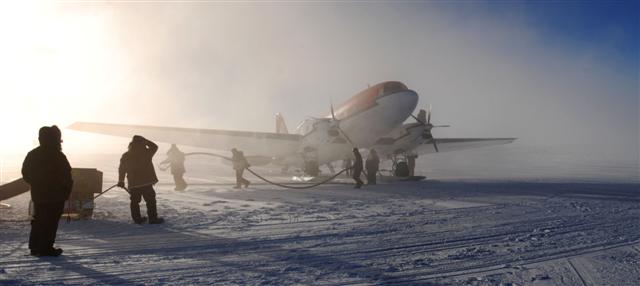 Personnel refuel a plane at South Pole that is used for deep-field missions.
"This year's experience brought home the importance of increasing our contingency fuel supply at McMurdo over the next several years, partly via increased shipments and partly by reducing fuel usage," Erb wrote. "While these actions could result in delays to operational or science projects in the near term, we will make every effort to minimize disruptions."
Erb went on to write that NSF OPP would analyze resources and requirements over the next few weeks "in order to develop plans for implementing a successful austral summer season."
The summer field season at McMurdo doesn't officially begin until early October. However, six early flights by the U.S. Air Force from Joint Base Lewis-McChord

are scheduled through the end of August to fly personnel and materials down to prepare for the main field season, which runs through February. South Pole Station operations usually begin in late October.
USAP's Palmer Station

, which is located on Anvers Island off the western Antarctic Peninsula, would not have been affected by the icebreaker situation. Its cargo and fuel resupply is supported by the USAP research vessel Laurence M. Gould

from Punta Arenas, Chile.
There are nearly 150 science projects currently scheduled for the 2011-12 season out of the three research stations, two research vessels and field camps across the continent and nearby islands.